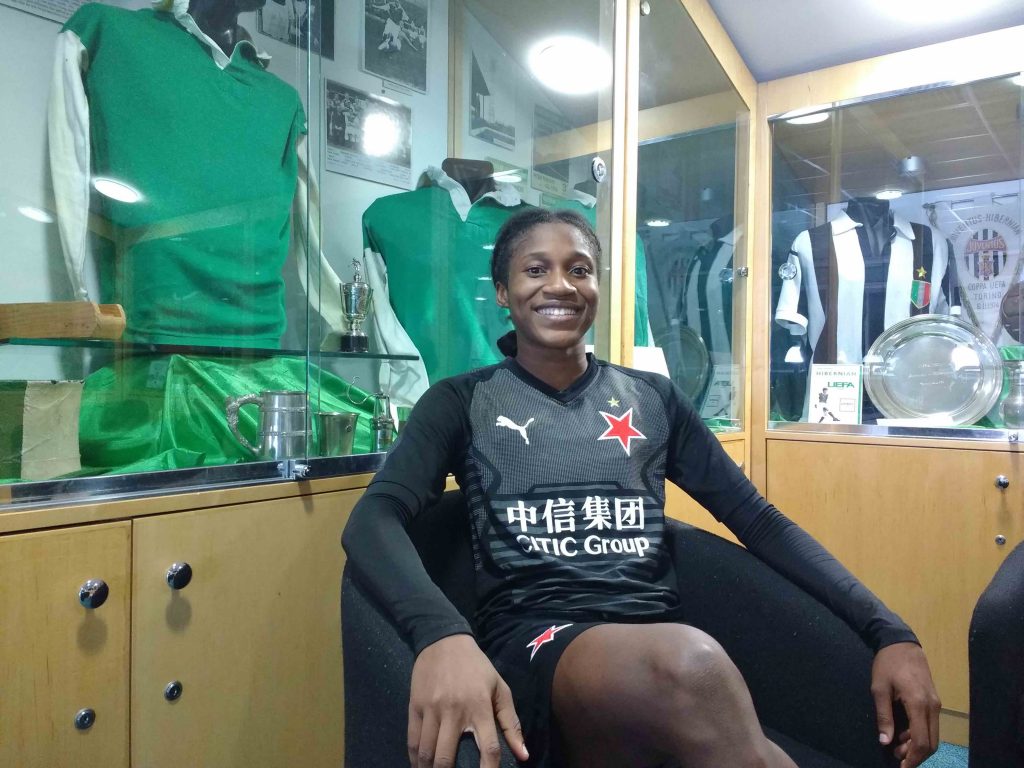 Deneisha Blackwood played every minute of Jamaica's maiden World Cup campaign in France this summer, impressing against Brazil, Italy and Australia. Now the 22-year-old Reggae Girlz defender is hoping to make her mark on the European stage with last season's Champions League quarter-finalists Slavia Praha, reports Catherine Etoe.
Snapped up by the Czech Republic side in the wake of France 2019, defender 'Den-Den' debuted for her new club in early September, enjoying a 13-1 win over FK Pardubice in the Czech top flight. Her second game was equally memorable, coming as it did in the Champions League round of 32 against Hibernian at Easter Road in front of almost 1300 spectators. Despite a lively start from Hibs and an early goal from Siobhan Hunter, Slavia would depart Scotland with a healthy 4-1 win under their belts. Before they did, we grabbed a few minutes with their new signing to ask how she was finding life in Europe…
SK: So how are things going for you in the Czech Republic?
DB: The language is always a challenge, but the girls are very welcoming and they help me.
SK: What's your early assessment of the standard in the Czech league?
DB: I think it's fast and quick and that's what's going to make me better. When you play for so long and [then] you get into a team that's pretty good, you gel, and I feel like we have a bond and as time goes by it's going to get even better.
SK: What are the fans like over there?
DB: The other day me and my team mate went into a taxi and this guy asked, 'Do you play for Slavia?' and we said 'Yeah' and he was like 'Yay, we love Slavia! Free ride!' and I thought wow they really love SK Slavia, the fans are really dedicated. I've been to two men's games and it was amazing to just see the crowds and how they interact with the guys. We played last Saturday and it was a good crowd.
SK: What's your verdict on this match against Hibs?
DB: First half we took a little longer to get into the game, but after the butterflies were gone I think we were good. There are still some areas of the game that I think we need to work on but other than that it was a very good game.
SK: How does it feel to be playing in the Champions League?
DB: This is an honour, I've always watched the Champions League and I hoped to be in it one day and just to be here it's overwhelming and I think it's going to be a good year.
SK: You're 22 but have achieved so much already, how does that feel?
DB: I love the game so it's always good to play. The World Cup was extraordinary and I loved it. Just to be here makes it even better.
SK: Finally, can you tell us your World Cup highlight?
DB: Personally, I had a pretty good game against Italy and felt like my performance helped uplift the team. As a team, our highlight was our first goal [against Australia], that was an unreal moment and I think that's going to stick with us forever!
MORE TO FOLLOW FROM THE JAMAICAN CAMP LATER…
And you can watch the full interview with Hibs Ladies manager Grant Scott, ahead of their #UWCL second leg tie at Slavia Praha, here: