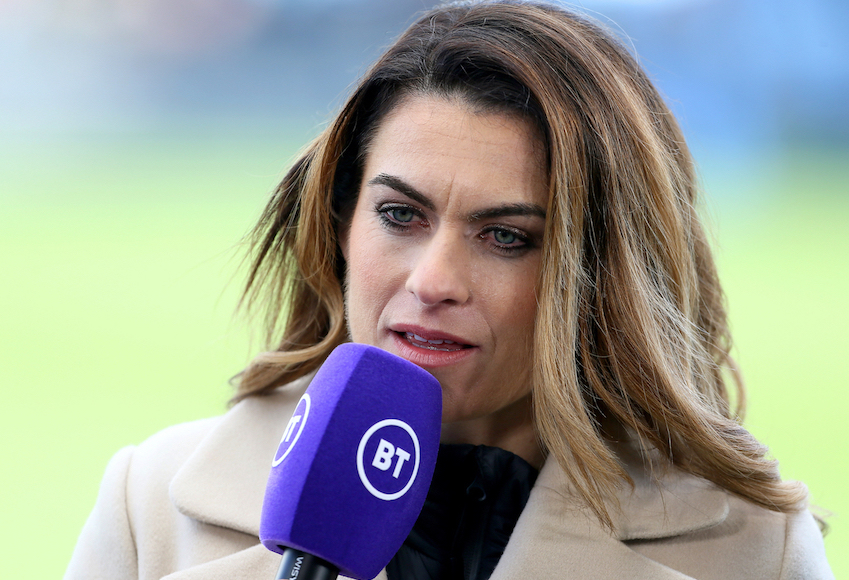 We jumped at the chance to chat to former Lioness and Chelsea skipper Karen Carney, who has expertly led the punditry team on BT Sports' coverage of the UEFA Women's Champions League's (UWCL) unique mini-tournament over the past week, ahead of the highly anticipated final.
She loves the format, she's loved the work the team have done in promoting and showcasing the women's game; she's enjoyed the action and the drama and she's tipping Lyon for success on Sunday and an English side in 2021…
SK: First up, a very serious query about being a TV star…does having studio make-up done a few days in a row mess with your complexion? Ha ha!
KC: No, I think mine's got better actually! When you get home you make sure you put every bit of help on your face that you can. I did think on Thursday I might have a day off from having make-up on and then I bottled it.
SK: How have you enjoyed the format of this UWCL final week or so?
KC: I've really liked it and I think, maybe is there scope for doing this moving forward? I don't know but it's been really, really good. Having it every couple of days, you keep the momentum, you get engrossed in it. I know I work for them but if I wasn't involved and I was watching from home, I think BT have done a really good job of promoting it, putting out there, the team they've used, the graphics, it's all been brilliant. 
The home of women's football 🙌

Both the #WUCL final and the @BarclaysFAWSL opener will be available to watch for free 👌

Full details below ⬇️ pic.twitter.com/TTzFnVbhOf

— Football on BT Sport (@btsportfootball) August 27, 2020
SK: In terms of your that coverage and your input and analysis, how does that process work? Do you pick out phases of play or individuals during the first half and then communicate that to the editing team – how does that all work?
KC: We will have conversations about what we're going to talk about ahead of games. I'll be looking at clips now for the few days before the final, saying, "I like that, I don't like that," and then whomever I am with – on Sunday it is Laura Bassett – as soon as the game starts we've got people in our ear and we'll say, "Yes can you clip that, can you get that?" We will have conversations about where we think the game's gone and there's a fantastic team at BT that pick it all out and make our jobs a lot easier and that's what we get to talk about. It's a like a presentation, and you want to do a good job talking about what you've picked out.
SK: Great to hear Bass will be alongside you for the final, have you sort of been the 'big sister' for your less experienced co-presenters like Anita Asante and Dan Carter who have sat in with you for previous games?
KC: I feel like I'm the new kid on the block because they're all so brilliant! Dan sees things so well, Anita's defensive work means she sees things. So they've definitely helped me and opened my eyes and I've learned a lot of them. It was Anita's first time and you'd never have known, she was unbelievable. We've all looked at it like we're part of a team and we want the game to be done really well and do as best as we can because it's important to us that the show's good – we want it to come back, we've been given and opportunity and we don't want to fail.
SK: What did you expect of the action and what elements have surprised you from the quarters and the semi-finals?
KC: You look at the preparation and Atletico Madrid, for example. They had four days preparation, Covid cases, players out and the standard that they put on against Barcelona and how they conducted themselves, how they spoke, they were a credit to their team. Then we've had goals, sending offs, missed refereeing decisions, VAR chat – should we have it or not? – it's been really good, it's had it all.
SK: Do you like the single leg format, it certainly adds to the drama?
KC: I agree. I'd love to see this format, as it is now, moving forward. If you're looking to the growth of the women's game, I think it's been good because you it's a week of football that you know is coming. It captivates the audience, they know when it is, it's like tournament football and I think it's been done really well. It happened in the men's too, they know this game is today, this game is tomorrow. I really like the overall format. Of course there are powers that be that will see it differently.
It can change though. Me and Neetz were talking and when we won it in 2007, the final was over two legs, so it can be changed to make it better. 
SK: Is it the 'pre-season element' that has led to the rustiness in front of goal do you think, which has cost a few sides, or other factors?
KC: I think there are other factors. I think there have been common themes for those teams that they're missing those chances. It does come into play that people are a little rusty, they're not sharp or as clinical as they can be but I do think that those players and instances like that have been a regular occurrence over the last couple of years. We've often talked about the lack of 'end products' in certain teams and players, so it's been a consistent theme for them.
SK: And so, unsurprisingly, we look forward to a final featuring Wolfsburg and Lyon. What are you expecting to see tomorrow evening?
KC: I said during the semi-final that set-plays would be massive for Lyon and I'm going to say it again. They've only scored one from open play, they're missing Ada Hegerberg which is massive for them and now Nikita Parris [suspended]. They've got every element and that's not to disrespect Eugenie Le Sommer or Jodie Taylor, I just think they're still missing that no.9 now that Hegerberg's not there. Set-plays for them will still be huge, so it's important that Wolfsburg don't give away fouls r silly free kicks, which was the achilles heel of PSG – that's what cost them.
I worry about Wolfsburg's defence. In the semi-final they were a bit too open, they might get punished if they play like that against Lyon. Going forward they've got all of the elements and flair, Ewa Pajor can run in behind, Pernille Harder can play wide, middle or up front in terms of that no.10 positioning and Alexandra Popp is just a machine. So, going forward it will be a nice battle but Lyon's defence is that good. You build everything on your defence and that's wha will keep them in it.  
SK: And finally, you of course have been a UEFA Cup winner yourself – the City & Chelsea players were saying the other day in media interviews how jealous they were watching the action – on what you have seen this past week or so, Arsenal included, how likely do you think it is that an English club might be in the final in the next season or two?
KC: I definitely think if you'd had Chelsea and Man City in this current tournament, with their current squads, they would be at least in the semis, no problem… and pushing for the final. And neither team are done recruiting yet either.
In the next year, I'd say that at least, Chelsea or Manchester City will be in the final. The players they're getting, I think is going to weaken other teams and that's what you've got to look at as well. Other teams are going to be weakened by it. The FA WSL is the league to be in, it's the place to be and it's got the calibre of players and style. To be successful in the Champions League it's a project and there's a certain formula and the route that both City and Chelsea are going down will be advantageous in finding that success.
SK: Magic! Though both sides have FIVE trophies to compete for this season, that will be demanding?
KC: Well they [Chelsea particularly] have got about 50 players, they'll be fine! 
Watch the 

UEFA Women's Champions League Final

exclusively live from 6:30pm on BT Sport 1 on Sunday, 30th August. Watch for free on the BT Sport app, btsport.com, BT Sport YouTube, Twitter and Facebook. 
https://www.uefa.com/insideuefa/about-uefa/news/0260-103af40dfe13-918fbdf9260a-1000–good-to-be-back/