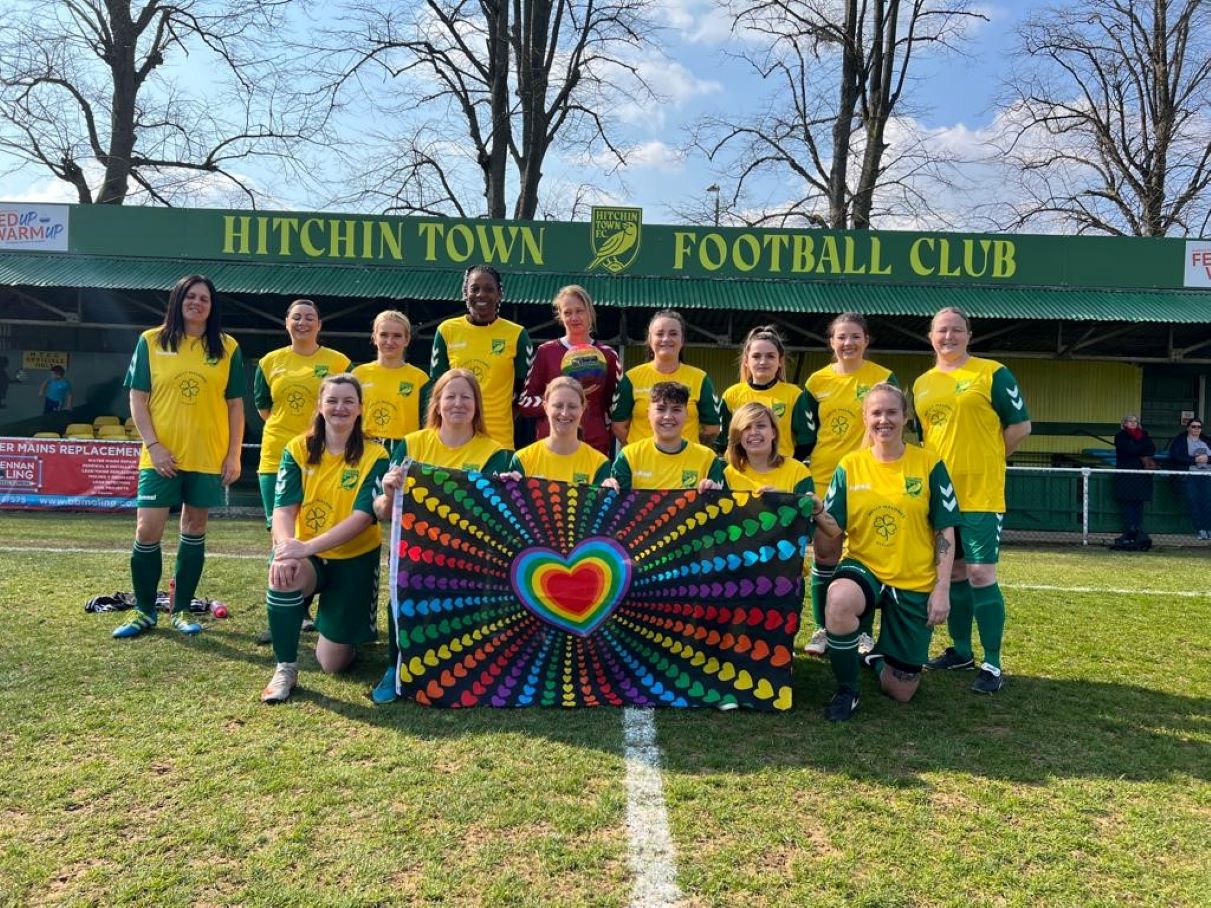 Hitchin Town Women's Canaries FC has received a £250 Team Sport award from UK Power Networks, the eastern region's electricity distributor.
The donation was arranged by Hollie Lewis, who works as a planner for UK Power Networks in Borehamwood, and is savouring England's hosting of the women's Euro 2022 tournament.
Hollie first played football as a teenager, but with the popularity and infrastructure of the women's game nothing like the level it is at now she drifted away from the sport before returning in 2019.
She said: "I have played for Hitchin Women's Canaries Football Club now for almost three years. I used to play football when I was younger and stopped around 16-years-old and decided to try get back involved with the sport for fitness reasons.
"I began training with Hitchin and then signed for the Canaries team to play in the Beds and Herts league. It has been a great to be involved and watch the team grow and develop, it's a team with a real family mentality.
"This Team Sports grant will really help us as a lot goes into the running of the team, our committee and manager do a great job for us so really nice to be able to help them out.
"It is a great time to be involved with women's football at the moment with England hosting the Euros. It's great to see so much visibility of the women's game, we didn't have this kind of publicity when I was younger and I think it would have made a huge difference.
"I was one of two girls in my primary school playing in the football team with all the boys and then going on football camps with Arsenal in the summer. You didn't have women's football on mainstream TV or any kind of professional women's teams.
"It's so good for the girls youth to now see England playing in front of tens of thousands of spectators all helping to inspire girls and women to play football.
"Hopefully now young girls can see that they can make careers out of their love of playing football and the support and encouragement is out there to become the best they can and they could even one day be the next England Captain!"
Callum Ellis from HTWFC, said: "This grant is huge for us at the level we play. We are currently seeing many football teams disband due to the lack of sponsorship for teams to fund their seasons. We predict our season will us cost over £3000 to complete and with the rate of inflation it will not be long till we may have to start questioning our future.
"This award helps our women with subscription costs, referee fees, pitch and training fees. I am so grateful for UK Power Networks' contribution. It helps us stabilise our future and encourage more females to take up the game they love and providing something new for those who have never played before.
"We have two teams competing within the Beds & Herts Women's Football League and we have over 50 players registered to our club. Without grants and companies helping clubs like so women's football will not exist to the level it is now."
The Team Sport Award scheme encourages UK Power Networks staff to volunteer in the community and is aimed at promoting healthy living, teamwork and developing sporting opportunities.
Hundreds of community and sports groups have benefited from grants since the scheme was set up. During 2021, 77 teams benefitted to a combined sum of £19,250.