Geographically, Jaelin Howell and the USA squad are oceans apart from their beds back in the States. However, home feels within touching distance when your family have flown 14 hours and navigated their way in a van from Paris to watch you compete in a World Cup writes Nathaniel Kay (@UoDFootyJournos).
Few nations' fans travel with such noise, in such numbers and with such a positive attitude, as those from the U.S. Even after a 1-0 defeat to Japan, the American party couldn't be soured, the clapping and cheering (accompanied by some questionable chants) continued to the final whistle. 
'It's awesome they came all this way. I know a lot of families did and it's just awesome looking up there and seeing all the USA fans and it really motivates us during the game,' said Howell junior, acknowledging the 'awesome' amount of pride projected from her parents in the stands. 
Perhaps the enthusiasm from the stands shaded the fact that USA came off slightly second best in the match, though Howell still had pride in her team's performance. The Windsor, Colorado-born, defensive midfielder reflected: 'We knew Japan were going to be a great opponent. We really gave it our all and I'm proud of the team. We had a lot of great things, even though we didn't get the result we wanted. Going forward we need to be positive and look forward to the next few games.'
The USA's next game against Paraguay could make or break their World Cup. Three points is almost certainly a necessity for both sides if they wish to progress further than the group stage.
'We always say, 'pressure is a privilege',' is how Howell assesses her team's precarious position. 'Going forward we need to be positive, we need to look at what we can do better and play relaxed. We think we can get out of the group easily still and we need to know that.'
She was not the only Howell visualising their progress further in the competition . John and Laura (Jaelin's mum and dad) waited patiently after full-time to say a quick 'hello' to their daughter. 
'They can still get out of the group and do what they came here to do', said John, who as a former NFL player would never let his team lie down and hide after defeat. Competitiveness floods through the Howell family; Laura plays volleyball, whilst the entire clan once scaled a 14,000 feet mountain that the average walker completes in four hours. Apparently Mrs Howell clocked a time of 1.50hrs and finished last…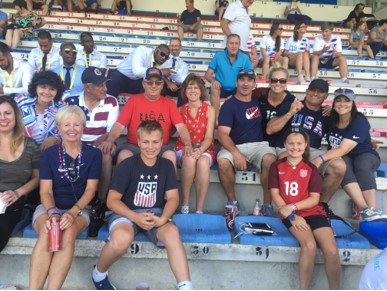 Like any proud parents they want nothing more than to see their daughter succeed. 'We just need to put four goals past Paraguay as well,' were the optimistic words from father of the Howell household (referring to Spain's 4-1 win in the group's other opening tie). 
It can sometimes be forgotten, but should never be ignored, that many of the players at this U20s tournament are still tender in years and the level of competition is a step up from what many have experienced before. Jaelin is still only 18 and playing a pivotal starting role at a World Cup for her country, her mother divulged, 'We have spoken to her a lot and she was nervous. She went to Jordan (U17 World Cup) and wasn't nervous then.' 
Having trained with the senior USA squad, Howell is as equipped as any to tackle this competition and with die-hard Howell fans marvelling at her every move, Jaelin and Team USA's chances of making an impact are from over at this World Cup. The squad and their ardent supporters aim to stay longer in France than just until next Monday, to both fulfil their potential and also soak up the atmosphere, respectively  – and because Jaelin's mum and dad haven't even tried frogs' legs yet.