Alice Parisi had to wait 427 days to return to the Italian national team. A broken leg suffered in the pre-Euro 2017 friendly with England at Vale Park robbed her of a place at that summer's tournament in the Netherlands, but with a FIFA Women's World Cup on the horizon, the Fiorentina midfielder is most certainly back.
The 28-year-old's Azzurre return came in Florence, in her club's stadium, as Italy overcame Portugal 3-0 last June to secure their place at the World Cup for the first time in 20 years. Free-scoring Parisi shared her thoughts with EMANUELE GIULIANELLI as the days quickly disappear before the fun begins in France…
SK: How did you start playing football?
AP: I've been playing football for as long as I can remember. During my childhood, I played volleyball for a year, but I was always using my feet. Therefore, my parents let me play football. I started in the men's teams, up to 15 years. After that age, since I could no longer play with males due to regulatory issues, I moved to Trento. I played for a year in A2, winning promotion to Serie A, but the following year we were relegated. When I was 17, I went to Bardolino, then to Tavagnacco, and finally, to Fiorentina.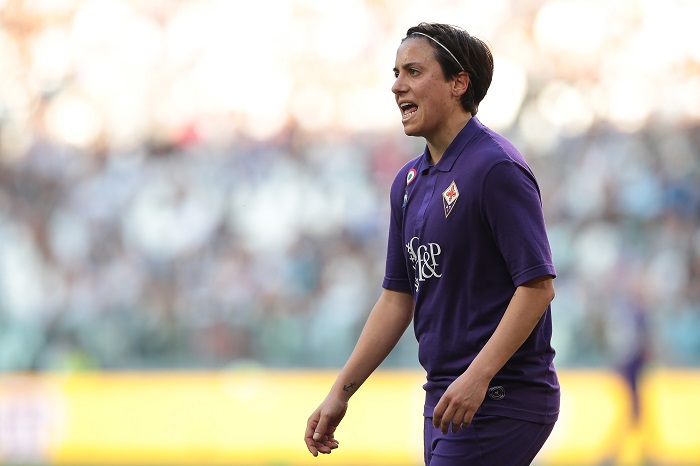 SK: At the beginning of your career, you were considered one of the greatest young talents in Europe, after winning the UEFA Women's Under-19 Championship in France in 2008. What memories do you have of those years?
AP: The period I spent at Bardolino, the strongest team in Italy at that time, is one of those I remember fondly, mostly for the peacefulness that comes at that age, when you can do what you like, without any pressure and without having to prove anything to anyone. The French adventure with the Under-19s was something truly unique, and perhaps unrepeatable, due to the synergy between all the team members. I lived that experience with the carefree outlook of a 17-year-old girl who plays football and thinks only about having fun.
SK: Two years ago, there was the terrible injury you suffered against England. How did you deal with that period of your life/career?
AP: The year spent away from the pitch was very intense from a personal point of view. It's tough when you cannot do what you like and what makes you happy. If there is a silver lining in a serious injury like mine, it is that you have to find strength inside you and understand where you want to go and what you really want to achieve. The real work, beyond rehabilitation, is to reset yourself as a person and come back stronger than before. Undoubtedly, you come back changed. People do not see that from the outside.
SK: How are you enjoying this time with Fiorentina?
AP: Fiorentina was a real watershed for me. After graduating, and so many years away from home, I had to understand what I really wanted to do. The alternatives were to play football without passion, without getting anything, like it was until then, or to focus on a job that I loved to do. Luckily, I was chosen by Fiorentina, the first men's club to invest in women's football. This was the only way I could remain in the football world. Today, I keep on thanking the club for their interest in me that summer! From that moment, for me, it has been a continuous growth, in a club that totally believes in this movement (of women's football). Florence is one of the most beautiful experiences of my life.
SK: Can you describe your relationship with the national team?
AP: My relationship with the national team has been going on for ten years and, even today, I feel an incredible emotion every time I wear that shirt and I hear the anthem before a game. Different emotions, but always strong ones. I go on the pitch to represent my country. I played with several Italian players and experienced many changes; finally today we have at our disposal the structures and visibility that did not exist in the past. For me, I am proud to be part of the Italian national team. Women's football is a movement that is truly growing quickly.
SK: What are your best memories with Italy?
AP: In addition to the victory in France with the Under-19 team, certainly the debut with the senior team. It took place when I was very young. I still went to school, and to avoid too many absences, I had to choose whether to join up with the Under-19s or the senior team. Perhaps the game I remember with more emotion is the one at the (Stadio Artemio) Franchi against Portugal, in the World Cup qualifiers. I returned from the injury and we got a historical qualification for the national team – in my stadium, the Franchi of Florence. It was the first time I played there with Italy.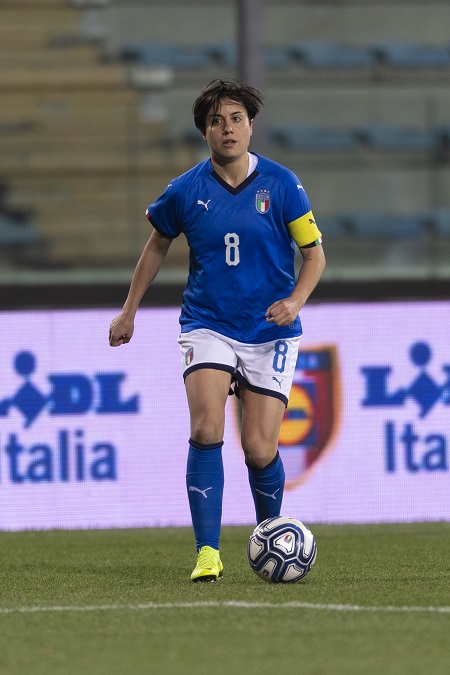 SK: What does the World Cup represent for you and the team?   
AP: It represents the achievement of an important result, built over the years with work. This World Cup is the realisation of a dream, but for Italian women's football, it must be a starting point. We don't want to stop here. We have just started getting results for what we have struggled for, for years. From here, we have to continue our growth and get what we deserve.
SK: How do you think the Italian people will follow your path in France?
AP: I think so many people will come to France to follow us. Italian people will give us the same support they showed during the friendly matches we played in Italy. Right now, we have the power to attract so many people; also because the men's national team failed to reach Russia (for the World Cup last year). For Italian fans, it is a chance to live another World Cup.
SK: What is Italy's goal in the World Cup, and for you personally?
AP: Our team has great ambitions. If you don't think you can get an important result, you have already lost. It is a short competition, with games played every three days. Most of the results will be decided by emotions. The strength of a team is not the only thing that matters. We believe that Italy can reach the final stages of the competition, otherwise we wouldn't go there. For me personally, the goal is to try to be a key player in this group.