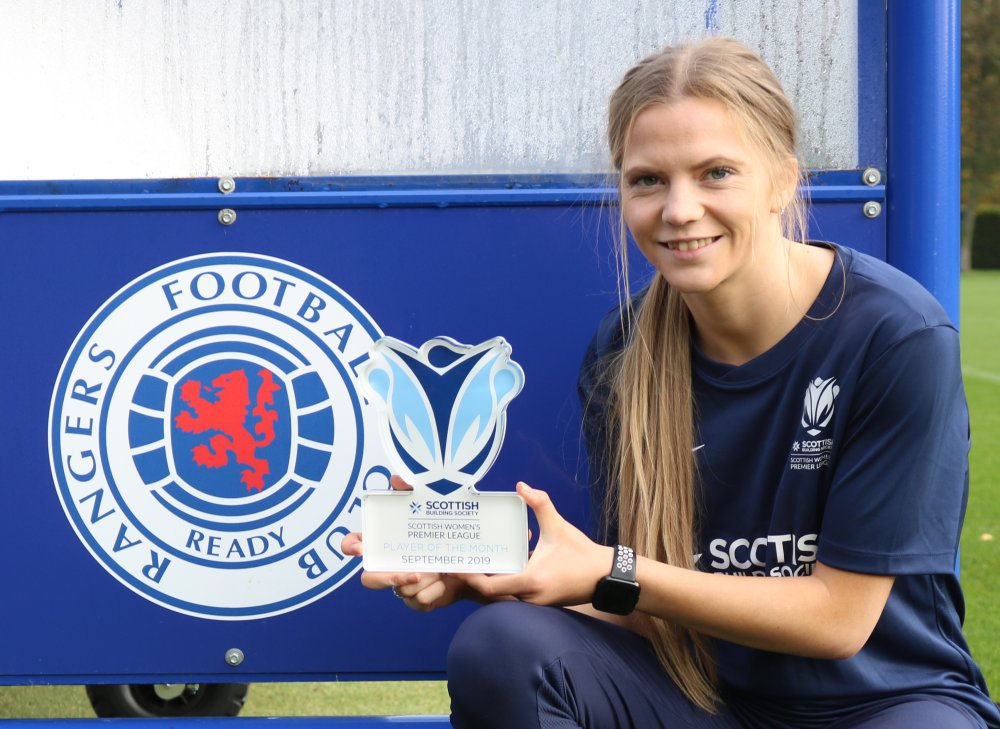 Rangers FC Women's Brogan Hay was voted winner of the Scottish Building Society SWPL Player of the Month for August & September 2019.
She becomes the first ever Rangers FC player to win the award, getting over 50% of the vote with over 2,000 total votes cast.
Hay, who played all bar one game in the month, helped her side through a tough restart to the season which included an Old Firm derby and two matches against league leaders Glasgow City. Since those matches, Gregory Vignal's side have won three games on the bounce with Hay playing a vital part in their impressive 4-1 win away to Stirling University.
Speaking from The Hummel Training Centre, Hay said: "I'm really happy to have won this award especially after a tough season with injuries. I haven't played as much football as I would have liked but August and September were good months for me and I'm pleased to have received this recognition from the SWPL.
Rangers currently sit fourth in the Scottish Building Society SWPL 1 table with five games remaining. Their Women's and Girls' programme has undergone a number of changes in 2019, with the club increasing the investment into the set-up, moving the permanently to The Hummel Training Centre and appointing a new Head Coach in Gregory Vignal.
"It's a really exciting time to be at the club" said Hay. "Gregory has been brilliant to work with and has brought some really fresh ideas. The club are also making great strides in the development of the girls' and women's game. As a player, that gives you extra motivation and support to help make Rangers a top side within Scotland and hopefully push to establish ourselves in Europe too over the coming years."
Paul Denton, Chief Executive of Scottish Building Society, said: "Congratulations to Brogan for winning the award. She's a very direct player that must be a nightmare for defenders to come up against. As fans though, it makes games very exciting to watch."
"I'd like to say well done to all the nominees for what was another very fascinating and entertaining couple of months" said Paul. "The second half of the season has been brilliant so far and I'm sure that will continue as we approach the end of the Scottish Building Society SWPL season."
Also nominated for the award was Chelsea McEachran (Motherwell), Keira Johnstone (Dundee United), and Rachel Todd (St Johnstone).