Top-flight football kicks off again in Scotland on Sunday and among the most eagerly awaited of all the battles must surely be Glasgow City against Celtic, reports Catherine Etoe.
These two Scottish Women's Premier League sides last came face-to-face on a bitterly cold and rainy night back in February that was memorable not just for every player's never-say-die attitude, but also for Celtic manager Fran Alonso's reaction to the winning goal.
Captain Kelly Clark scored it for the Hoops with almost the last kick of the game and Alonso was so delighted he leapt into the arms of an assistant, punching the air with sheer joy.
It was a dream start to that season for Celtic and Alonso, who had joined the club from Lewes in January, but it would count for nothing once lockdown hit and the league was halted. Now, though, the two sides meet again in their opening match of this new term. The Hoops have added two new faces to their team, defender Caitlin Hayes from Lewes and Houston Dash winger Megan Crosson.
And while no club in this league would ever take the reigning champions lightly, with Celtic having beaten City in November 2019 and again in February, theirs is fast becoming a rivalry of the highest order and the televised match should be a cracker.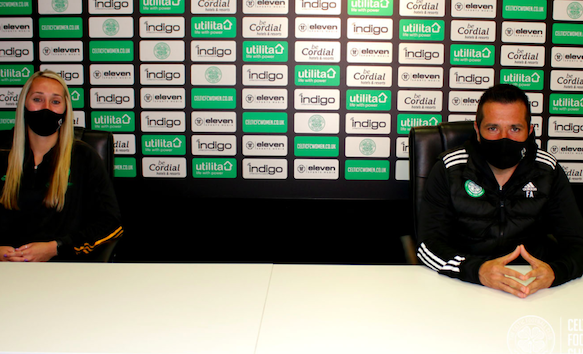 Here's what Alonso and American striker Summer Green had to say when they met the press this week…
Summer Green on how it feels to finally be back:
"So excited, just to have the opportunity to play again and to play a great team like Glasgow City. Me and the rest of the team and the staff are absolutely stoked to get going. We're just very excited."
Fran Alonso on if he has any worries about the return to action:
"We are trying to be as cautious as possible, putting in place some procedures that we never experienced before. We are experiencing something that we haven't before, but you cannot really be scared."
FA on having more players on his roster:
"What we have done is get a slightly bigger squad than we would have normally just in case somebody has to isolate for 14 days. It's slightly more challenging for myself to select the team every week, but the mentality of the girls is superb. They understand that the team is more important than the individual and we've all bought into this culture."
FA on whether this is still a transition year for Celtic:
"We are in a better place than we were in February, internally we have improved a lot which is great, but we still have some of our players part-time, some cannot come training every day. Do I think we are super competitive and will aim for everything? Of course, we are good enough and our main skills are our values and ambition. So I believe we are still in transition, but we are better in my opinion than we were back in February."
FA on the new players Caitlin Hayes and Megan Crosson:
"They are players that straight away fit into the team, they are lovely people which is for me probably the most important attribute to have. Both have Champions League experience, which is something we value because although I don't say no this season, in the short to medium term we want this to be our goal. They've both played at the highest level: Caitlin has come from Manchester United Academy, Everton; Megan comes from Houston Dash and used to play in Tenerife in Spain in the first division and can be winger or full-back so that definitely gives us a lot of options. I think they are outstanding players that are going to contribute not only to the team but to improve the competition between the team. It's the most competitive we've ever been, for every position there's a real fight."
FA on their focus in pre-season:
"In a normal scenario, pre-season is the best opportunity to do tactical work, but because we came from having pre-season and one league game, the girls were already aware of the main tactics around the team. So the main focus has been to prepare them mentally after all these months without competition, and physically."

SG on the pressure to achieve:
"Anywhere I go I always want to take on a lot of pressure because I want to have that mentality. It's a level of respect I have to have for the league itself, the teams we're going to be facing, my own team. So to a certain extent, yes I feel the pressure, but I'm going to put that pressure on myself regardless because I want to be the biggest help I can be to the team in whatever way I'm called to be."
FA on whether Celtic can break City's dominance:
"Until we or somebody proves something different, I think Glasgow City are the favourites. They are the best team in the country, they have been for the last 13 years, and we have to respect that. We've been lucky enough to beat them the last two times we played them so we are not scared, we respect them, but will approach the game like we did in February. We know we're playing against a top opposition, they are in my eyes the favourites, we are the underdogs, but we are very good underdogs."
FA on his emotional goal celebration back in February:
"I was, for 89 minutes, absolutely freezing, wet, I mean it was the worst weather conditions I have probably experienced in a football game, but the moment she scored was something really unbelievable. It was nothing to do with me, it was the mentality that the team showed, we were 1-1 against the 13-time champions and it wasn't good enough for us, we kept pushing, we kept pressing them high, we kept pushing the full-backs. Maybe I couldn't contain myself in as respectful way as I could, but it was unbelievable happiness for the players because I thought they really deserved it the way they fought. And for [the fans] it was massive because I felt the fans played a huge part as well in that win, during the game and after the game they were fantastic, little girls jumping, I mean it was a perfect day."
FA on how that result can motivate them this time:
"I know it still doesn't count and I know the three points that we got that day don't count, but that performance counts. We all remember how we fought. In our minds, this game is still present because we showed the country that we could hurt Glasgow City."
FA on whether everyone is fit for Sunday:
"When you are six or seven months without competing and then you've got four or five weeks to prepare for the first competitive game you have to find a balance. We've been monitoring as close as we can. We have a couple of players that probably won't be able to make the squad, probably players that would be in the squad if they were fit. But I am happy with what we've got."
SG on what she expects from Celtic:
"I think Glasgow City are a great team and they deserve respect and the best way to respect a team like that is to come out with the best players you have. Everyone on the squad is ready to go."
FA on whether facing the champions is extra motivation:
"This is a game everyone is desperate to play because you always want to play against the best teams. If I could choose, I would rather play a team that didn't play [in the Champions League] three months ago. I can't wait to play them, but I wouldn't mind playing them in three months time but we are so excited and will do our very best to try to get something from the game."
SG on the match being televised on BBC Alba:
"It's awesome, I'm super excited. To have it live just gives us a sense of pride because we're able to have fans and our family and friends watch it, so it's pretty exciting."
WATCH Glasgow City host Celtic on BBC Alba on Sunday 18th October at 4pm.
https://shekicks.net/swpl-big-match-preview-with-glasgow-citys-boss-scott-booth-midfielder-leanne-crichton/