Friday night's dramatic tussle between newly turned professional outfit Celtic and defending champions Glasgow signalled the start of the Scottish Women's Premier League season. The rest of the best get to go on Sunday and earlier this week we chatted with some of the key players aiming to light up the league in 2020. Next up then in our 'getting to know you' series of interviews, is SWPL 1 player Amy Muir of Hibernian, writes CATHERINE ETOE.
Scotland under-19 defender Amy Muir enjoyed a busy 2019, making the switch from her childhood club Rangers to perennial cup maestros Hibernian, experiencing Champions League football for the first time and earning plaudits for her captaincy of her national side at the UEFA Women's Under-19 Championship on home soil. Now set for her first full season with the Edinburgh club, the 19-year-old sports science degree student cannot wait to get going, starting with Spartans on Sunday.
SK: Before we look ahead Amy, can you look back to last summer's Euros and tell us how that experience has affected you?
AM: It was big, there was a lot of build-up to it and preparation for that started the previous summer, it was a good nine months of preparation and it was brilliant. The whole event was really enjoyable, it was obviously great to lead out the team as captain and just to play against the best young players in Europe, it's probably opened my eyes to where I need to be.
SK: A first senior call-up followed but you had to pull out with injury, how did that feel?
AM: Yeah it was unexpected and it gave me a lot of confidence, even though I couldn't go, I knew that once I was back fully fit it was just kicking on and knowing that I'm not too far away from that squad now.
SK: What are your personal targets this season?
AM: This is my first chance of really starting a season at Hibs, so just to try and keep my place in the team and play consistently each week and try and make the biggest impact in each game, you know, more assists, chipping in with more goals and just becoming a bigger player for the team really. Anything else that comes along is a bonus, so it's just keeping my head down and working hard at Hibs.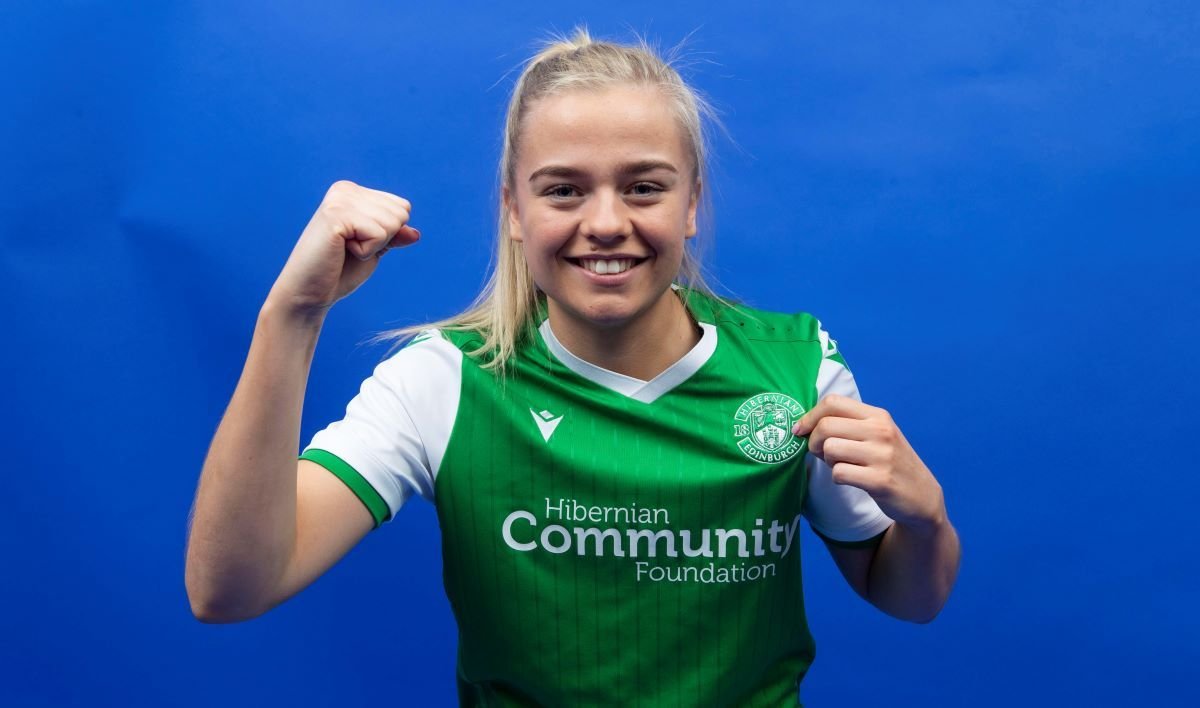 SK: Did you get much of a holiday before pre-season?
AM: We took a bit of time off just after the Scottish Cup final in November and then came back in for three or four weeks and stopped for a couple of weeks over Christmas. I went to Barcelona for a weekend to see a game at the Nou Camp. My team has always been Rangers, but I've always liked Barcelona and one place I've always wanted to see a match was the Nou Camp. I've always admired Messi and that was one of the reasons I wanted to go.
SK: Any other footballing heroes?
AM: For my position, I'd say Andy Robertson and Trent Alexander-Arnold, both of them at Liverpool, they've been inspiring and I really look up to them. Julie Fleeting when I was growing up. I usually keep up with all of the the WSL games. There's a lot of players there that hopefully I can get to their level one day.
SK: Does it inspire you to see your old team mate Jamie-Lee Napier moving to Chelsea then?
AM: Yes, it does, it's a great move for her and seeing her get that chance to play in one of the best teams in the world it gives you confidence, knowing that there's opportunities there and it's not a million miles away if you keep working hard.
SK: With Rangers being your childhood club, was it hard to leave?
AM: Yeah it was, there had been offers in previous windows and the Christmas before I left so there were opportunities to go, but I felt I was progressing well, I was getting game time, I felt it was important to stay. I think the timing was right in the summer to make the move, also with the success before of young players going through Hibs I thought that was probably my best move. But it was definitely difficult and I did take a long time over it.
SK: There have been a lot of changes in the close season, with manager Grant Scott and several key players leaving, how's the mood?
AM: It's really good, really positive. Obviously there have been changes and new faces coming in, but I think the whole transition has been smooth. Pre-season has gone really well and we can see improvements already, just from playing some boys teams and even in training, we look sharper and ready to start on Sunday.
SK: How much did you enjoy the first day back into training?
AM: It wasn't too bad, but the week as a whole was quite hard. We did quite a lot of different stuff this year, so we did spin classes, boxing and went to a private gym that did a PT session for us. So we've been doing different things that have been really hard, but have mixed it up and it's been enjoyable.
SK: How are you finding things with Dean Gibson now at the helm?
AM: He's been part of the club before and he knows what it's about, the standards of play and all that and he's brought in a new assistant too which has helped him, so yes it's been good.
SK: Joelle Murray was interim coach, what was she like as a boss?
AM: Yes she was good, made us run a lot but she had to join in herself so she knew how hard she was making it. But yeah, she's really approachable and did really well.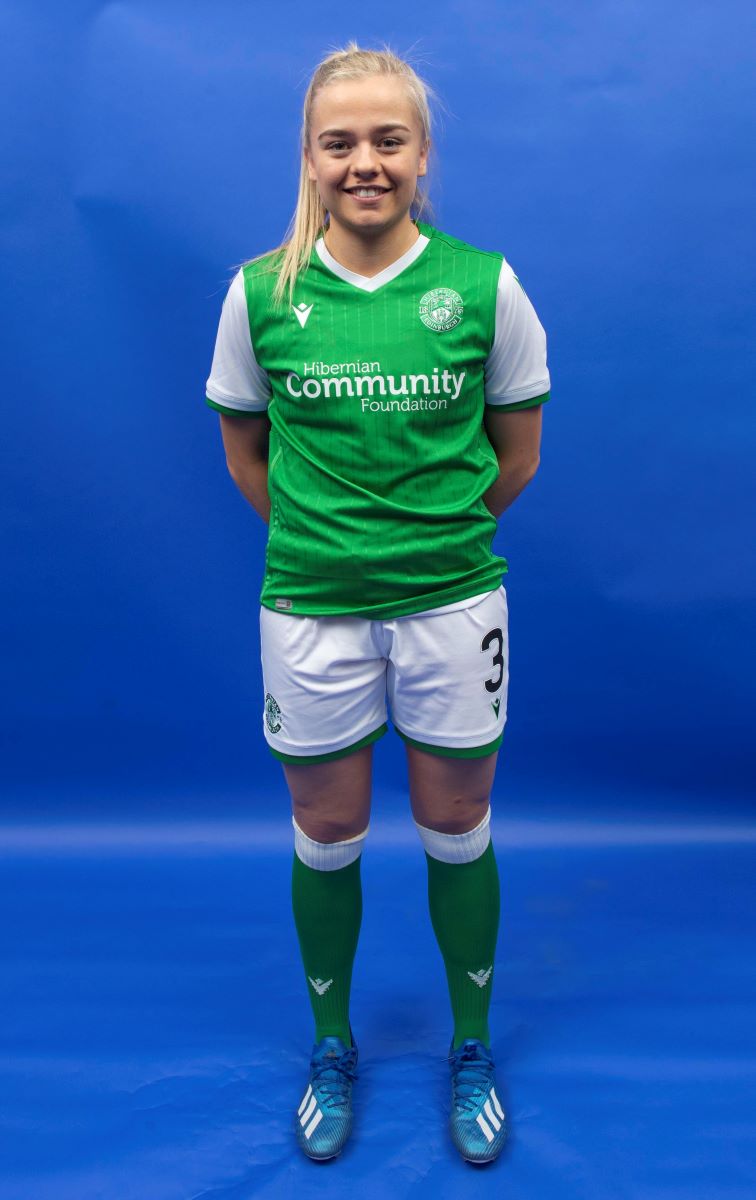 SK: Who in your career has been your biggest fan/helper?
AM: My mum and my dad. My dad probably did most of the driving, but both of them equally have been really supportive, always encouraging and always there to speak if I needed anything, so they've definitely been the standout ones I'd say.
SK: So how do you think Hibs will do this season?
AM: We're really ambitious because of how well we've done previously, with the cups and challenging for first place. I don't think there's any reason why it should be any different. I know that other teams have progressed off the pitch and there's been a lot of changes and of course we've lost a few players but I think in previous years it's been the same, we've been through this transition quite a lot and we've coped with it up to now, so more of the same really.
SK: If our readers came to your match, what could they expect to see from Hibs?
AM: We've got an exciting style of play, it's a young group of players that are energetic, we like to play football and attack, we score good goals and we've got real high energy and we're just desperate to win so you can expect a fast-flowing game.
SK: And what's your home ground like for fans?
AM: The facilities are really good at Ainslie Park, we've got a covered stand and there's a cafe and bar and a balcony that's covered and looks over the pitch, so there's good facilities and anyone that did come along would be quite impressed.
SK: You ground share with Spartans, how do you expect your opener against them to go on Sunday?
AM: It'll be tough against Spartans, but pre-season has been really good and we're looking sharp so if we can just perform similarly to what we have before then we should be able to come away with three points.
Don't miss it: Hibs v Spartans, 23 February 2020, Ainslie Park, Edinburgh. KO 1pm, Live on BBC Alba
Follow Amy on Twitter @Amy_muirr and Hibs @HibernianWomen
WALKING FOOTBALL: "My boots were made for walking," discovers Judith Darcy