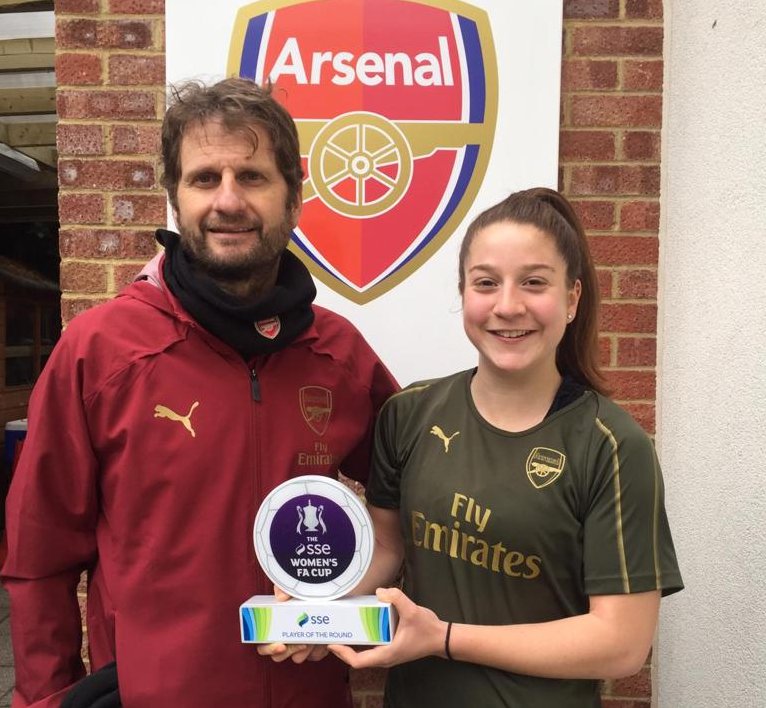 Arsenal may have exited the SSE Women's FA Cup fifth round at the hands of Chelsea on Sunday – but there was a happy-ending for Gunners' teenage attacker Ruby Grant this week.
The magic of the cup can throw up sparkling cameos, last-minute drama and momentous comebacks.
In teenager Grant's case, it announced a prodigious talent to the world of women's football, with her spectacular SSE Women's FA Cup debut for Arsenal in the fourth round sure to live long in the memory.
Attacking midfielder Grant hit a superb hat-trick as she inspired the Gunners to a 4-0 fourth-round triumph over Crawley Wasps on February 3.
The playmaker was crowned Player of the Round for her efforts and she admitted the day surpassed all her expectations.
"I was just trying to keep myself relaxed and all the support from the girls were great," said Grant, from New Barnet, Hertfordshire. "I was really privileged by the award – it came as quite a surprise to me, I really wasn't expecting it.
"They kept me relaxed before the game and I was just happy to go out – I had an image in my mind of doing the right thing.
"As the game went on, my confidence grew and grew – and it certainly went a lot better than I thought!
"After the second one went in, I was thinking 'oh my goodness, I've got to try and push for the third'.
"I was super-happy. It did hit me at the time – as soon as all the girls came in and crowded around me after the third, and started giving me pats on the back, I was just elated. It was an amazing feeling.
"I've never quite experienced it before, it was great."
Grant, who can play anywhere behind the striker, is one of the brightest prospects in a quality Under 21 academy at Arsenal and heads out a training camp with England's under-17s later this month.
She revealed that one of the players she wants to emulate most is mercurial Dutch star Daniele van de Donk, who has been pulling the strings in Arsenal's midfield since joining from Kopparbergs/Goteborg in 2015.
"It's funny that a player I like to model myself on now is one who I train with," said Grant. "The skill and energy she brings to the game are really admirable and I look up to her quite a lot.
"I like to bring a bit of flair to the game and she does that so well. If I can be like her when I'm older, that would be great."
Learning from van de Donk and Arsenal's vast array of stars gives Grant the perfect chance to soak up skills, experience and knowledge during her fledgling years on the pitch – something she admits to pinching herself about on a regular basis.
"Honestly, it's incredible. It's something I've dreamed of since I was eight years old and I joined the academy," said Grant, who studies A-level P.E., psychology and biology at Dame Alice Owen's School in Potters Bar. "To be around so many international stars are amazing – they're all so high profile and I feel like I can learn so much from them.
"I go in every day, wide-eyed, wondering what I'm going to learn that day. They're all nice as well, they're so down to earth and supportive.
"They've really taken us youngsters under their wing and are teaching us so much while helping us enjoy the experience.
"The manager [Joe Montemurro] is really great, too. He's really enthusiastic and encouraging in training, he brings such energy to training and it's really good to have him there."
As the energy behind women's football, SSE's ambition is to support girls of all ages in England, helping them join in football from grassroots to the elite level. For more information on SSE's sponsorships and activities visit sse.co.uk
By Sportsbeat