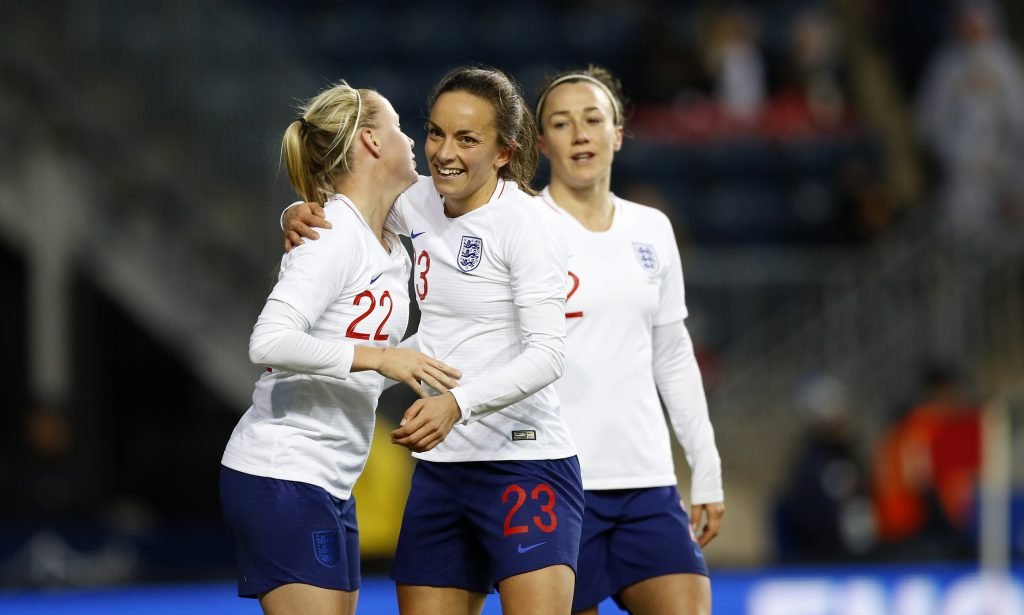 Well, how about that? A tremendous performance from an impressive group of players earned England their first #SheBelievesCup trophy.  It definitely didn't set itself up to be such a straightforward game or result but the #Lionesses purred through the first half and held firm through the second. The goal that got them on the way to their win was scored by Birmingham City midfielder Lucy Staniforth (in the 12th minute), who had a higher power on her mind before kick-off and during her celebration. 😉
It's fantastic to see her playing and revelling at the level she belongs at. Here's some of what she had to say (guess her family needs to stay away #jokes)…
LUCY STANIFORTH

On her goal:
Unbelievable hold-up play by Jodie [Taylor], obviously. The ball just fell, I saw the defender move her hips one way, so I thought I'd go the other way… and put it in the bottom corner. Not bad.
On her celebration:
Alan Shearer had tweeted about the game and I'm a massive Newcastle fan, so I thought, 'This is amazing.' I'd thought, if I score I'm going to do an Alan Shearer celebration. So I started running away like this [arm raised in the air] and then started doing one of them things [bit of a hip wiggle, still with arm raised]. I couldn't control myself. Luzy Bronze said, "Why have you surprised yourself? You should expect it."
On playing the bulk of the game and how she enjoyed it:
It was a hard game, they're a good team. A lot of running and a lot of concentration for the whole game, but to play that long, I was buzzing. Obviously got Phil's trust and hope to build on that going forward. 
On feeling that trust:
Yeah, he says it to every single member in the squad he values, and whether you play five minutes or you play all three games, you feel that you're a valuable member of the team, and I think that's so important moving forward. The staff are amazing, the assistant coaches and the attention to detail and the help that they give you away from the pitch is huge, so I'm really grateful for them.
On whether her family actually saw this game [they missed her first goal for England, against Kazakhstan, due to an advert break in the TV coverage stream]:
Well the funny thing is, they were here for the first two games and then they went back off home. So, honestly, they're banned from watching now; clearly good things happen when they're not here!

On the understanding she has with Jodie Taylor:
I love playing with Jodie because I actually played with her at Lincoln Ladies and I always said she's one of the best forwards I've ever played with. I think she's really intelligent; some of the touches, the little sets and the way she gets her body between the defender and the ball is really clever, so obviously it's a pleasure to play with someone like her. She's fantastic.
2019 #SHEBELIEVES CUP ENG v JAPAN – Vote for your #Lionesses Player of the Match