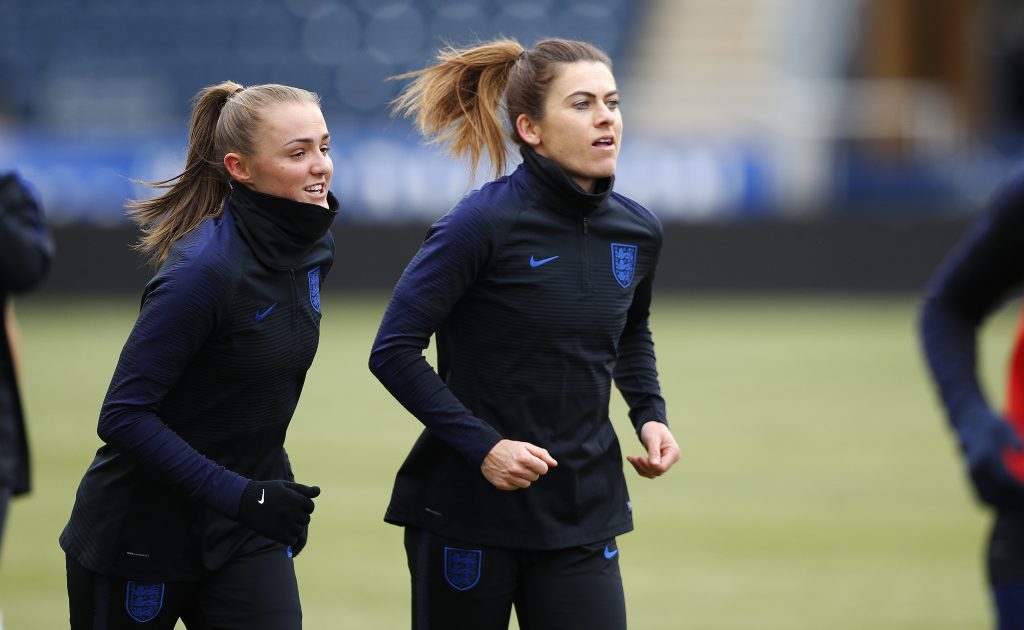 Well, how about that? A tremendous performance from an impressive group of players earned England a 3-0 win against Japan and their first #SheBelievesCup trophy.  Here's the second of our snippets of reaction from the England camp and it makes sense that it is the second goalscorer. Nodding in Jodie Taylor's cross on 23 minutes was Chelsea's Kaz Carney.
She's been there and seen it when it comes to the #Lionesses, so here's some of what she had to say…
KAREN CARNEY
On having been a part of the England side for 14 years (137 caps) and whether, because she would know, we should be excited:

[Smiling] Yeah it feels good. It feels really good, it feels like home. It feels really good.
There's a belief. It's hard to put my finger on it but no-one feels fazed by anything. This group seems to have a confidence and a manager that demands more from us. We went in at 3-0 and he wanted more from us. It feels really good.
On how many of her 32 goals for England have been headers?
Dunno, but it's funny because in the meeting he [Phil Neville] went down the line of players and said: "Beth Mead will win a header, Ellen White will win a header," and he came to my name and he kind of went, 'second balls…,' so I've said to him, "I actually won a header." So, I don't know how many I've scored, but I'll enjoy that one!
On the youth in the team:

They're amazing, the young kids, they're our future. It's part of our job to make them come through and enjoy it. I love the fact they're fearless and that's great for our group. They come on, they've got swag. They're quick, they're enthusiastic and energetic. I love them and playing in the same teams as them. I even got a buzz off of watching the USA performance and how good that was and I didn't even play a part. The kids are amazing and I'm excited for our future.
On how hard she has worked to be a part of the squad after some low points in the past year or so, and how she feels looking to June:

I still think I've got a fair bit to do. Stay fit, stay healthy and keep getting fitter and stronger. I respect the manager, I just want to work hard each week and if he picks me, he does, and if he doesn't then I'll always wish the team and him the very best. It's still going to be tough, it's a fantastic and competitive squad. I'm just going to work hard and see what happens.
On what they can take from the Japan victory and the tournament experience and win:
This was a stepping stone; we played top teams, all with different styles, in a fantastic tournament which has been run amazingly. Of course the game in the World Cup [v Japan] is going to be completely different. Japan are going to look at it and go, 'We need to be better,' but we need to push on another gear as well. We just need to keep working hard as individuals and we go back to our clubs now and if you get picked for the next camp, come in and try and smash it again.
The objective was to come here and win it and we've done it. So, for us, we take the confidence, we take the good performances, also we went in at 3-0 and he [Phil Neville] still wasn't happy. He wants us to work on things, so that's a good place for us to end on. We've won it but we can still be better – we can still be fitter, we can still be sharper and we can be technically better – that's the exciting part for us. 
#SHEBELIEVESCUP 2019 ENGLAND 3-0 JAPAN Post Match Reaction: Lucy Staniforth was raising a hand for Shearer