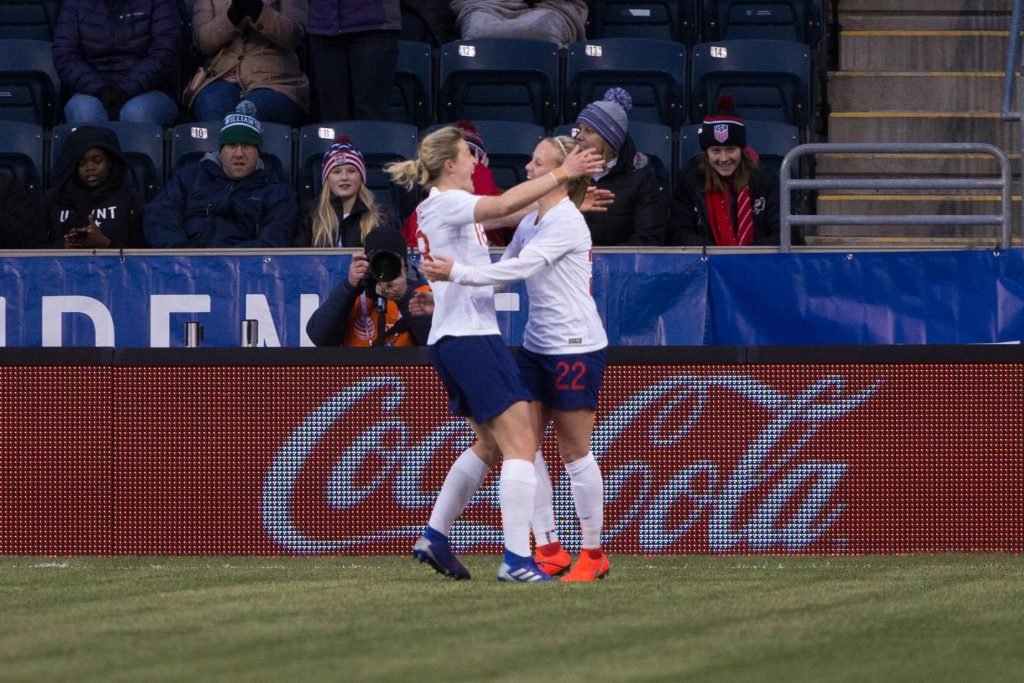 No-one who was involved in or watched England's first half performance against Brazil in the Talen Energy Stadium in Philadelphia is going to sugarcoat what was a sluggish start to the game. They went 1-0 down in the 16th minute courtesy of an Andressa penalty after Lucy Bronze was adjudged to have fouled Marta in the box. We may be biased but it looked 'soft'.
To be fair to Marta she had showed two or three thrilling flashes of skill and flair in that opening quarter of an hour and to carve out the attack that led to their goal, but from 25-30 minutes or so in, England started to make some passing moves connect, began creating chances and started to play in Brazil's half. Although the South American champions always hinted at a counter-attacking threat, after the break it was all about the Lionesses showing drive and impetus offensively*.
*we've been in the U.S. 48hrs and already 'we've changed'. Tsk.
Ellen White's sliding finish from a nicely worked throw-in (49 mins) and then substitute Beth Mead's cracking effort (75 mins) were enough to seal the comeback win. They've definitely played better but the level of determination on show was up there with their best efforts in recent times. Certainly their coach Phil Neville felt that…but what did the crucial players in the piece feel about the performance and the win?
We heard briefly [it was very cold and they were all in demand] from Lucy Bronze, Ellen White and Beth Mead. Here's what they had to say…
LUCY BRONZE
On the penalty decision that went against her:
It is what it is. I didn't think it was a penalty. Marta tried to tell me it was a penalty but I'm not having it. Decisions aren't always going to go your way but we got back into the game. I don't think we started the first half well anyway. I don't think they particularly deserved the goal though. But I thought in the second half we played really well.
On whether she enjoyed the stint in midfield:
Yeah, well it's been like 15 years since I played there. No, it's good, obviously to tighten things up. Obviously we're missing out on Jill's height and physicality and Jordan's energy so I guess I was there winning some of the headers and helping breaking things up with Keira. 
On being happy with the win:
Yes of course, we want to win every game. We're disappointed with the way we played, we know we can play a lot better. That's what we will do on Saturday.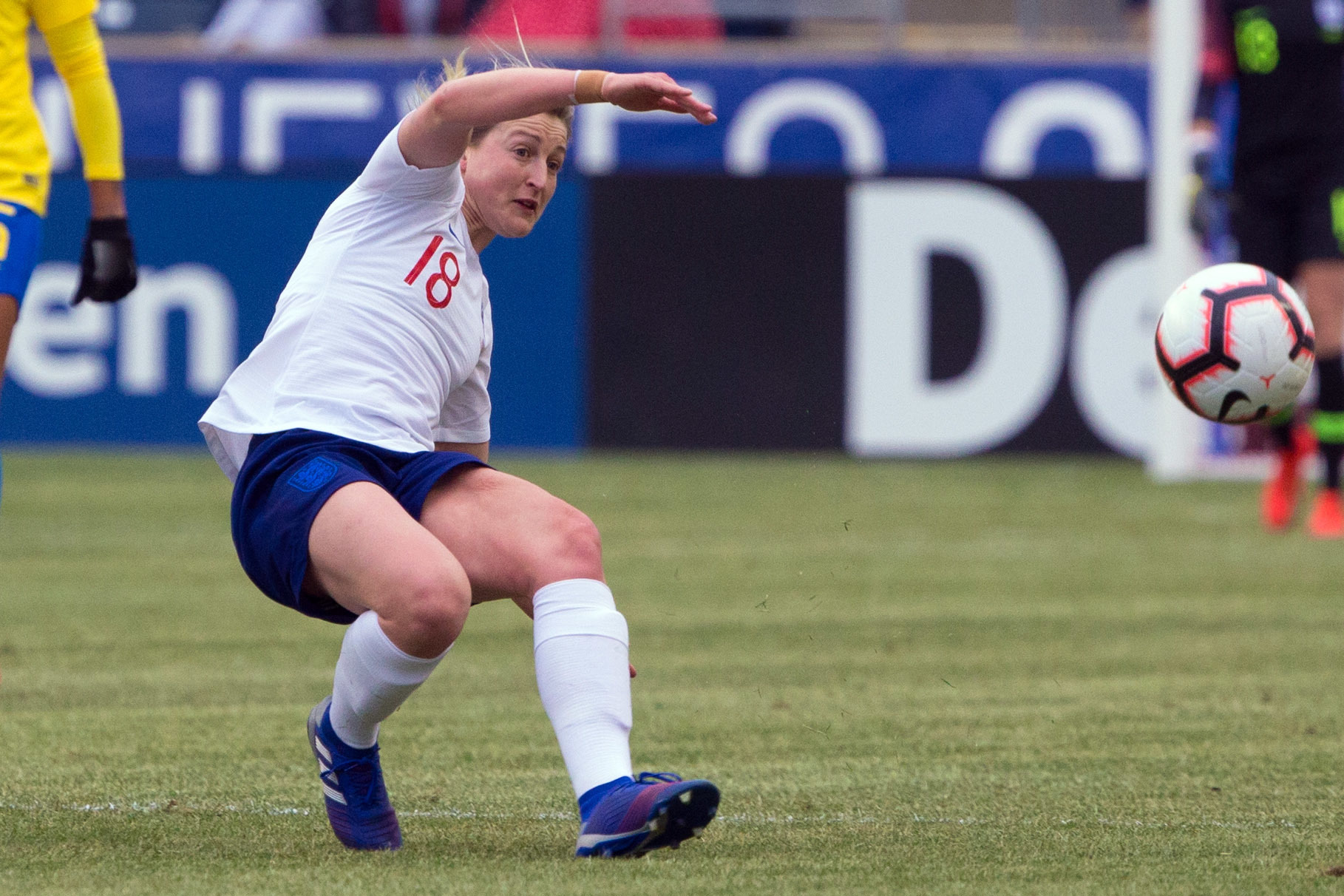 ELLEN WHITE
Reflecting on the match as a whole:
It was a game of two halves to be honest. We were disappointed with the first half. We went in at half time, changed some stuff, we went a lot higher and obviously we scored within about four minutes. That gave us momentum and confidence in the second half to really push on and go all guns blazing. I'm delighted for Beth [Mead]. She scores those types of goals at Arsenal. I'm going to say it was a cross but she will probably say something different [laughs]. The subs made a big, big difference for us – a lot of energy and a lot of passion and just shows our character and we can definitely take a lot of confidence going into the USA game.
On being the all-time top scorer (with four) in the SheBelieves Cup:
Yeah I've just been told that, it's really cool. I don't want to stop there though, I want some more. I'm delighted with that but ultimately it's about the team and about winning so I'm super happy that we scored two and looking forward to playing the USA.

On why perhaps the team started so sluggishly:
I don't know, we were just trying to find our feet, find our groove really. The pitch was super slow as well but I think it just shows our character to really come out like that in the second half and to not concede more than one. We will probably analyse it and look at what went wrong but it's all about the second half and our great character to come back from 1-0 down to win 2-1. We got the three points.
On having scored against the USA in the last two SheBelieves tournaments:
Yeah, they hate, me don't they? [laughing] No, I just love playing in the SheBelieves Cup, to be honest. The crowds are amazing, obviously to play against the USA, the number one team in the world, it's exciting, it's what you want to do. We want to be playing against them and beating them consistently. This competition is amazing for that, so we're excited to play USA and to move onto Nashville as well.
On coming back from injury, in good form, timing-wise could mean she peaks nicely in time for the World Cup:
I hope so. It's been a long five or six months. But I'm all about this [looks to the badge], I love wearing this England shirt, I love playing for my country and I'm delighted to have scored that goal.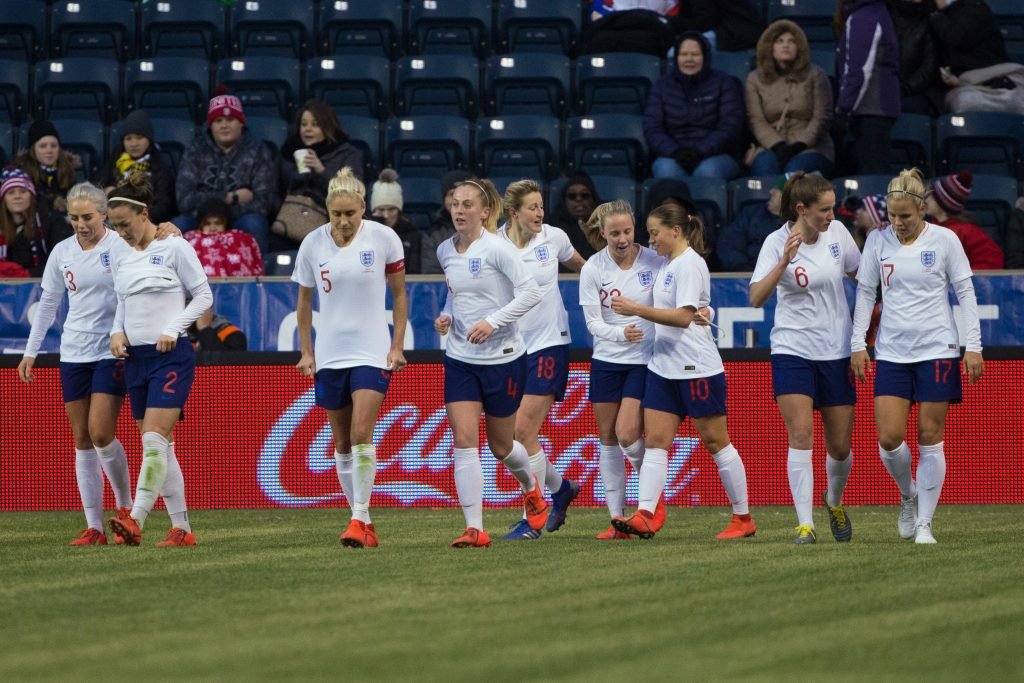 BETH MEAD
On being greeted by us with the fans'* slogan 'No Mead, No Party':
Exactly! [Laughing] No Mead, no party! 
*you know who you are 😉
On her winning goal:
Obviously it was a nice feeling when it hit the back of the net. I was saying I actually scored one recently for Arsenal quite similar, so I want to say I've been practising… but maybe not.
On what it was like being an observer from the bench in the first half:
It's a difficult one because it was a cagey match to begin with. You don't want to blame anything but the pitch was quite slow, no-one was in a rhythm. We came out the second half, were a bit sharper, played better football and got our rewards. 
On what they can take from the game into the USA match:
The character to come back from 1-0 down to win 2-1. We came out in the second half and we were fearless. We went forward, we were more positive, that's the football we need to play. We don't want to be scared of anyone, we want them to be scared of us. That's the football we want to continue playing and hopefully it's a good platform to play against America in a few days.
At what point after the ball left her boot did she know it was going in?
Did you not see I was already celebrating as soon as I'd hit it?! Nah, like I said, I wanted to put it in a good area and luckily for me it went in the top corner. You know, it's quite a nice feeling if you've connected well and luckily it went in the top corner and I got a little excited! 
DID YOU WATCH THE GAME & WANT TO VOTE FOR YOUR PLAYER OF THE MATCH (& win a hat or t-shirt)? See below ⬇️
2019 #SHEBELIEVES Cup ENG v BRAZIL – Vote for your #Lionesses Player of the Match