A little more of PHIL NEVILLE's thoughts form the post-match press conference after the 2-1 comeback win over Brazil…
On how he manages Rachel Daly, embracing her versatility rather than using it against her:
I was versatile [as a player]. So I manage her how I was managed, with utter trust. She's played for me right-back, left-back, right wing, left wing and centre forward. I remember her coach, right at the start, said she should be playing right back. But she's played centre forward for me against Brazil last time – she can play anywhere for me – she's five players in one.
I tell her probably a week before, what her objectives are for the camp. So, for instance, before Qatar she was concentrating on two positions. For this camp she has to concentrate on five positions because she could be playing centre forward on Saturday, because can Ellen White go again? She knows what I think of her. She's a valuable member our team. She's so important in terms of 'on and off the field'. You've got to have a certain quality to be able to play in different positions. That's a game understanding, a game intelligence. We put her on today, up against a very good player and she looked at ease because she's got my trust.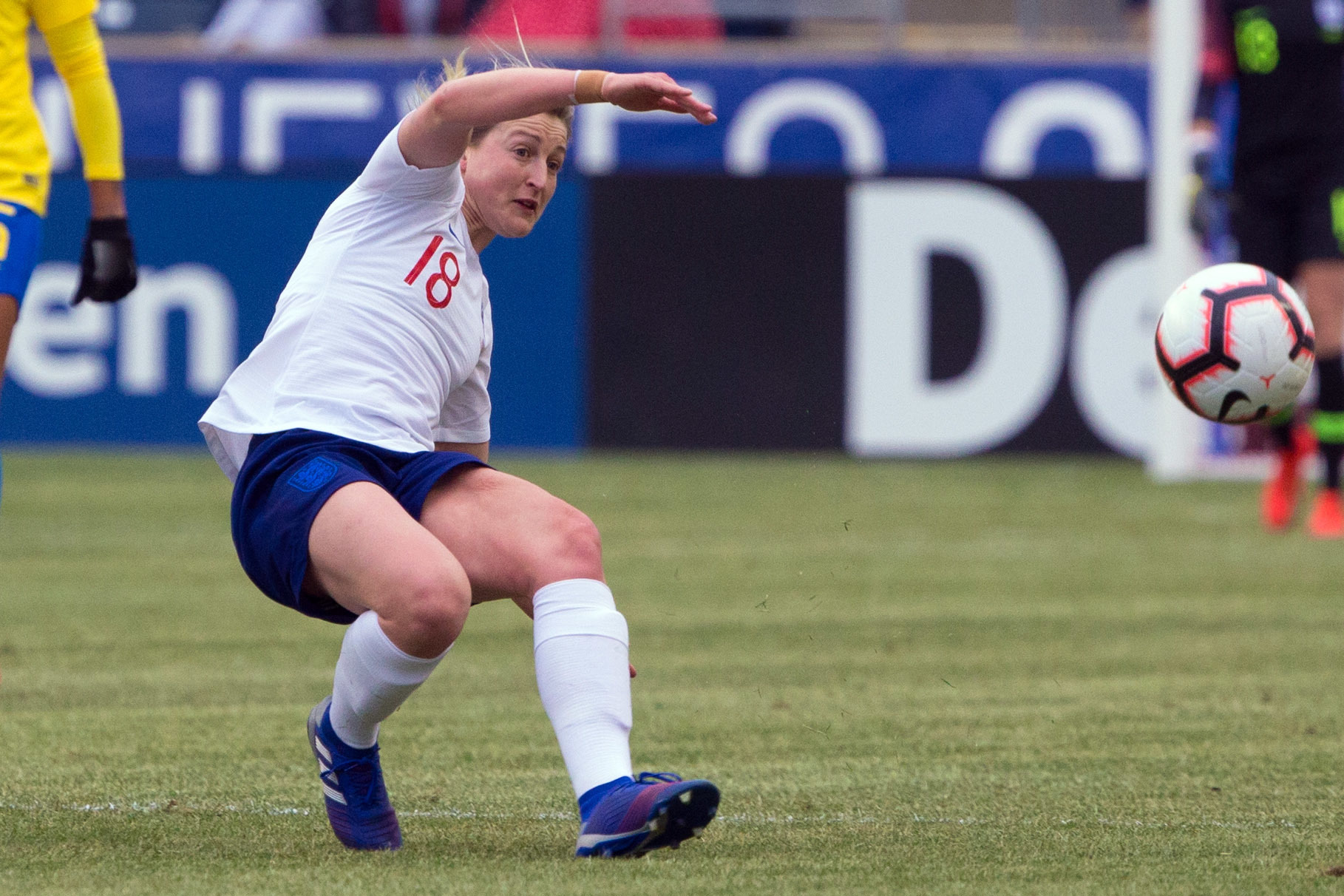 On how good it is to have Ellen White back:
She's fantastic: experience, presence, determination. The plan was to play her 45 minutes but there was no way I was bringing her off at half-time, then at 65 min but there was no way I was bringing her off then. Then my staff asked, 'What are you thinking about Ellen?' So we put Toni Duggan on. She's going to be a big player for us. I love it when my centre forwards score goals because that breeds confidence.
On whether Jodie Taylor will be available for the next two games:
She'll be back on the bench for Saturday or at least be back involved in the 23. She's trained really, really, well over the past few days. She's five months out. I think today would have been a step too far. She'll be involved on Saturday and there's a good chance of playing on Saturday and in the rest of the tournament.
On Beth Mead's goal:
Beth's goal was special. Special because you might think that was a cross but she's done that before in the WSL. That was no fluke, it was deliberate. I hope she told you that. She strikes the ball, she strikes corners like nobody else. She's got a real whip and dip on it. It's a special moment for Beth because she missed the experience of coming on the Qatar camp with us. She was under pressure this camp to force her way into my thinking. I told her at the start of the camp that you've got to come on and make an impact. That isn't just coming on and doing ok, it's coming on and scoring goals and making assists. The glint her eye when she came over to me at the end said, "That's one notch for me boss."
On whether he got any 'World Cup' level answers in terms of players and the demands of the tournament:
Yes, I did. I actually think this is one of the best tournaments in the world because it is physically and mentally brutal. It replicates a World Cup, it takes your right to the edge of physicality, mental pressure, managerial pressure. We're playing in good stadiums against the best teams. You have to make the right decisions and I thought today we made the right decisions.
From a playing point of view, the determination in the second half to win, the never-say-die spirit. I was lucky enough to play in a team that scored goals late on but that wasn't luck it was we never gave up and I saw those qualities in my team tonight. We're not going to change our stye and sit back and accept 2-1, we're going to go for it. From day one we have said that. It's going to be exciting, we're going to everybody, including myself to the very wire, I'm sure, in terms of pressure and nerves but we've committed to that brand of football.
In the second half I saw that. We can play better but sometimes you can see things beyond the style of football and that determination and running power. We finished that game with Rachel Daly who has not played for two months, Abbie McManus has played one game in five weeks, Nikita played 120 minutes on Saturday, Toni Duggan only arrived yesterday because she missed her connection…people were on their knees but they kept going.
READ THE FIRST PART OF PHIL'S POST-MATCH THOUGHTS HERE:
#SHEBELIEVESCUP 2019 ENG 2-1 BRA Post Match Reaction PART ONE: Neville says, "it's the best we've played in terms of determination," after poor first half