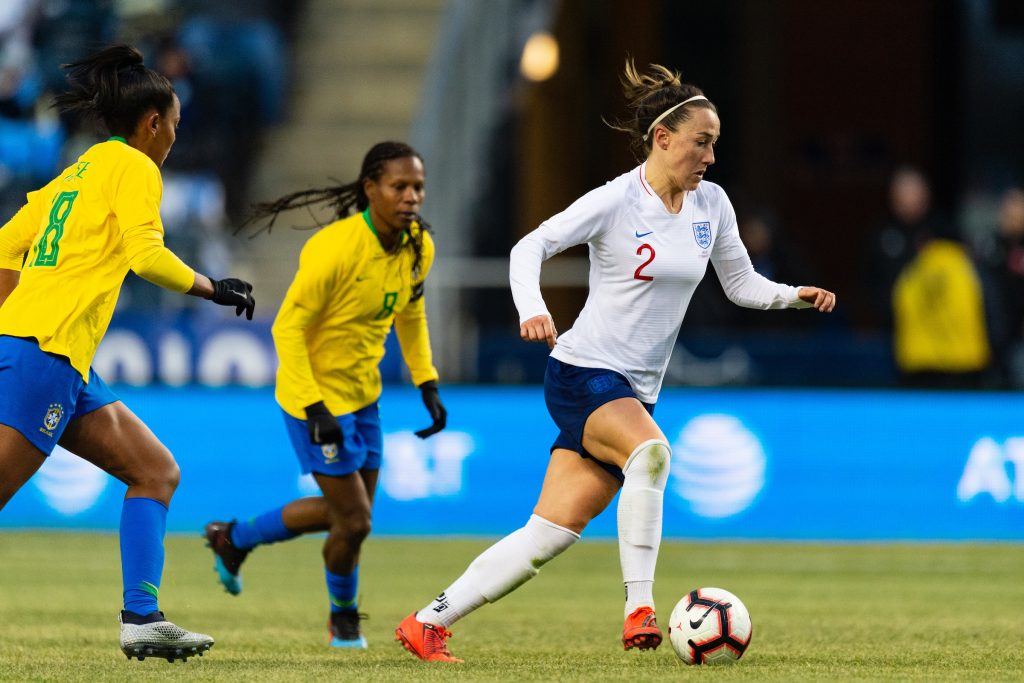 Lyon's Lioness LUCY BRONZE gamely sat down and had a pre-USA match chat with the media, at the team's hotel in Nashville. We talked the Brazil win, her spell in midfield to close out that game and how and why she is happy being [the world's best] right-back…
On having got the win on Wednesday but also whether they have got the disappointment over the first half performance out of their system:
Yeah I think you're going to get that in any tournament and in a lot of games. You never play well for 90 minutes, no-one does, no-one keeps all of the passes. It was disappointing that we didn't play as well as we could have because we could have put the game to bed a lot earlier but I think it's a good thing in a way because that's something that could happen to us at a world cup. We might not play well in the first half or 60 minutes.
On whether she has analysed her 15 mins or so in midfield – it was a one-off – but it could happen again?:
I haven't really evaluated it. I used to play in midfield so it's ok. We just wanted to see out the game really and make sure we got the win. And Rach Daly got a little go at right back as well, whereas I always play there so it's good that someone else gets the opportunity to play different positions. It was important that we got the win – it doesn't matter where I play – I'll play anywhere I need to, wherever the coach says.
It's one of the strengths of our squad that we have players that can play in a lot of different positions. It makes Phil's job easier but harder because we are able to change the game in so many different ways – that can be a strength of ours going forward.
On enjoying coming up against Marta for longer than she did in the October game:
Yeah I really enjoyed it. The Brazilian players are really quite technical, quite 'flairy' and like their skills and that maybe threw us off a bit. But once we got used to it in the game I don't think it caused us any problems. It was nice that she played longer in the game this time so that we could play against that higher level opposition in the game and it's going to help us prepare for playing against other teams that have that kind of quality in their teams.
She had that short stint in midfield on Wednesday but as arguably the best right-back in the world she has made that role her own and embraced it, how has she done that given that it's not the most glamorous of positions:
I don't know, I think it has its upsides! [laughing] Funnily enough I actually started off playing in centre midfield when I played for Sunderland with Jordan Nobbs, Lucy Staniforth and Demi Stokes. I used to play in midfield but because Jordan came into the team I had to move somewhere else because Jordan was an out and out midfielder and I just got pushed to right-back and I stayed there ever more.
I think it suits me physically. That's why I didn't suit playing higher up the pitch because I would always want to run back and defend. I've said it often, that I prefer defending to going and scoring a goal. Every time I'm in front of goal I'd rather pass it to someone next to me rather than me score. I prefer getting back and tackling – that's me and that's why I've stuck with right back and stayed there and enjoyed it.
On the challenge of the game against the USA and Alex Morgan being on 99 goals – what are her threats and how do they stop her:
She is known for her pace. She's a willing runner and she works well within that team, having a good connection with the rest of the platers where they know she's going to always get on the end of balls. If we can reduce the space that she has I think that will cause her a few problems. Whether she's on 99 goals or two goals, it doesn't matter to me. We want to stop her and ultimately keep a clean sheet.
On the excitement of pitting herself against the USA, against 'the best':
Yeah, every year [this game] is exciting because we don't get the opportunity to play them so often because they're not in the Euros or European competitions. So it is a game that we really look forward to. They are the team that everyone wants to beat and in America too. And we know the feeling of doing that – two years ago – and how good it felt and how good we felt as a team after that game. We know it is important for our morale that we do play well against them and we show what we can do against the top teams.