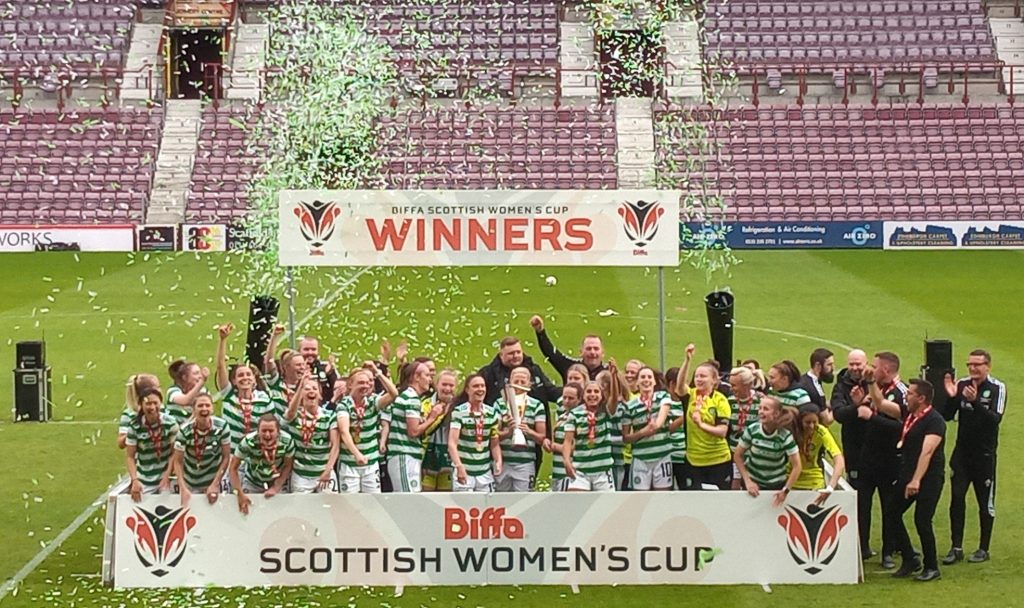 A lively drumbeat welcomed fans to Tynecastle Park on Sunday, but a record cup final crowd of 4,345 would supply the atmosphere inside the stadium as they roared on Celtic and Glasgow City in a five-goal thriller reports Catherine Etoe.
Hoops supporters were the happier at the end of extra-time, though, after substitute Izzy Atkinson calmly delivered the late-late winner that ultimately handed Celtic a historic cup double. 
Twice Glasgow City came from behind in an end-to-end first half, pulling back through a Jenna Clark goal and Lauren Davidson spot kick after Shen Mengyu's opener and a penalty from Charlie Wellings.
A red card for defender Jodie Bartle just before the break could well have meant the end for Celtic, but a superhuman effort from Fran Alonso's players pushed a gripping game into extra time.
And City, who lost the League Cup final to Celtic in December, were ultimately no match for their opponents or the cool as a cucumber Atkinson, who slotted home the winner through Lee Alexander's legs.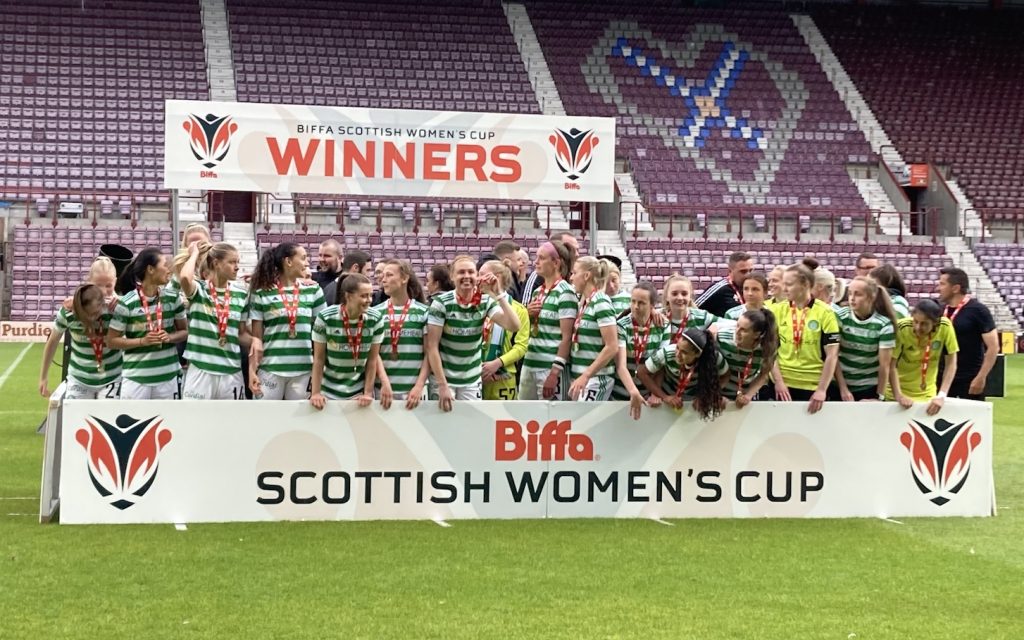 Here's what goalscorers Charlie Wellings and Izzy Atkinson, and ecstatic Celtic boss Fran Alonso had to say to She Kicks afterwards, along with a few of Jodie Bartle's words to the press pack.
Striker and goalscorer Charlie Wellings on how it feels to win:
Very, very happy. It's absolutely amazing and a credit to the girls, going into every game against Glasgow and Rangers, people put us down as underdogs and we prefer that. We don't want to be the team that's expected to win, we want to be underdogs because we just prove everyone wrong every single time. It just shows that we've got big game players, everyone steps up and it makes a difference.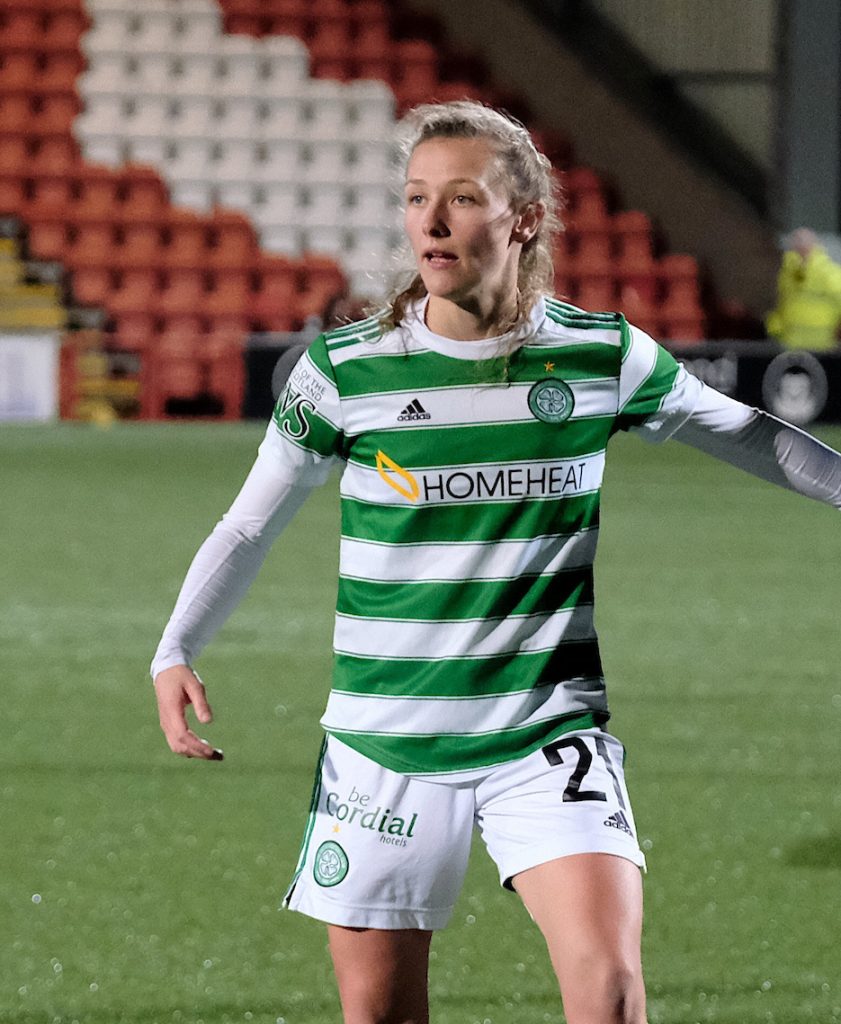 On how she kept running:
I don't even know myself; I've got half an ankle at the minute. We do a lot of prep and extra running in training for these moments, we might moan about it week-in, week-out but it shows – we've won in the semi-final in extra-time and in the final, so it just shows we've got the legs to push on, and the belief.
On her whopping 40 goal tally this season:
It's a good team at the end of the day. People always give me the credit because you're the one who puts the ball in the back of the net, but every single goal has an assist, that's why every time I score I don't celebrate, I run straight to the players who assisted me.
On what the cup double means to her:
It's massive. I wanted to win trophies with Celtic and make history with the club. Two cups this season and hopefully we'll do better in the league next year.
Winning goalscorer Izzy Atkinson on her feelings and that goal:
I'm still in shock; a day I'll remember for the rest of my life. It happened so quick, I just remember taking one touch and I was one-on-one with the keeper and I saw her legs open and I could hear the crowd before it even went in the goal.
On the reaction of the crowd:
That's how I knew the goal had gone in, I didn't see it go in, I just heard the crowd and was like, 'Wow, wow, wow.' Honestly it was one of the most special moments of my career.
Head coach Fran Alonso on the match and his emotions:
I feel very proud and happy. It was an outstanding game, two super teams and a credit to the Scottish game. We both wanted to win, it was an exciting game and at the end, I'm so happy that our players got the reward that I feel they deserved based on the hard, hard work that they had to do. It's a big pitch, with one less player, that's a lot of running. I'm so proud and delighted for them and every Celtic fan. 
On the crowd:
A huge crowd, super exciting; they were the 11th player for us today.
On what he said at half-time:
I said don't feel defeated in your minds. We have a huge screen with 'We will win the cup' [written] on it and I said: "Look at this and believe." And they did it!
On the performance:
We were very good. We had so many chances, of course, they always have chances because we had one less player and they are a very good team, but we controlled it as much as we could. Our defending in our box was superb apart from the free-kick we conceded from, so overall I give 9 out of 10 to my players and 10 out of 10 in terms of passion, heart and belief.
On where it ranks in his memory bank:
This is my best day in football and the fact that my parents were in the stands makes it even more special. Actually, any game – when I was assistant in the men's Premier League and as a manager – I've never lost ever with my parents there. I might bring them more often!
Defender Jodie Bartle on her sending off:
The ref said it's a clear goalscoring opportunity and I've not made an attempt to get the ball, so therefore it's a red card, they are the rules, but I didn't think it was a foul.
On the team coping when down to 10 players:
Fran always puts scenarios on us on a Thursday when we do 11-a-side and he will put eight of us against 11 players and will be like, "You need to go and score" and every single time they go and score because they've got the bite and know how hard they're going to have to work in order to do it. I went in at half-time and told them about that scenario and reminded them this is what happens week-in, week-out and they always come out winners and that's exactly what they did.
On the season and cup wins:
This season has been historic in certain ways. We've played in the Champions League, we have got to two cup finals, we have won two cup finals, in those cups we've knocked out Rangers in both, but to go and win it, it's phenomenal.