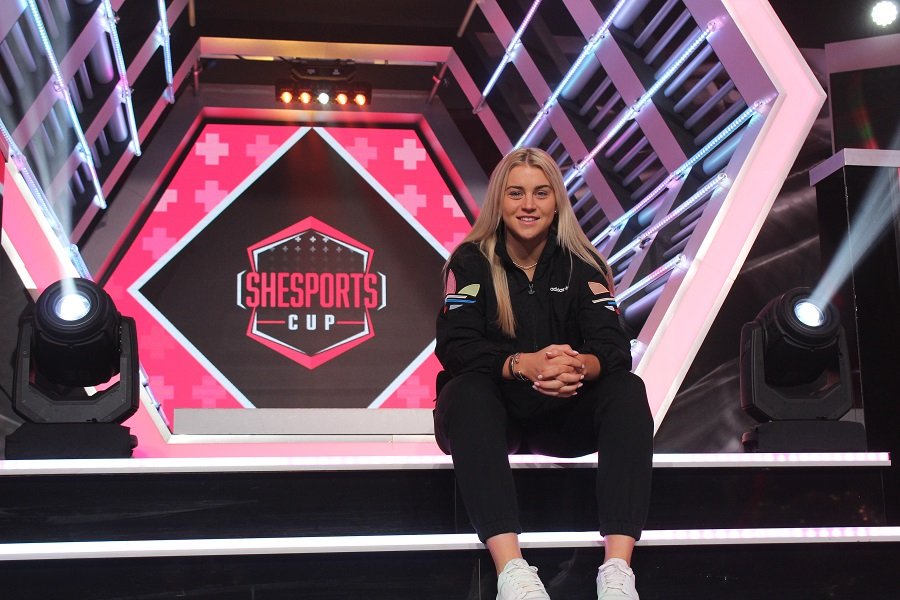 She made her senior England debut last March (back when the world seemed oh so different…), and Alessia Russo's second cap also proved worth the wait. Having returned to action in recent months, the Manchester United attacking prospect was among the Lionesses players to notch a hat-trick in last week's record-breaking 20-0 win over Latvia – taking all of 11 minutes to do so.
Fresh from bagging the quickest treble in Lionesses history, the 22-year-old was getting set to test her skills in a different arena on Monday evening, as she took part in the Christmas edition of the ShEsports Cup, the first all-women's FIFA eGaming tournament.
"It's the first time I've been involved, and I just think it's great for women's sport," she told us. "Esports is a real game and we're trying to push it in the right direction."
"That's the key message for today, just trying to get more exposure in and around women's football."
The tournament went the way of Team Pacheco, featuring Aston Villa defender Maz Pacheco. She may not have been on the winning side this time around but Alessia has had the honour of actually featuring in FIFA in the recent past, as one of the Lionesses included in the game during last year.
Her fans can likely look forward to the Manchester United number 23 returning in the next squad updates, but which team does 'Less' usually go for if she gets on the controller herself?
"When I was younger, I used to play as Real Madrid. Any team that (Cristiano) Ronaldo was on is who I'd play as, so right now, I guess it'd be United!"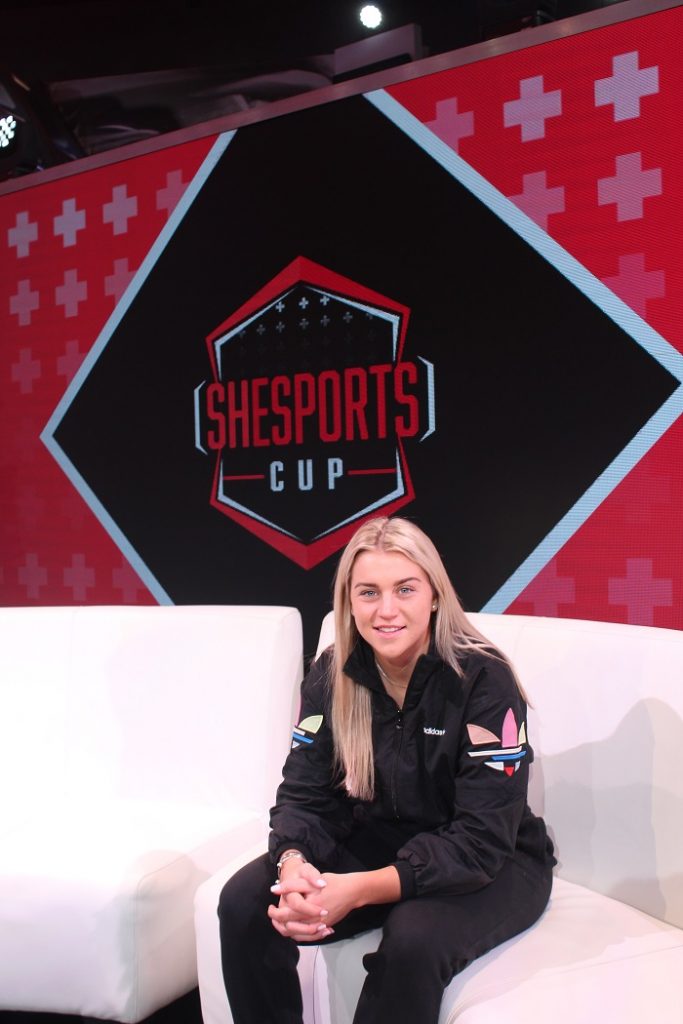 The England talent pool is nothing if not well populated, though the one-time University of North Carolina star is undeniably among the most exciting up-and-coming performers at Sarina Wiegman's disposal. Back in the goals at club level, she has settled back into the groove this season after a hamstring injury requiring surgery cut down her promising 2020/21 campaign last winter.
"It's not nice, but injury is a part of football, unfortunately, and it does happen to everyone. I think that it taught me a lot about myself as a player and a person, and allowed me an opportunity to work on things maybe that I wouldn't have worked on if I was on the pitch all season.
"For example, extra strength in the gym, and also trying to take my mind away from football. I got a little bit involved with Manchester United's youth and RTC (regional talent club), got around that, and I just thought of ways that I could influence and still feel a part of something important, without actually being able to contribute on the pitch.
"Whether that was just being the best teammate I could be, or just helping others, I think that was what I got my joy from."
While evening games are notoriously tough for trying to get to sleep after, once the matchday adrenaline of the Latvia game and her goals began to subside, did she have a moment to reflect and be proud of how she has returned in recent months?
"Yeah, I think it's one of the things that I don't do enough, looking back and enjoying the moment. I think after last season, and the struggles and how long I was sidelined for, after the Latvia game, I was honestly so happy to be back and playing for England.
"With the hat-trick as well, it was all topped off really. I felt like I'd came full circle and I was just really enjoying being back on the pitch, and back scoring.
"It was a real, proud moment for me and my family, but not one that you can reflect on for too long really, because you're right back in with club games, and there's huge tournaments coming up with England that I aspire to be in. It's good to reflect and enjoy the moment, but still lots of work to be done."
Nevertheless, has she had a little look back at her hat-trick on the highlights?
"Yeah, I have. It was probably the weirdest hat-trick I'll ever score!
"All with my head."
First goal for England ✅
Fastest #Lionesses hat-trick ever ✅

Special night for Less ❤️ pic.twitter.com/tJCgZyTo4H

— Lionesses (@Lionesses) November 30, 2021
The former Charlton Athletic and Chelsea youngster also made a scoring contribution during her 2017 stint at Brighton & Hove Albion in FA WSL 2, prior to embarking on a collegiate career across the Atlantic that same year. For history and prestige, she could hardly have chosen better than heading to Chapel Hill to become a Tar Heel.
North Carolina have won 21 national championships under Anson Dorrance, the United States' World Cup-winning coach in 1991. With reference made to her time at UNC, Alessia is asked about the kind of approach from a coach that she feels most enables her to thrive.
"Anson is a great manager and really pushed to get the best out of you. I like to have the pressure on me.
"I think that I've always played with a bit of pressure on me, and I enjoy the big games and the big moments, but at the same time, I think it's important to be a good teammate and have good people around you. So, having an arm around your shoulder is just as important as feeling the pressure."
With a home EUROs on the horizon, the Maidstone-born forward is viewing that pressure as a privilege, and along with the likes of former UNC teammate and Arsenal defender Lotte Wubben-Moy, relishing the chance to keep staking her claim. After a 2020 that brought the pride of her first cap, and further glimpses of her vast potential before closing with her being sidelined, 2021 has ultimately seen her come roaring back into the conversation.
"I think it's definitely been a year of highs and lows, but again, that is a part of football. To be able to be back playing and training and working hard every day is exactly where I want to be.
"I think that I'll look back on it with lots of lessons learned, and lots of goals that I still want to achieve, and pushing hard for next season."
Alessia Russo was speaking from the ShEsports Cup Christmas Special show, an all-female gaming series developed by broadcaster Rachel Stringer and Blueprint Sports, which aims to inspire a new generation of women to participate in the world of gaming and other sectors of sports and entertainment. For further information, follow @shesportscup on Instagram
Interview by @chris_brookes