The second semi-final to take place in Lyon did so without the fireworks, frenetic action and drama of the speed-punching boxing match of the USA v England clash the night before. With both defences (particularly both goalkeepers, who were outstanding) proving their strength and prowess, Netherlands and Sweden plugged away to no avail during the regulation 90 minutes, as despite seeing efforts denied by superb saves and coming back off the woodwork, neither side could make a breakthrough.
The Dutch had started to look the more dangerous, particularly following the second half introduction of substitute Shanice van de Sanden but it was new Manchester United signing, Jackie Groenen who the fired the vital a shot, in extra time. Her smartly directed, low drive, nestled into the bottom left corner, to earn the Europeans champions a place in Sunday's final, incredibly, at only their second World Cup. Cue joyous celebrations throughout the sea of orange and sadness for the gutsy Swedes.
There was plenty of new and former WSL talent on show, here's some of the reaction from both camps… 
JACKIE GROENEN (NETHERLANDS MIDFIELDER & MATCH-WINNER)
On the fact that she doesn't usually take shots:
Well I just saw a nice angle and we've been discussing it for a few weeks now about me taking more shots, the ball came nicely and I thought I should just do it.
On the importance of concentration in the game:
We knew that Sweden would start strongly but I though we handled it really well and in the end we had enough energy to dominate the extra time.

On facing the USA in the final:
Of course we've watched their games, the game against England. They are a really strong team, obviously, its the US, but anything can happen and I hope we can play our own game. Who knows what will happen.

On how it feels to be about to play in a final:
It's amazing to be able to play the final. It's so nice to play in a team where you get so much self confidence. We give confidence to each other and that's beautiful.
On the difficulties they experienced to initially qualify for the tournament:
I think we went through different stages of development of a team after becoming European champions. It was hard for us at the beginning but this team works so hard to deliver and do well and it's so nice to be in the final.
DOMINIQUE BLOODWORTH (NETHERLANDS DEFENDER)
On how she feels:
Amazing. That's the only word I can describe it with.
On having to dig in for the 120 mins:
Personally, I felt really good and I knew that we could finish it until the 120th minute if we had to. I think the player next to me, Merel van Dongen also told me that she felt really good. I think we had that extra adrenalin to make it until the end, especially if you make it one nil and then the only thing you have to do is continue for a few more minutes and then we're going to the final. With so much adrenalin we're just fighting to the end and it was enough today.
On Sari van Veenendaal:
Yes, Sari, she has been incredible this whole tournament. You know, I have a lot of respect for her, she's an amazing goalkeeper and I think she's also really good in tournaments. She's a hero for our team.
On the effects of the game v Italy in the heat, and how both teams were maybe struggling a little tonight:
Well I think the tournament has been long, the season has been long for a lot of players. You can tell that players are getting tired but at the end it's just going to be a mental game and giving it a little extra. I think at the end you could see that we had still a little bit in us to fight to the end and it was enough today. So we're just going to continue and hopefully we can do something great on Sunday, as well.
On the final against the USA:
Final in a tournament, anything can happen, of course. America is a very tough team and so we're just going to see where their weaknesses are, where their strengths are, where we need to be careful to exploit those weaknesses. Hopefully we can hurt them and do something great.
We all know they are very confident but we are also very confident. We haven't been playing our best football but have still reached the final, so that's something incredible for our nation.
On no longer being the fringe player that she was during the Euros success, now she is the dependable rock at the back:
It makes me feel really good, I've been working really hard and to have played every second of this tournament so far is something that I'm really proud of and I just want to continue to even be better because I still think that I sometimes make mistakes and I know I can do better. But that's something for after the game because obviously you cannot sleep because of the adrenalin, I'm always analysing the game and seeing where I can make improvements. Like today, for example, My passing was not the best, that's normally one of my strengths so that's something I'm going to be looking at and seeing where I can improve. I think that's something that males the person and that's why I'm here right now.
On the character of the team:
I think that we have a lot of resilience and belief and that's something we have been showing this whole tournament. It's been tough sometimes but we have always been fighting until the end and I think that's something now that we can say is one of the strengths of this team. 
On celebrating tonight:
It starts with singing in the changing rooms, singing in the bus, singing at dinner and then hopefully get some good rest and just recover, recover and then prepare for this game, the biggest game for everybody.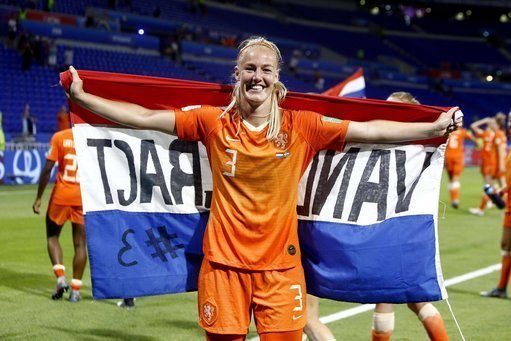 STEFANIE VAN DER GRAGT (NETHERLANDS DEFENDER)
On the team's performance and looking ahead to the final v USA:
The team was compact. And the most important thing was we held the lines. Unbelievable.
I think everybody dreams about the world cup final and now it's happened, I'm so happy.
We have such a good team, not just the first 11 but the 23 players and everybody is good. We are like a team. I'm so proud.
It's a big game, it's one game, everything can happen. We stay as a team and see what happens.
They have a very good team, an amazing team so we have to be ready for the game. But now we have a party… and tomorrow we talk about USA.
DANIELLE VAN DE DONK (NETHERLANDS MIDFIELDER)
How you feeling?
I'm overwhelmed, I'm buzzing, I'm so excited and exhausted at the same time.
On Netherlands' rise, can she explain it?:
I don't really know because we didn't really have the easy way as we got here through the play-offs and everything so it wasn't like we qualified straight away. We came here the hard way and we proved that we can play football and that we are good and that we are European champions. I'm very proud of the team, I'm very proud of the Netherlands and I think we came this far as well because we have such amazing support all the time.
On whether she relishes being an underdogs:
Yes, I love it.
On whether she will love being an underdog on Sunday:
Yes I think it's the best role you can be in. I like it. I've always been the underdog. I think I got used to it. I think they… I don't know the English word but I don't think they think we're that good. [Underestimate?] Yes, thanks. I think that is going to be an advantage for us.
On there being no pressure on them in the final:
You are in the final so it's everything or nothing. We're going to be proud anyway so we'll give it our best try and everything we've got. Whatever the result is going to be, it's going to be amazing for us. We're going to prove ourselves and show them what we've got. We might surprise them.
JILL ROORD (NETHERLANDS FORWARD)
On how she feels:
Crazy. I can't believe it, it was a really tough game. I'm really proud. I did not expect that we would be in the final but we keep winning! I don't think we play the best football but nobody cares because we keep winning!
On whether there is any pressure, after winning the Euros, to do the same in the final:
Of course we've done our country already proud. We're in the final of the World Cup. I don't think anybody expected that. I'm really proud and I think everybody at home is really proud.
MAGDA ERIKSSON (SWEDEN DEFENDER)
Her feelings on missing out on the final:
Disappointment – that's my feeling at the moment is just disappointment.
I think we were really, really close. We played a good game but the Netherlands played a really good game as well so it was those small moments that defined the game. And unfortunately they won.
On the fine margins that decide games at this level:
Yeah definitely, that's how it is and we knew that and we know that we had to stay compact, stay together and I don't know what we could have done differently on the goal either. It was a really good shot. Yeah just, I'm really disappointed.
On the importance of finish the job vs England:
Definitely, definitely. We knew that we were gonna have two games left, whatever result tonight. And going for it on Saturday is gonna be massive and important for us and I feel like we have a good chance of beating England and that's the goal from now on.
On defending so well:
Yeah definitely, we know we're really good on the counterattack and the Netherlands didn't give us any space because they stayed at home with their whole backline. So hopefully against England we can get more space to counter.
On facing England:
They have lots of good players. I've played against them and I've played with them a lot of times so I know them really well and they have a really good attacking team. I think there's loads of players I could mention, so we just need to analyse them and see where they have their threats and then regroup, recover for Saturday.
PETER GERHARDSSON (SWEDEN COACH)
On how it feels to lose the semi-final:
The feeling? Well, what can I say? A feeling of emptiness really. Everyone who has experienced it knows it. You're not angry, you're not sad, you're not disappointed. Empty, that's what I feel like right now.
On getting back up for the third place match:
It's about a medal and third is better than fourth so we'll do everything to win it. It's not a lot of time and we have to see if players who have played 120 minutes can play.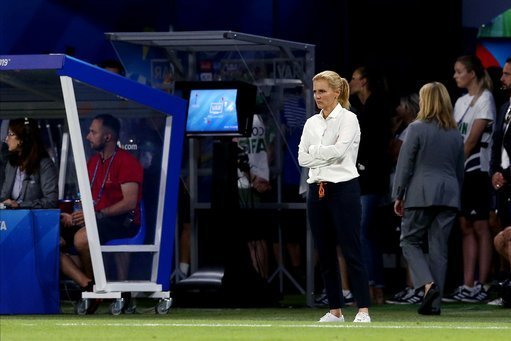 SARINA WIEGMAN (NETHERLANDS COACH)
On it being the longest and perhaps most difficult game so far and in only their second World Cup – who can stop them?:
We had to make changes at halftime because Lieke [Martens] wasn't doing well [toe injury] and we wanted to have a strong player on the left and that was Jill [Roord], then we put Shanice Van de Sanden on the right and suddenly the tables were turned. We got better in the second half.  The USA obviously, can stop us. It's going to be really hard but it's one match and anything can happen.
On the rise of the women's team from the Netherlands:
The potential has been in the Netherlands for a long time but since 2007 when the Eriedrivise started and the facilities came in, then the players improved and developed, they made transfers to big clubs in Europe and now most of the players have been in a couple of tournaments and they believe that they can do very well. Belief is something that is important too.

On having two female coaches facing each other in the final:
Of course I'm really happy I'm in the final, Jill Ellis is there too with the USA. I think it's good that women get the opportunity too develop in football and in wider society and we need to get more women involved in higher positions in society. Women need to have the guts to make choices and go for higher positions. As women we need to show that we have qualities.
On whether she is or was emotional:
I wasn't emotional at all after this game to be honest. It might come later. I don't think it has sunk in yet.
During the quarter finals I was more emotional than I am now I'm very calm.