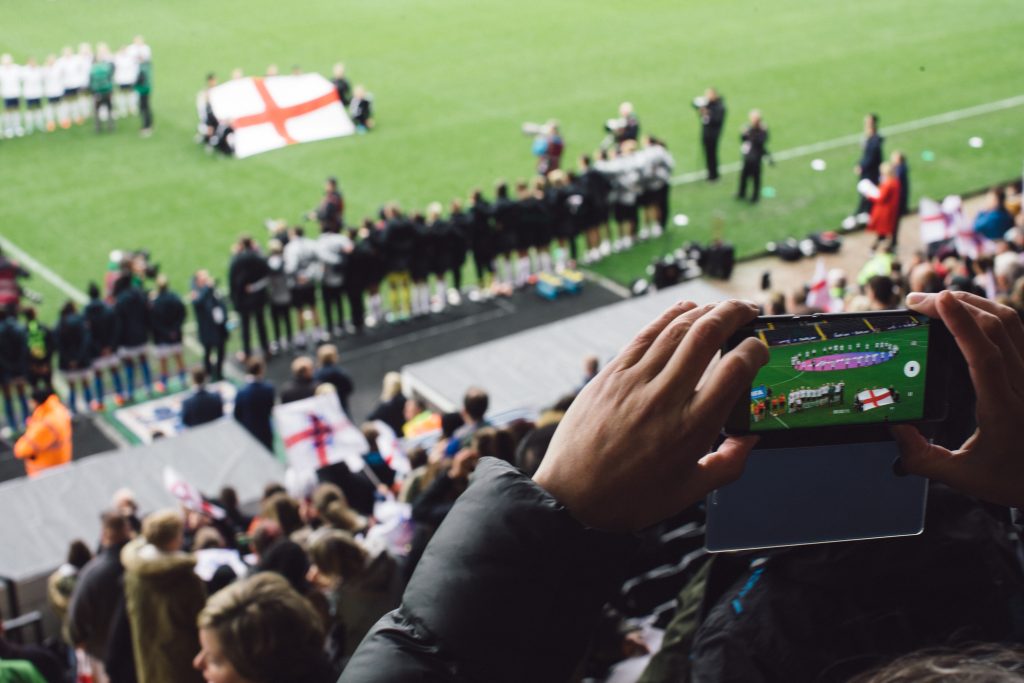 England 1-0 Brazil
The Samba girls of Brazil would have received a shock to the system when they woke up on Saturday morning to the grey clouds and rain of Nottingham, a far cry from the Copacabana or Maracana, REPORTS KIERAN THEIVAM from Meadow Lane.
They'll have felt even worse after just two minutes, when England's Nikita Parris danced her way through the Brazil defence to create some space down the right-hand side, before playing the perfect cross for Fran Kirby to head home.
That was Kirby's 11th goal in 33 games for her country, with the majority of those caps played in a deeper number ten role.
The England band did their best to create a carnival atmosphere for the home crowd as the Lionesses went in search of adding to their advantage, while Brazil stuttered at trying to find their rhythm and impose themselves on the match.
North Carolina's Debinha, fresh off her club side's NWSL Championship victory two weeks ago in Portland, was the first player for the away side to register an effort of any note when she let fly from distance, but was unable to trouble Carly Telford in the England goal.
Recently announced FIFA Best Women's Player Marta (her sixth such world accolade), so often the focal point for the opposition, was substituted just after 20 minutes with a hamstring injury, which was a blow for the crowd and for Phil Neville, who will have wanted his team tested against one of the world's best.
Parris continued to torment Camila down the England right as she went close after half an hour and again just before half-time hitting the rebound over the bar after Barbara saved her shot at the end of a mazy run into the box, with Brazil in offering little in response at the other end.
Despite their domination and sharp passing, England will feel they should have been more clinical. However, with As Canarinhas struggling to warm up in the opening 45 minutes, those missed opportunities fortunately did not turn out to prove costly.
The visitors were struggling to create and there were signs that frustration was creeping but they were then almost given a lifeline through Alex Greenwood, who lost her bearings and played a blind back-pass to Telford. It was intercepted by substitute Raquel, who was thwarted by the Chelsea keeper in a one-on-one. Had Brazil finally woken up?
Well, no, not really. Camilla was withdrawn on 66 minutes to relieve her of any more chasing after Parris, who herself became increasingly frustrated by her own execution and lack of end product – though the endeavour was there – and in truth, England were comfortable.
As the usual raft of substitutions were made in the second half, the pace of the game turned into more of a waltz than the more famous and energetic capoeira in Brazil.
England's no 9 Rachel Daly, who worked tirelessly throughout (one of the leading scorers in the NWSL this season), almost added a second for England but her effort from close range off of an Alex Greenwood cross, was well saved by a consistently reliable Barbara in the Brazil goal.
And with that, after a fairly one-sided affair, the referee brought to an end the very first meeting between these two sides. The had Lionesses come out of it on top, much to the joy of the 7,864 in attendance.
A competitive match really takes two to tango, and despite the close scoreline, only one team really showed up to the dance.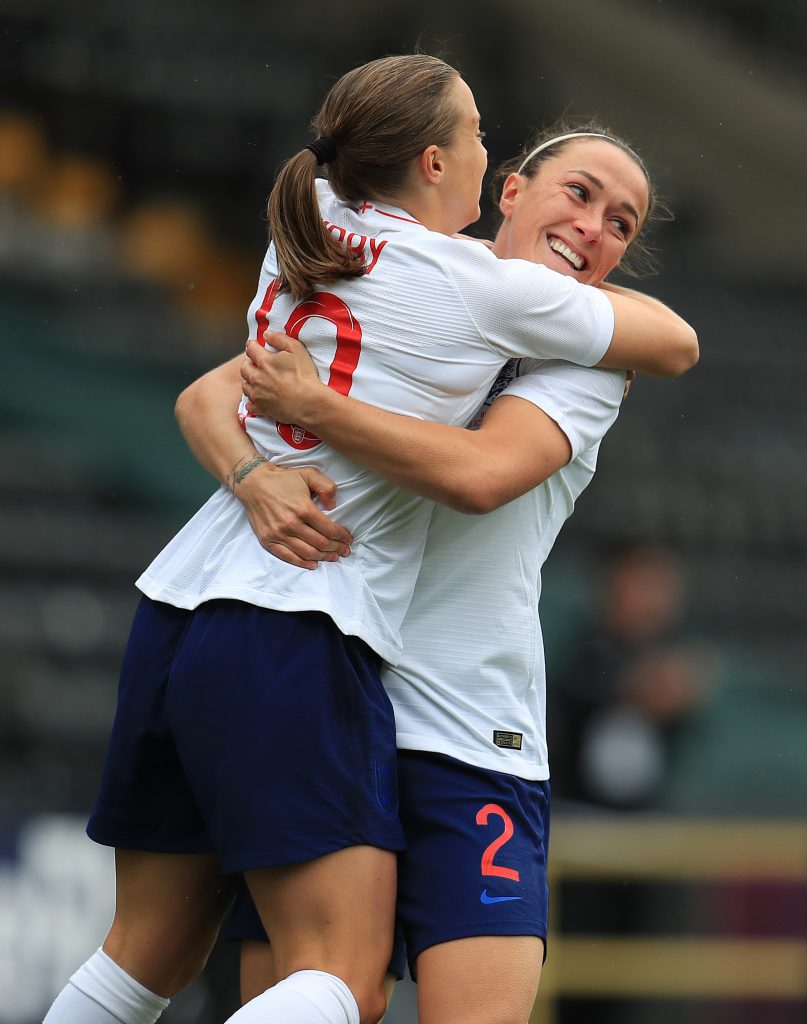 PHIL NEVILLE
England Head Coach Phil Neville agreed his side could have been more clinical, admitting "I'm disappointed that we didn't score more goals than we did."
Thoughts on the game:
It wasn't a 1-0 type performance from us. Not ruthless enough in our finishing, which I think we all saw. Players are disappointed in the dressing room. We didn't finish the game with the composure. I think the first half I saw things that excited me. We beat a top ten team which we wanted to do. We wanted to be aggressive because we knew they might struggle on this type of day in Nottingham. I'd say I'm slightly pleased and there's room for improvement.
On whether he was a little disappointed with what we saw from Brazil: 
I think knowing Brazil as I do, the weather does play a big part in their culture, but that's no excuse because some of their players play in Europe. I thought it was competitive and I thought their defenders were aggressive, I thought there was a competitive nature, but I never felt there was a danger they were going to score. Yes, a little bit disappointed, but it was a good test for us.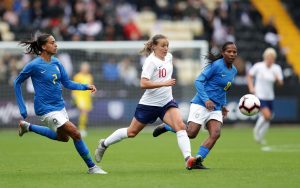 On Fran Kirby's performance, and the two number 10s today:
I would still take my number ten over Brazil's number ten, that's for sure. I don't think Fran realises how much she can keep going. Doesn't realise her full potential yet – we will get her that. We challenge her every single day. There was a 10-15-minute period after half-time where I thought she was world class. She can do virtually everything. I'll play her wherever we can get her on the ball, whether that's 9, 10, the three in midfield, we need to get Fran Kirby on the ball.
On Nikita Parris' performance:
I think the Wales performance, the Russia performance and today were her three best performances. There is now consistency to Keets. I think she should have had the match ball today. I think she should have at least two three goals, but she's a threat now. She's got 24 caps now and is beginning to feel a part of the group in terms of her experience, she's starting to influence team meetings, she's starting to influence people in training, She's got a wonderful personality, who is at everyone all the time, and she's infectious.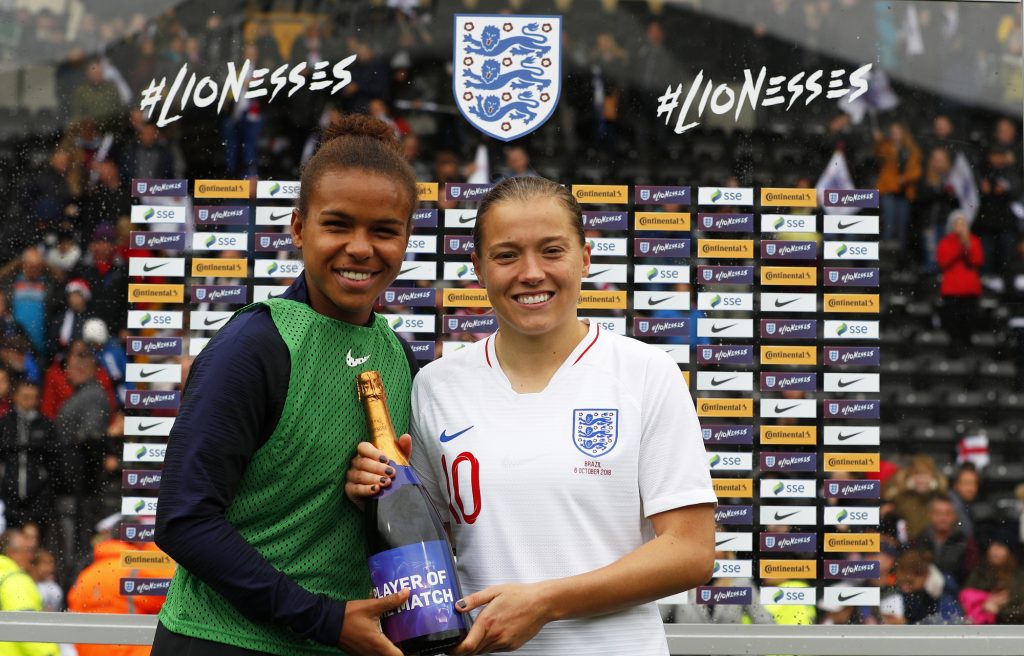 NIKITA PARRIS
The infectious Parris spoke to media after the game and she agreed with her boss that she could have been more clinical, but was pleased with her side's win regardless.
On her performance and if she felt shecould have come away with a couple of goals:
Yeah it was a good performance but personally I need to deliver in front of goal, especially with the chances today, things for me to work on definitely. But a great performance against a good team in Brazil.
On the manager's comments about her contribution and what he is doing to get the best out of her:
I think he allows me to express myself, he tells me to be brave on the ball. By giving me that freedom you create chances. He's always there to support and give you advice, he'll keep talking to you through the game and I think that helps me. He challenges me, he doesn't always say 'that was good', he 'says you can do better'.
On the confidence that comes from constantly beating your defender:
Massive confidence, Camilla is a good midfielder but she's not the best left-back because it's not her position, so it was up to me to make it difficult for her and I think I did today. But it's important to do that against every left-back. To be regarded as one of the best and help this team win World Cups, I've got to do that.
On whether anyone got Marta's shirt:
So many people tried that. Someone was lucky, but I wasn't.