England's Head Coach Sarina Wiegman entering the stage, cradling the Women's UEFA Euro trophy, was a cool sight on Thursday evening. There we no worries about silly superstitions of touching the silverware beforehand because she was rightfully carrying it as a current holder.
But once she had placed it on the pedestal in front of the gathered crowd in the hall (plus the watching TV audience), stepped away and told host Alex Scott how winning it in the Netherlands in 2017 in front of the home fans had been an, "Incredible and an unforgettable memory," the competition finally felt like it had been reset.
Minutes later (and we had to wait a bit!) when the draw had been completed and we knew who would play who and where, the sense of anticipation was truly set. As hosts, England were already in position 1 in Group A and were joined by: Norway, Austria and Northern Ireland.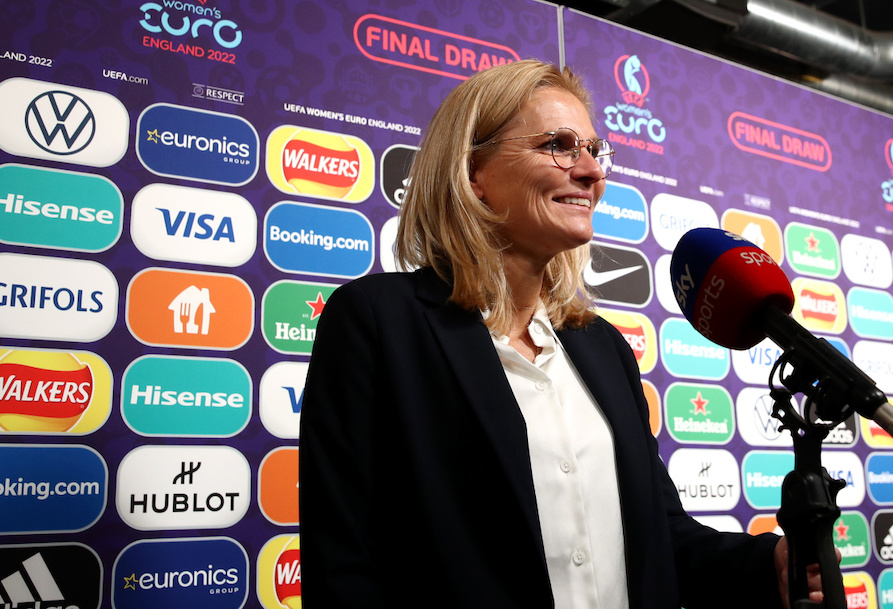 Sarina Wiegman is, refreshingly, a woman of relatively few but pertinent words. Here's some of them as we asked her reaction in the mixed zone shortly after…  
On the draw itself:
They are countries we know very well. Austria and Northern Ireland are in our group now for World Cup qualification and Norway I know really well because I've played them a lot with the Netherlands. You just have to play whatever team is in your group, so that's just the way it is. 
On the familiarity of teams:
For my character, I like to play different teams and change. I find it challenging to get a team you've never played or haven't played a lot. It doesn't matter now, we will prepare for this and whatever comes in front of us.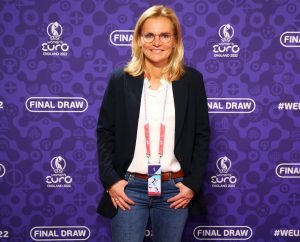 Her message to fans ahead of the opener against Austria at Old Trafford:
Buy tickets! It's the opening game and it's going to be massive. The crowd are going to be our 12th woman behind us. We just want to connect with the fans and they can help create a great atmosphere.
And I hope it's going to be sold out at Southampton too [for the Northern Ireland game]. It's just an amazing stadium too…It's nice for everyone because we want to do well and we want to have our fans but Northern Ireland will have their fans too. 
On how it is starting to feel real now the draw has been made:
Absolutely. Now we know; everyone knows. We can start preparing things – we already did of course because we knew we were in Group 1 [so knew our venues and where to be based etc]. Now everyone can continue with their preparation. 
#WEURO2022 Draw Group A Reaction: "The flights will probably be booked up," says Northern Ireland's Kenny Shiels