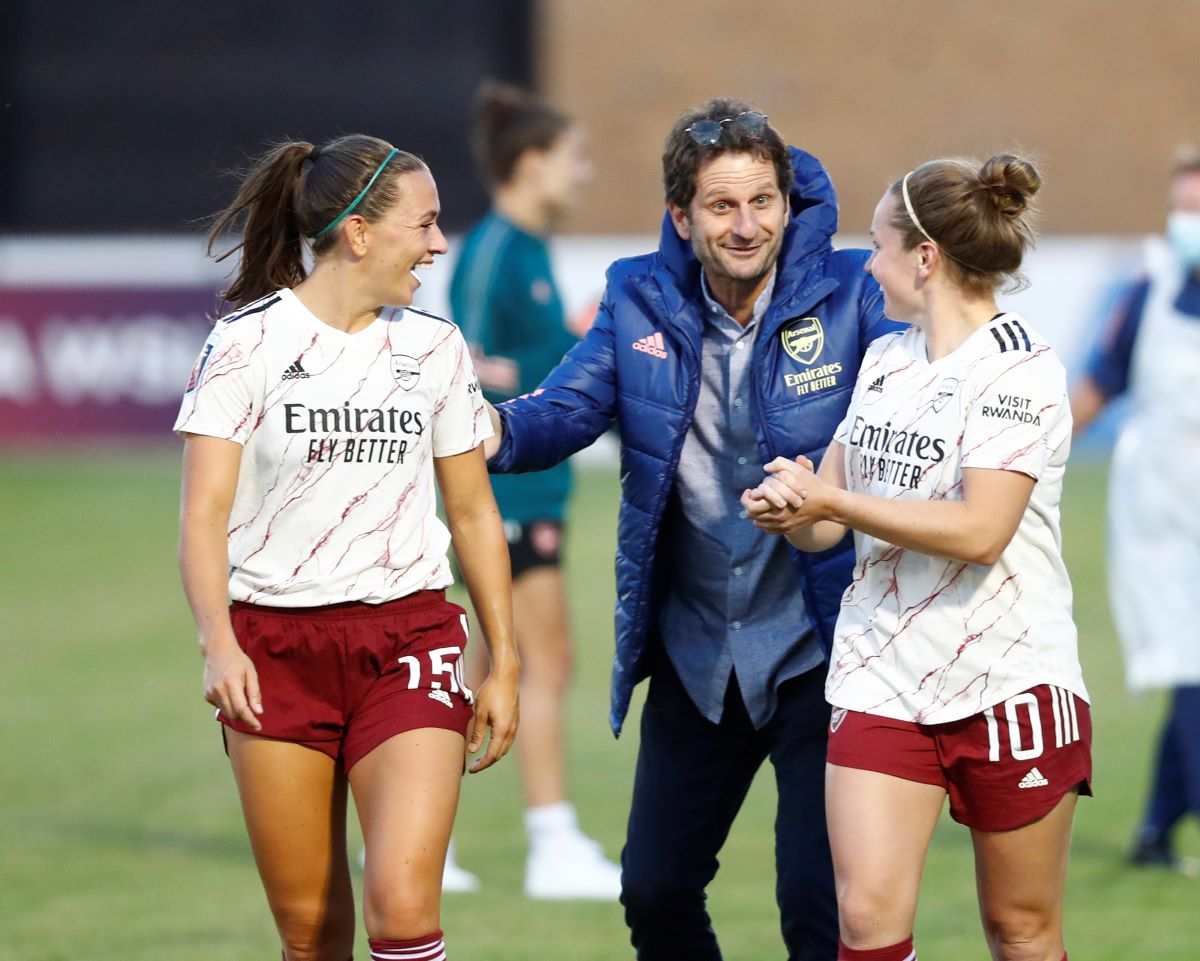 Arsenal ran out 9-1 winners away to ten-player West Ham in the FA Women's Super League last night (Saturday), with Jill Roord leading the way for the visitors with a hat-trick, her second in as many games, writes Catherine Etoe.
For their part, West Ham were in the tie for a good half an hour, Kenza Dali stylishly cancelling out Roord's opener. But the floodgates opened after Hammers captain Gilly Flaherty was sent off for picking up a second yellow card and by full-time, Vivianne Miedema (2), Kim Little, Beth Mead, Leah Williamson and Caitlin Foord had joined Roord on the scoresheet. Here's some of what their manager Joe Montemurro had to say when he met the press afterwards…
On how the game was going with the score at 2-1:
I didn't really feel that we didn't have control, I think we missed three one-one-ones before the 2-1. We were more disappointed that we worked on clearances from deep crosses quite a lot because they cross from early areas lower in the pitch, but we didn't clear, we didn't clear the lines. I think we had two or three crosses all game and from one of them the ball has popped out and they've scored. That's what we're disappointed about. But I didn't feel we were never in control of the game, even though it looked like they were pressing quite high.
On possible offside goals:
It's always a very difficult question this one, because you see it after the fact. As I was on the bench, all I saw was good build-up and good finishes. I saw one in the post-match press conference on the television and one looked a little bit dubious from that perspective. If two are offside I can't comment on that because I don't know particularly what happened.
On the crowd of 734:
We should be privileged to be the first sport to be trialled with a potential return of crowds. Obviously a pro-West Ham crowd didn't make it easy for us, but we dearly miss the crowds. We hope that today was a little tick in the process forward to getting the crowds back, but it was well done by West Ham and all the officials and everyone to get a great atmosphere here today.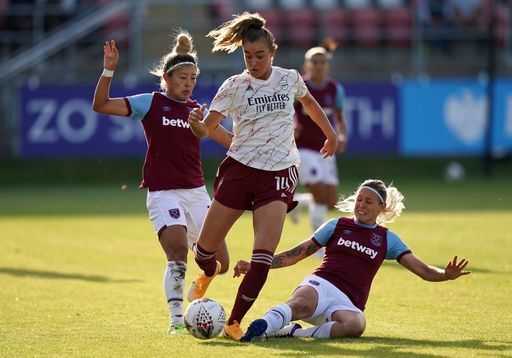 On Jill Roord:
We always knew that Jill was a special player. We brought her in last year, a young, talented player that probably didn't have the continuity to back up her performances, she'd give us one or two good performances then go missing. We gave her the challenge this year both from a physical perspective to get her physically fit to play the way we want to play, but more importantly to have that continuity of standards. We always knew that there was a special talent and we are now starting to discover that maturity to continue at the level and maintain that level and hopefully we've got more to come from Jill.
On the squad:
Apart from having a spine that's experienced, we've also got the characters that are able to adapt to different situations and different problems that teams can bring to us and that's what I'm excited about this squad. This squad, whatever solution we need, whether it's in a moment in the game or a phase in the game or leading up to a game, we can find those solutions. It's not about one or two players, it's about everyone understanding their contribution and how important their contribution is. We are just about there with the characters that understand that and that's what pleases me the most.
On Caitlin Foord's potential:
Caitlin is working so hard at training, she has probably just missed out on the starting XI due to the great start that we've had. I have discussed this with Caitlin quite a lot, we want to start building her rhythm and her confidence, so I'm so pleased with her. She's going to really take this league by storm, whether it's coming off the bench or starting. I think she's already shown those qualities.
On Steph Catley:
Steph is fine, there was a little bit of precaution. I think it was the right thing to take her off, she was a little bit groggy, but coming into the international break she should be fine and back to training this week and rested and ready for October.
On the result as a statement to anyone who has written them out of the title race:
Statement is probably a word that journalists like to use. We have our feet firmly on the ground, we understand the circumstances, we understand where we're at, we understand also that we are probably a little bit more ahead of some teams in terms of preparation because of the Champions League so we're keeping our feet firmly on the ground.
On the result as a sign of a gap developing in the WSL:
West Ham have recruited very well, I think they have got a very good squad and you have those days where things don't go for you, where situations happen and like anything, when you bring in a lot of new players, they've brought in four or five, it's going to take time. I think West Ham will come good and will be a team that, probably in the second half of the season, will trouble a few teams and coming to this ground is not easy. I don't believe the gap has gotten away from West Ham.
On scoring so many goals and how it looks:
It's very difficult as the coach of a team that always goes out to do the best they can to not want to score as many goals as possible if we've got the opportunity to do it. How does it look on the outside? Maybe it's something I'll leave to the people on the outside to see what perception it has. We are saying it's now one of the best leagues in the world and then we're getting these scorelines, I don't know if I can comment on it, it's probably something external people and pundits and media comment on. But we go out to win every game and we go out to play the best football we can and hopefully we saw some good football with the goals.