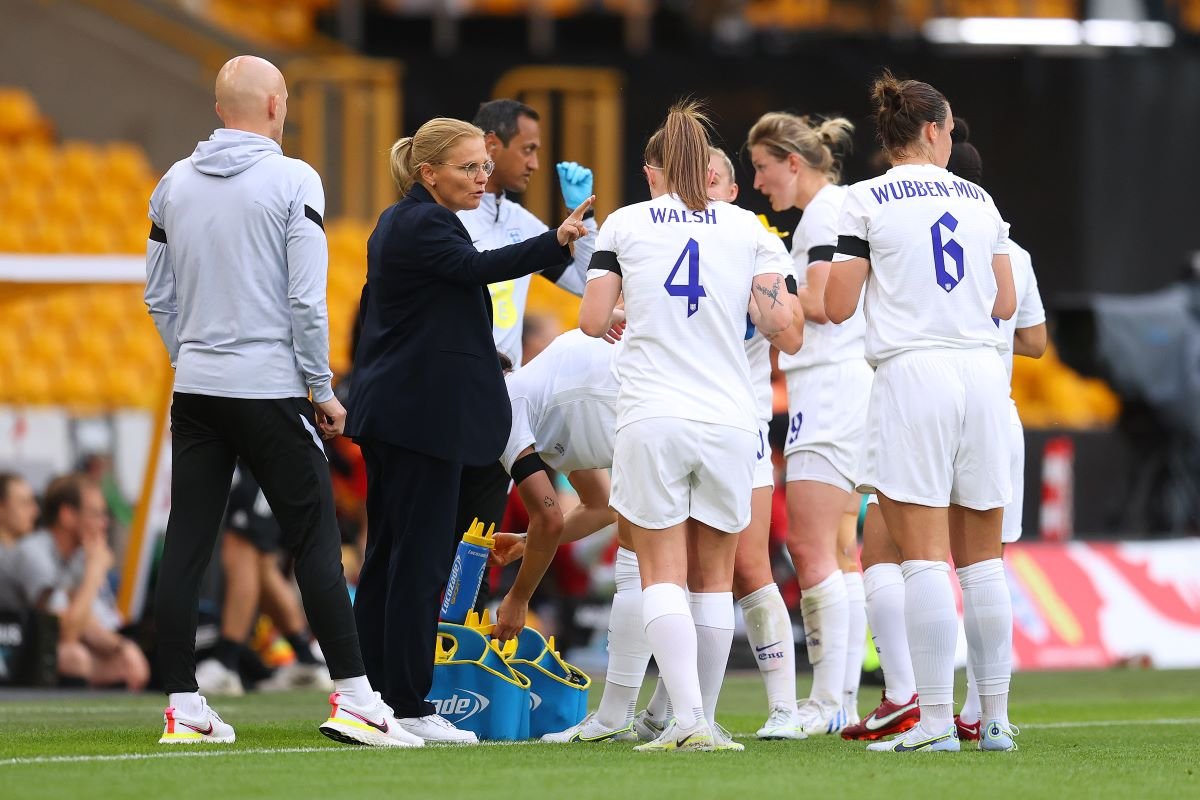 Match reaction from England Women's head coach Sarina Wiegman, plus Chloe Kelly and Millie Bright – by LOUISE GOLBY
SARINA WIEGMAN

On the performance 
"You could tell the depth of our team because we kept bringing players on that would have an impact on the game too so that's good. I think in the first half we played well, but we needed some more depth in the game too, some more runs behind. I think we did that a little better in the second half. I think when you win three-nil it's enough.
"Of course we wanna score the chances, but as long as you don't concede one, you have time. We also say that we create the chances, we dominate the game, and then you have to have patience. I think when we go into the Euros, we need a little more ruthlessness."
On wearing black armbands
"They have supported me so much. The captain came to me to ask if they could wear this. It shows that they're such good human beings and the togetherness of this team, that we support each other. I thought it was a real great gesture. I think my sister's proud of us."
On the starting 11 
"The competition in this team is really high, and we have opportunities for many players. Now we're obviously looking for connections and we can use different qualities in different positions.
"We're getting a little closer, but it's not all set, [because] we still have two matches to go. See what happens. Things can change really quickly."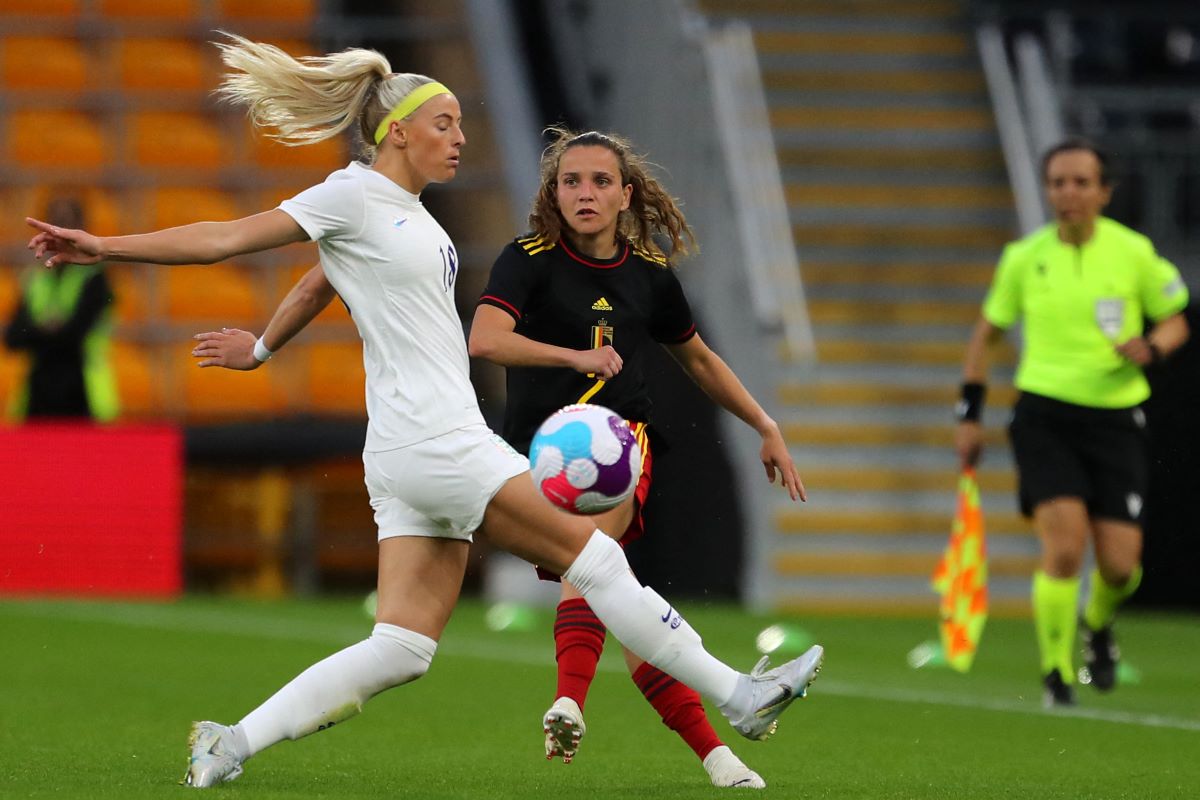 CHLOE KELLY
On her goal and being selected
(Your goal?)
"Of course! I've just watched it back and it was definitely going on target so I'm claiming that one."
(I think it's been adjudged as an own goal, you know that right?)
"Yeah, Callum's going to sort it."
(How much did today mean to you?)
"Yeah it's brilliant. Enjoying every minute, and proud to wear the shirt.
"To score for my country is brilliant, and to be back with the girls, back in the squad, I'm loving every minute.
"Looking back at the past year, it's been a journey but to come this far is so great."
(Reaction to being told you're in the 23?)
"Honestly I was nearly crying – tears in my eyes.
On her motivation 
Of course and seeing people do well I love that. To see the girls doing well just makes me more hungry, wanting to be back out there and learning from such great players.
It's great to have that in our team – Keets as well – players that can come on off the bench and create and score goals. I love playing with each and every one of them so it's going to be difficult for opposition defenders.
Each day was so tough in my rehab and looking back at the blood sweat and tears you appreciate so much more those moments because of the hard work in the past 12 months.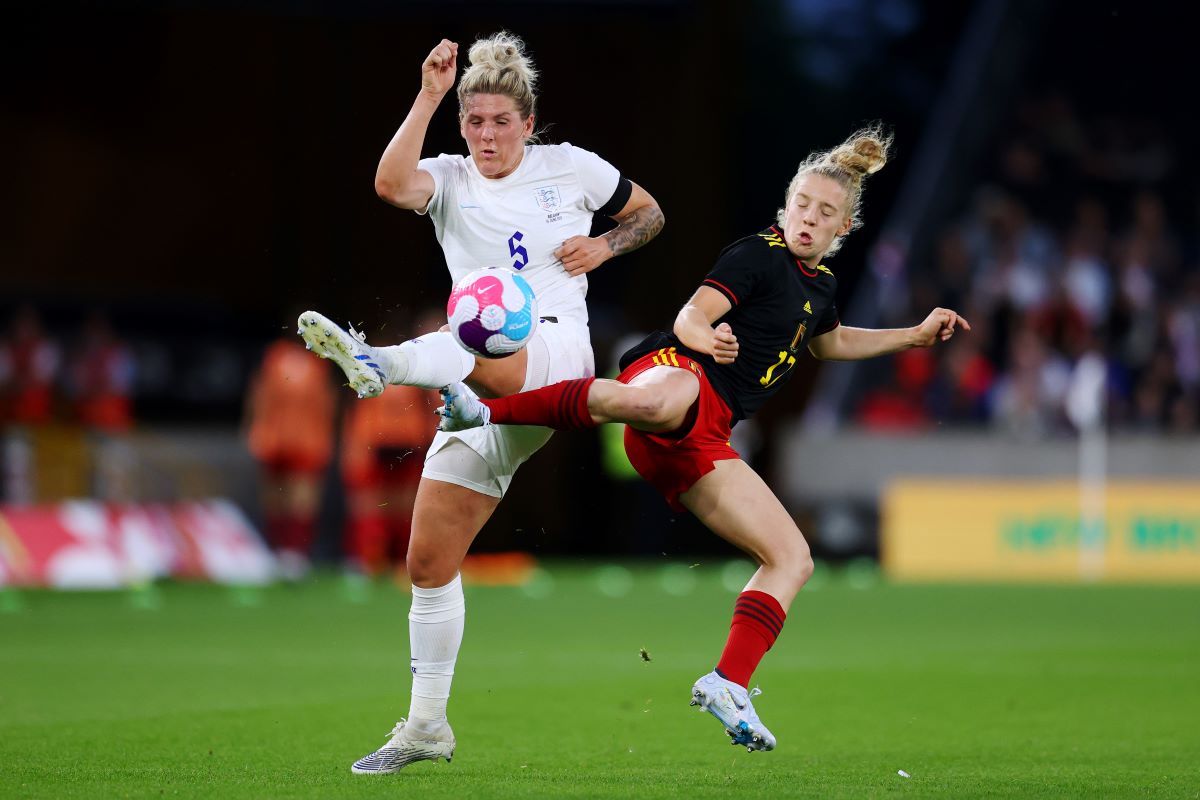 MILLIE BRIGHT
Can I ask about the fans?
They were brilliant, they made this place feel really special and they set us off in the right way. They were heard from start to finish and we really do appreciate all their support and hopefully, it's getting them excited for what's to come.
Is it part of the game plan to find Lauren hemp on the left-wing with your long passes?
We know her strengths, 1v1 she's got some extreme pace that I don't think any defender wants to face. In the game it's about letting players express themselves and if she's getting joy then why not let her keep getting joy. It's not something that just stands out, if it was a different player having that success it would be the same situation. It's just about getting people on the ball and letting them be free. If it's 1v1s that they're strong at then let them do that, but you know Hemp is always going to be on the end of it.
What's it like seeing Leah in midfield and going into the penalty box?
It's natural. It almost feels easy, I think we have to keep building relationships on the pitch. Having that defensive front-footer, aggressiveness in midfield gives us a different dynamic and gives us a little bit of stability. Leah on the ball, everyone knows her qualities and her range of passing so it gives us a different element of our game.
50th cap must be great for you?
Yeah, it's brilliant. As a kid you don't really think these moments are going to come even when you get in the England squad, you never take it for granted, you never expect anything so you just have to keep working, but I'm super proud to have made it tonight and have my family here and my mum's already claimed my shirt.