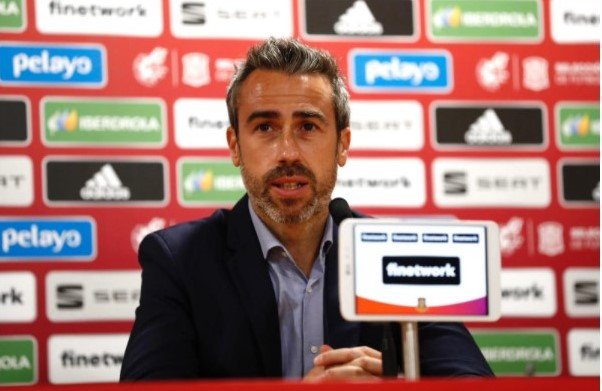 Having last caught up with Spain boss Jorge Vilda back in July, when La Selección's former U-17 and U-19 supremo was celebrating five years in the top job, She Kicks' reporter Nick Aitken checked back in with the 39-year-old tactician to go over 2020's landmark moments, look ahead to England 2022, and how he's "counting the days" until Virginia Torrecilla's return to action.
She Kicks: Thanks for your time Jorge, we'd first like you to reflect on the year 2020 which, despite all its difficulties, witnessed continued progress from La Selección Española.
Jorge Vilda: Yes, it was such a strange year and one with fewer matches and training camps than usual, but we've managed to keep taking steps forward. The first big one came at the SheBelieves Cup, a competition that we really wanted to take part in and face genuine elite teams like the USA, England and Japan.
We didn't go there to make up the numbers, we wanted to compete and make a good impression and I think we did that. We played well and won our opening game with Japan; against the USA I think that's the best I've ever seen us play and we came so close to claiming a positive result; and then came the performance and the win over England – along with Alexia Putellas being voted the tournament's MVP. That event proved to us that we're now capable of going toe-to-toe with the world's best.
SK: And what a way to finish the year too, with an attacking masterclass in the 10-0 win over Moldova in UEFA WEURO qualifying…
JV: True! Those matches against teams you're expected to beat can be tricky, but what really impressed me was the standard of our play and just how much desire and ambition the players showed. It underlined just how hard they've all worked to keep up their levels of fitness and competitive spirit, first during lockdown and then since returning to action with their clubs.
SK: Turning to the year ahead, Spain's most immediate goal is sealing a place at the WEURO. I know you're a coach who doesn't like to get ahead of himself, but given that England 2022 is in 18 months' time – surely you need to keep one eye on the future?
JV: Yes, of course, in La Selección our ethos is always to focus on the present and the near future. For us the present is February's game against Azerbaijan, where a win would guarantee our place in England, and our near future is clearly the WEURO itself. Every final tournament is special but this one's going to be extra special, since it's being held in the country where football began; the host stadiums where it's going to be played have so much history; and because we're very excited about the chance to show what Spain can do.
SK: Are you among those who feel that the WEURO is equally or more difficult than the World Cup, due to the standards being set by European teams?
JV: Totally, you only have to look at the quarter-final line-up at the last World Cup, where seven of the eight teams were UEFA nations. That proves how difficult the WEURO is going to be because, even in the group phase, any team's capable of beating anyone else. It also shows how hard it is for a European team to qualify for the Olympics – given how many countries are fighting for very limited places.
SK: Most of the current Spain senior squad enjoyed success at youth international level before making the step up. As you're also the director of the Spanish FA's women's football set-up, how do ensure all the cancellations in 2020 and 2021 don't have a long-term impact?
JV: The first challenge we faced, when the pandemic hit and the tournaments and training camps we had scheduled were cancelled, was related to player monitoring. Since we couldn't see players in person, we had to redouble our efforts to track the progress of all the players that might be eligible for selection for our youth national teams.
For that reason, I'd like to highlight the enormous amount of effort put in by everyone involved with the youth national set-up, as they're hard at work every day, using virtual methods to keep in touch with coaches and with players – making superhuman efforts to watch all the games that are being played right now, whether they be competitive matches or friendlies.
Once it's safe to do so, at the Spanish FA we'll do everything possible to try and recover the time that's been lost – particularly for the 2004-year group, the U-17s, for whom the EURO and World Cup were both cancelled.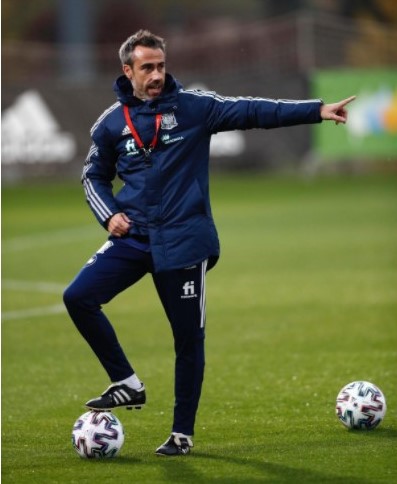 SK: Given everything that's going on, do you think that there are certain players who will think, "if I can get through this, I can get through anything"?
JV: Yes, I've no doubt about it, though everybody's circumstances are different and so are the challenges they face. I think that a lot of us are finding that now is a time to adapt as well as you can to this situation, to try and keep learning where possible, and to be thankful for the good things that we have.
SK: We also wanted to ask you about Atlético de Madrid & Spain midfielder Virginia Torrecilla, who's continuing her recovery since having a malignant brain tumour removed in May 2020 and who we saw involved in the trophy celebrations for Atlético de Madrid's recent Supercopa de España win.
JV: Virginia has been inspirational, an example to us all. Every time you speak to her it's incredible to see how strong she is and how positive she's being. She's now in the final phase of her treatment – after which the doctors are confident she'll be able to start training again with Atlético.
And when it comes to the national team, all of us here are counting the days until the moment arrives when the fourth official lifts up the electronic board showing the No14 and she can take the field once more!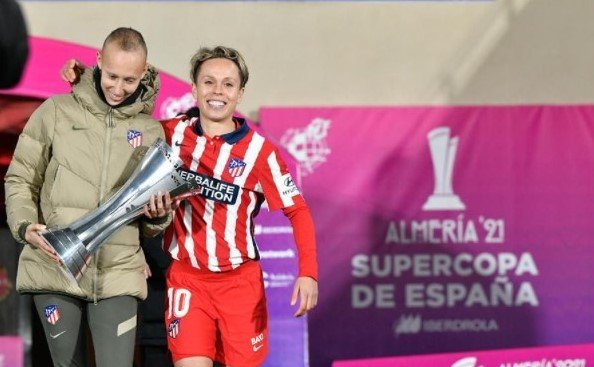 SK: Since you mentioned the No14 shirt, what did you make of the gesture by Alexia Putellas, who promised to wear Virginia's number for Spain until her friend is back playing?
JV: Well, I think that shows, more than anything, that the players are very close friends as well as team-mates. There's so much respect, love and admiration for Virginia and I'm really pleased to see how much support she's been getting.
Interview provided by @onubacomms – experts in translating web and social media content. We believe everyone in women's football should have the chance to connect with their global audience, contact us via Instagram or Facebook and we'll show you how!