¡Feliz aniversario! With 30th July marking the five-year anniversary of Jorge Vilda's appointment as head coach of Spain's senior side, what better moment to share this exclusive interview by She Kick's Spain-based reporter Nick Aitken?
On the agenda for the extensive chat were the progression of Spanish women's football; how La Selección pushed USA hard at France 2019; Levante's gifted boss – and recent She Kicks' interviewee –  María Pry; the postponed Women's EURO; Virginia Torrecilla's role in the team and her ongoing cancer battle; preparing players to handle VAR uncertainty; teaching tactics to Fernando Torres & Xabi Alonso – and much more besides!
She Kicks: Jorge, we've known each other for eight years now and your own journey in women's football began back in 2008. How pleasing is it to see the progress made by the women's game in Spain during that period?
Jorge Vilda: Everything that's happening now, both in Spanish women's football in general, as well as the fact that all Spain's national teams share a playing style and try to win games by playing a certain way, have been worked on over a long period of time. Above all, it's pleasing to see that progress acknowledged and recognised by so many people. What makes it even better is that I think we've still got plenty of room for improvement, both at national-team and league level, so we'll keep working hard every day to achieve that.
SK: The WEURO 2021 has been postponed a year, do you think that could work in Spain's favour given the exciting young talents you have coming through the youth system?
JV: Well, when it comes to these kinds of decisions, changes and postponements, you have to put a positive spin on them and see how you can make the best of the situation. Right now we've still got five qualifiers left to play, but we're excited about the chance of making it to England in 2022. It's tremendously exciting. And if we do seal qualification, then we'll take this postponement as a chance to have an extra year to prepare and to go into that WEURO tournament in the best form possible.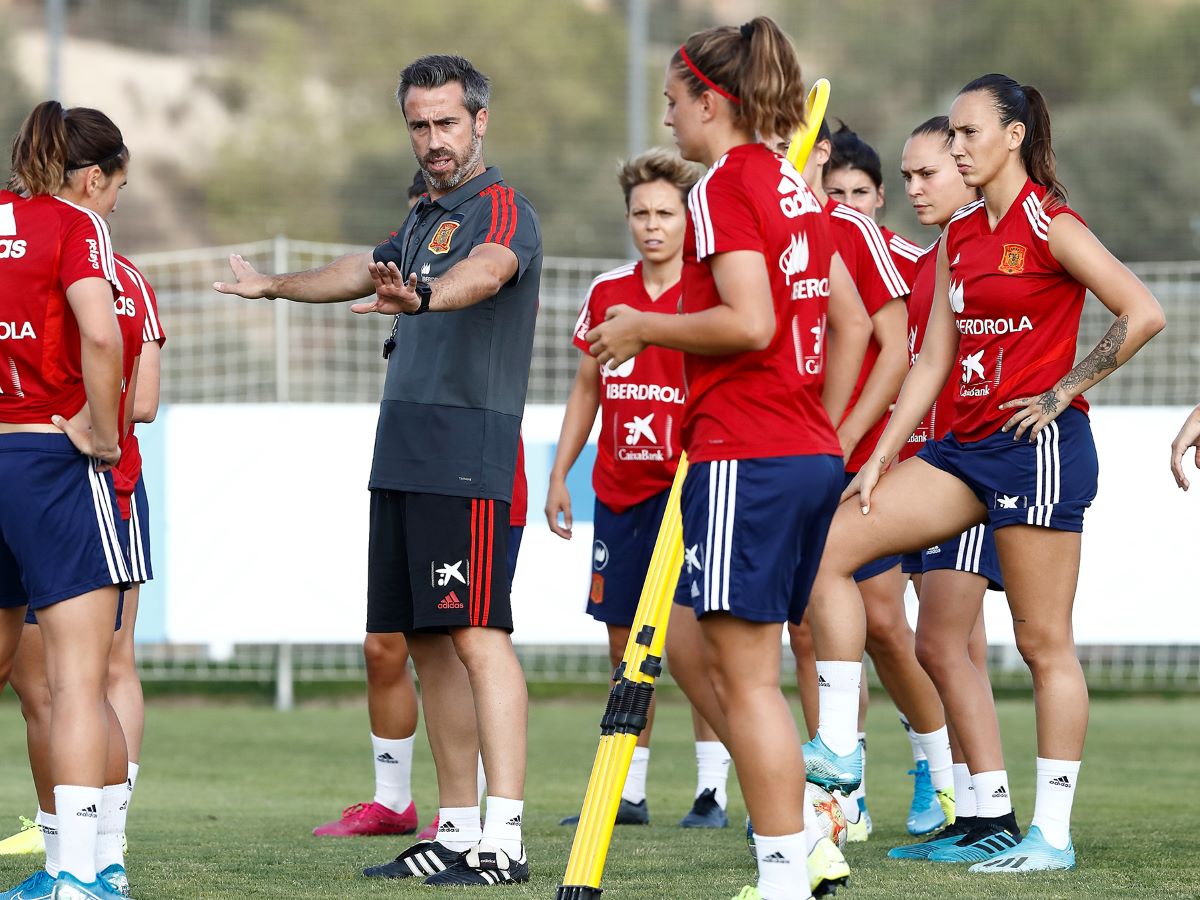 SK: How difficult is it to find a balance between respecting experienced players that have given so much to the national team and making room to give young players a chance?
JV: Yes, those are difficult decisions to make, I think that it's the toughest decision you have to make in my job because, in the end, you can only pick 23 players. And, speaking frankly, there are more and more players who have more than enough ability to be in the national squad, players that you know will perform and be competitive, but we can only pick 23. So, there are so many criteria to consider, whether that be the form they're in, the quality they have, how they've performed for the national team, how they've played at club level…
In the end, the decision is a compendium of many, many factors and many variables which, with the help of the whole coaching staff, we try to bring all that information together and take the decisions that are most fair. But what will always be a part of that decision is the performance level that we can expect from a player who is selected.
SK: I interviewed Levante boss María Pry recently and she told me how impressed she has been by the work you and your team have done with Spain, as well as by the quality and variety of players now available for selection.
JV: Yes, yes – both in the youth national teams, as well as in the Spanish top division (Primera Iberdrola), the standards are getting higher and higher. That's also the case in the second-tier competition (Reto Iberdrola), in which we've created two groups – North and South – and which came into place last season. I think that is also going to be key for giving young players opportunities to keep improving, as we put that structure into place so that every weekend these players can compete at a level that is appropriate to their age and ability.
In the end that's going to create more positive problems for us, as there are going to be more and better players available for selection. That's what our work as a football federation is aimed towards – increasing participation levels and the number of licensed players – the end result of which is that we're going to have more and better players.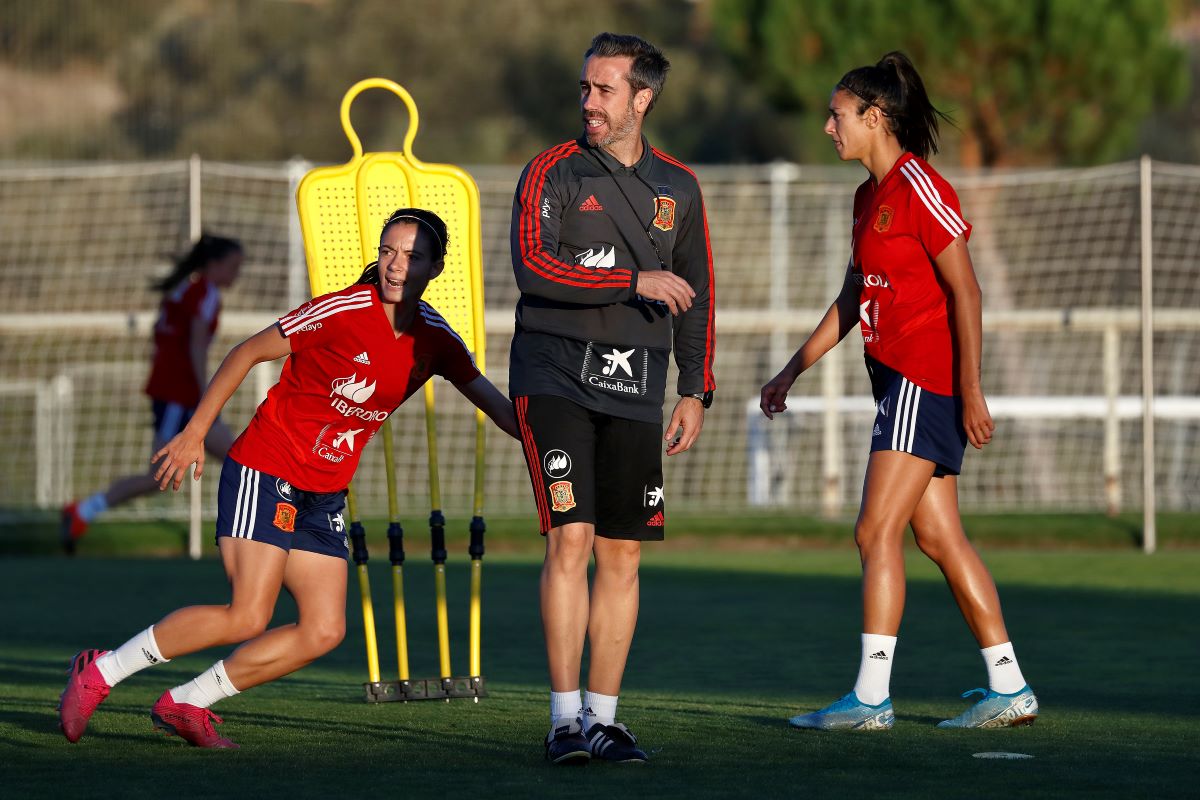 SK: What do you think are María Pry's main qualities as a coach? What needs to be done to help more female coaches get head coach jobs in the Primera Iberdrola?
JV: María is a great coach and she's proved that at Betis and now at Levante. In terms of her qualities, first of all is the fact that she understands footballers, because she was a player herself. I think that's a point in favour of any coach, when it comes to being able to empathise with players and know what they need at any given time. She's also proven her depth of knowledge in terms of tactical systems and match preparation, because she's been able to use a variety of systems and get top performances out of so many players.
And, well, there are challenges ahead, such as the one you mention, about getting more female head coaches in the Primera Iberdrola. What I can say is that the Spanish FA (RFEF) is committed to training more female coaches, to enable them to carry it out as a profession. We're directly involved in the process, myself included, as I'm a professor at the RFEF's National Coaching Academy, and have taught ex-players such as Natalia Pablos, Laura del Río, [my assistant] Montse Tomei, Fernando Torres, Xavi Hernández, Xabi Alonso and Fernando Redondo.
There are more and more female players taking their UEFA A, B and Pro licences with us, which means there are increasing numbers of top women's coaches. It should, therefore, only be a question of time before we see more female head coaches in the Primera Iberdrola, as well as female head coaches taking charge of teams in men's football.
SK: In technical and tactical terms, could you compare and contrast Spain's performances at the two major tournaments you've led them at: the EURO 2017 and the WWC 2019?
JV: Yes, I'd say that, [at the World Cup 2019], we were a team with more belief in ourselves, more stability, with more experience, more battle-hardened and better drilled in every way, though, of course, with plenty of areas for improvement too. One of the lessons we took from the World Cup is that we're now a national side that I think can now match up, face-to-face, with anyone. The wins against elite nations are starting to come, so we're working hard to keep them coming.
SK: How important psychologically is it that Spain are starting to pull off those wins against the major nations?
JV: As coaches, we look at how our teams perform but, at the end of the day, we're all judged on results – and everybody, us included, plays to win. So, when important wins start to come, or when you don't win but you can see that performance-wise you're very close to the heavyweight nations, then it definitely encourages you to keep working and keep narrowing the gap.
SK: At the WWC, it was noticeable how powerful midfield all-rounders, such as Amandine Henry, Julie Ertz and Spain's Virginia Torrecilla, are so important to a successful unit. Having worked with Virginia since U-19 level, how impressed have you been by her progress?
JV: For Spain, due to our playing philosophy, our playing model and our system, central midfield is a key position – it's the team's central axis – and at the World Cup that was where Virginia Torrecilla played. I'd like to highlight here that Virginia has really improved the defensive side of her game in recent years. She's got a very good understanding of the concepts [behind the role], including what we call the 'gatekeeper concept'.
That's the player who, even when we're attacking, is always ready to defend and Virginia is capable of winning back loads of balls and halting lots of counter-attacks simply through her anticipatory skills and positioning. I think that's brought so much to the national side. It's something that we've put a lot of hours of work into, through videos and out on the training pitch, but it's time well spent, as she makes such a contribution to the team.
SK: In men's football in England, that role was revolutionised when Claude Makélélé came to Chelsea – we weren't used to seeing defensive midfielders who positioned themselves so well they didn't need to go diving into tackles…
JV: Yes, that's the profile! It's about anticipating how the play will pan out and knowing where you have to position yourself, and that's something that you can work on. For Virginia and Patricia Guijarro I set them a clear example to follow: Sergio Busquets. When you observe where Busquets positions himself when his team is in possession, when they're in the opposition half, then you can learn so much from that – as he's already anticipating where the ball might be lost and where he'll have to go to intercept that ball. It's wonderful, because it's a role that if you're not watching carefully you might not see, but it's one that benefits the team so much.
SK: How is Virginia's recovery going since her recent operation? [Editor's note: Virginia had a malignant brain tumour removed and is currently undergoing a course of chemotherapy. You can follow her at @virginiatr6 on Instagram].
JV: Well, she's in good spirits, she's staying positive, but she knows she's got a tough road ahead. I'm in regular contact with her, but I'd like to take this opportunity to send her every encouragement and all our best wishes. She's someone who has overcome a lot of difficulties in life and, though perhaps this is the toughest obstacle that she's faced, I know that, particularly with the support, help and love that we all have for her, she'll be able to overcome this difficult opponent.
SK: Spain pushed the USA very hard in the WWC Round of 16, with the eventual winners needing two penalties to knock you out. What were they key tactics that prevented the United States from being comfortable in that game?
JV: Well, our starting premise was our conviction that we could win the match – that was first and foremost. The team was convinced of it, they were mentally ready to compete against the best – which they [USA] then proved that they were, because they beat us and won the World Cup. We prepared for the match in a certain way, with the team set out in a particular shape, which we had to change when [midfielder] Vicky Losada was injured after taking a knee in the eye.
[Striker] Nahikari [García] came on for her and we changed the system from 4-3-3 to 4-2-3-1, a change I'd already been thinking about making as we were not making it difficult enough for their central defenders to bring the ball out. But, mainly, we prepared to be ourselves, to be able to play our attacking game while also being ready to defend more – and closer to our own goal – than we usually do. And the team really understood that concept well, closing down those inside channels and also covering well down the flanks – which is where we thought they might be most dangerous, through both [Megan] Rapinoe down the left and [Tobin] Heath down the right.
So we changed the system and I think the team did better in the 4-2-3-1, but what were we missing? What we were missing is something we showed at the SheBelieves Cup, when we showed more personality, we had more of the ball, more control and played more of the match in their half. That enabled us to defend even better, as we were [physically] fresher when it came to defending and attacking.
SK: When it came to the decisive second penalty, time seemed to stand still while the VAR operators debated their decision. What was going through your mind during that lengthy wait?
JV: Yes, it's true that for the second penalty, I think that six minutes went by between the whistle being blown, the VAR check and the penalty finally being given. Six minutes! And [we were] seeing it over and over again. I genuinely thought they weren't going to give it, because when you blow the whistle and then have to watch it so many times it's because there's a lot of doubt. And in the end, they gave it, but when you watch the match back there were other possible penalties that could have been given against us and weren't. So, in no way do I place any responsibility or blame for us not winning on the referee.
What I do think though is that, if we'd managed to show more of our real selves on the ball and play the way everyone knows Spain can, the way we showed at the SheBelieves, we could have won that game. But, as we say in Spain, cathedrals are not built in a day and we're building our own cathedral. We're putting down pillars and I'm convinced we put down one of the main pillars that day. It was a defeat, but one of those defeats you can learn from and build for the future.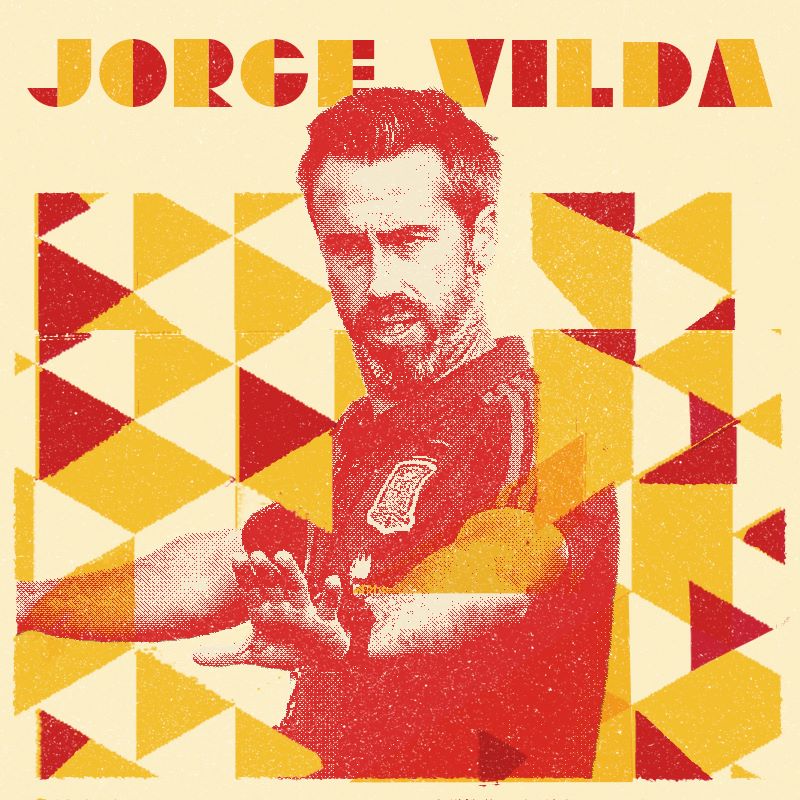 SK: How do you prepare your players for moments like that, when everyone's waiting so long for a VAR decision and which then goes against you? Is it a case of using tools like Headspace to keep calm and focus?
JV: Yes and, once it was decided that there was going to be VAR at the World Cup, we prepared for it beforehand. We held meetings with the head of refereeing here in Spain and he warned us about potential scenarios. One of the things he mentioned to us was that, after a goal has been reviewed, whether it's been given or not, you've got a higher chance of conceding soon after – as levels of concentration and intensity can drop.
We prepared for that and I think you could tell. You could tell because the ref blew for the penalty, it was reviewed for a long time, they scored the penalty but then we responded very well and really went for the win. We kept pushing forward, we had chances and we didn't let our heads drop. And that, in addition to the players' competitive spirit and winning mentality, is because we anticipated it and trained for the kind of situations that can happen at a World Cup.
SK: One final question. A few years ago Spain had a number of internationals playing abroad, such as Vero Boquete, Marta Corredera, Vicky Losada, Natalia Pablos, Virginia herself, but the current squad are virtually all Spain-based. Is that a reflection of the positive growth of Spain's domestic game? Would you like to see more Spanish players testing themselves abroad?
JV: Yes, it used to be the case that players, if they wanted to keep evolving, keep improving, had to leave Spain. It's true that now fewer and fewer are leaving, while Spain is also becoming a country that imports players – which is due to the standard of the Primera División. The standards are getting higher and higher, the infrastructure is ever more professionalised, the players enjoy better conditions, and Spanish clubs are able to retain their most talented players because, in the end, they can make similar offers to what the players might receive abroad. There are players that do leave and who want to experience life in other countries, other playing styles, other languages and new team-mates, all of which is positive. But it's also positive that so many stay here, because it means what's on offer appeals to them and they're enjoying it.
Article brought to you by @onubacomms, specialists in multilingual digital content and promotion in women's football.
Lucy Mills: "It's incredible to see the impact Barça Foundation has on so many people's lives!"