From captaining her schools boys' team aged ten, through sport-for-development experiences spanning vital causes across Africa and Europe, to her current workplace – FC Barcelona's Camp Nou – Lucy Mills has come a long way, both literally and figuratively.
Currently in her third season at the Barça Foundation, which runs sports-based programmes that promote social inclusion, prevent youth violence and improve access to education in vulnerable communities worldwide, Lucy shared her incredible journey with She Kicks' Spain-based reporter Nick Aitken.
She Kicks: So, Lucy, going back to the beginning, how did you first catch the football bug and at what point did you think you might be able to make your life's work out of the game? 
Lucy Mills: I grew up in the north of England kicking a ball around at any opportunity. All that practice paid off: I captained my primary-school boys' team in an era when it was still uncommon to find girls on the pitch. I guess, from a very early age, I viewed women's football as synonymous with activism and equality… though I didn't put it that way at age ten!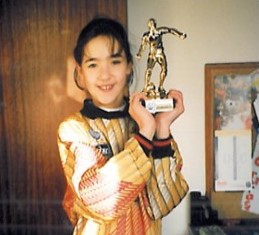 In my teens I had a subscription to the New International magazine, which really started getting me interested in international political and social issues. When I finished high school, I left with two great loves: international development and football. So, it seemed a natural step to volunteer as a football coach with an academy in Ghana: Right to Dream. That time was foundational: it prompted me to study Development Studies at undergraduate and postgraduate levels in the UK and South Africa.
Throughout my university years I continued playing and coaching football, both socially and competitively. I have lifelong memories and friendships from my University of Cape Town football team in particular. It was an incredibly diverse group: we were nine different nationalities on the team, from Namibia and Angola to Denmark and Norway. We travelled together for national tournaments, advocated together around issues like unequal pitch time or funding, but most of all we laughed together – a lot!
It was during these early adulthood years playing, coaching and volunteering that I first questioned the inequalities I was experiencing in football and society with my team-mates and peers. It was also a time where I came to learn about the sector of "sport for development" which was starting to gain momentum.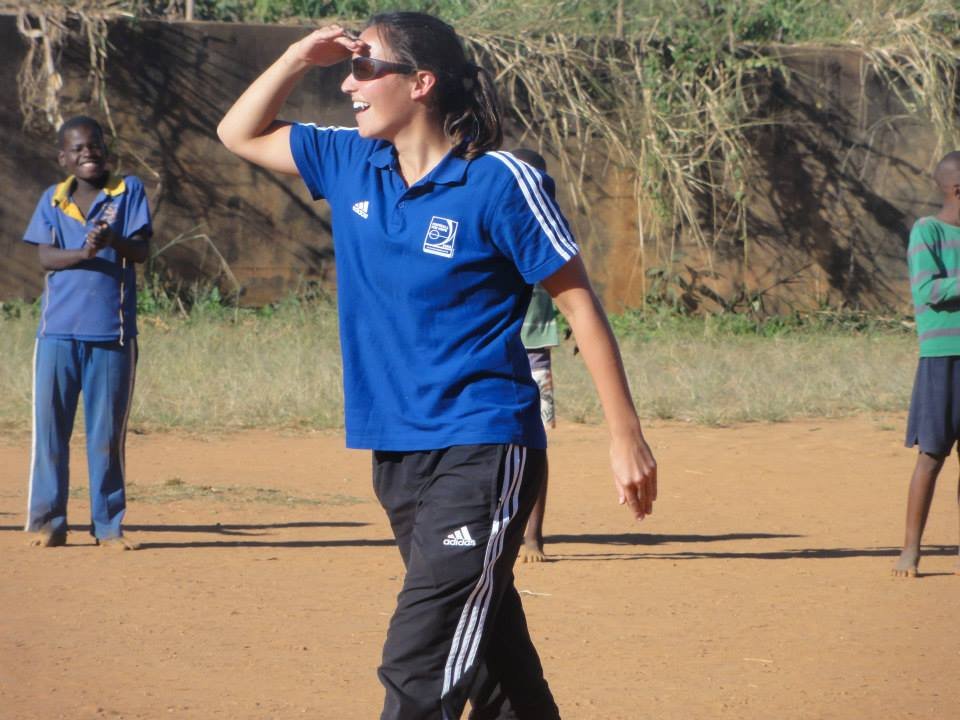 SK: The leap to Cape Town to do your Master's was a move that proved to be a clear turning point in your life. Can you tell us about your first professional experiences upon graduating?
LM: After graduating from my Master's in 2009 I stayed in Cape Town, volunteering with a football and social development programme called Coaching for Hope, which was the English FA's charity partner at the time. Soon, I progressed to coordinator for a project that empowered girls through football. It was designed, in conjunction with the city municipality, to bring girls' football to public sports fields across the city: then a ground-breaking idea. One of my most fulfilling experiences was training 30 women as coaches, supporting them in the delivery of football activities and life-skills curricula for groups of girls in their own communities.
My mornings were usually in our small office that we shared with other sports NGOs. In the afternoons I was out on the football pitch, to support coaches and watch sessions. We hosted groups from the FA and Tottenham Hotspur Foundation, we even had a week-long coaching workshop series with the manager of Spurs Women, Karen Hills! Thinking back now, I was so energised by that work. I loved how dynamic the project was: we really were building girls' football from the grassroots. I'm still connected to some of the coaches on Facebook and I'll never forget a conversation with one years later who said "We created a monster all those years ago – today we have leagues and leagues of girls of all ages and have outgrown the municipality field". Incredible!
Several years later I saw a job posting to work as a Programme Manager on the "20 Centres for 2010" project, FIFA's official legacy campaign of the 2010 FIFA World Cup in South Africa. It was an opportunity to take my professional experience to another level and I was thrilled when I was accepted for the position. As a Programme Manager I worked with 18 sport-for-development organisations in 16 countries in Africa that were involved in the project. It was complex, entailing the construction of an artificial football pitch and multi-purpose community centre in each country, alongside capacity building workshops and organisational exchanges.
I loved working closely with such a wide range of impressive organisations in diverse contexts. The fact I got to see football used in different approaches to tackle different social purposes was the icing on the cake! I have many fond memories of ending a workshop or training with a football match on the newly constructed football pitch with staff, coaches and volunteers at Grassroot Soccer in South Africa, Kick4Life in Lesotho, MYSA in Kenya, SEDYEA in Botswana, Delta Cultura in Cape Verde, and Grupo Desportivo de Manica in Mozambique.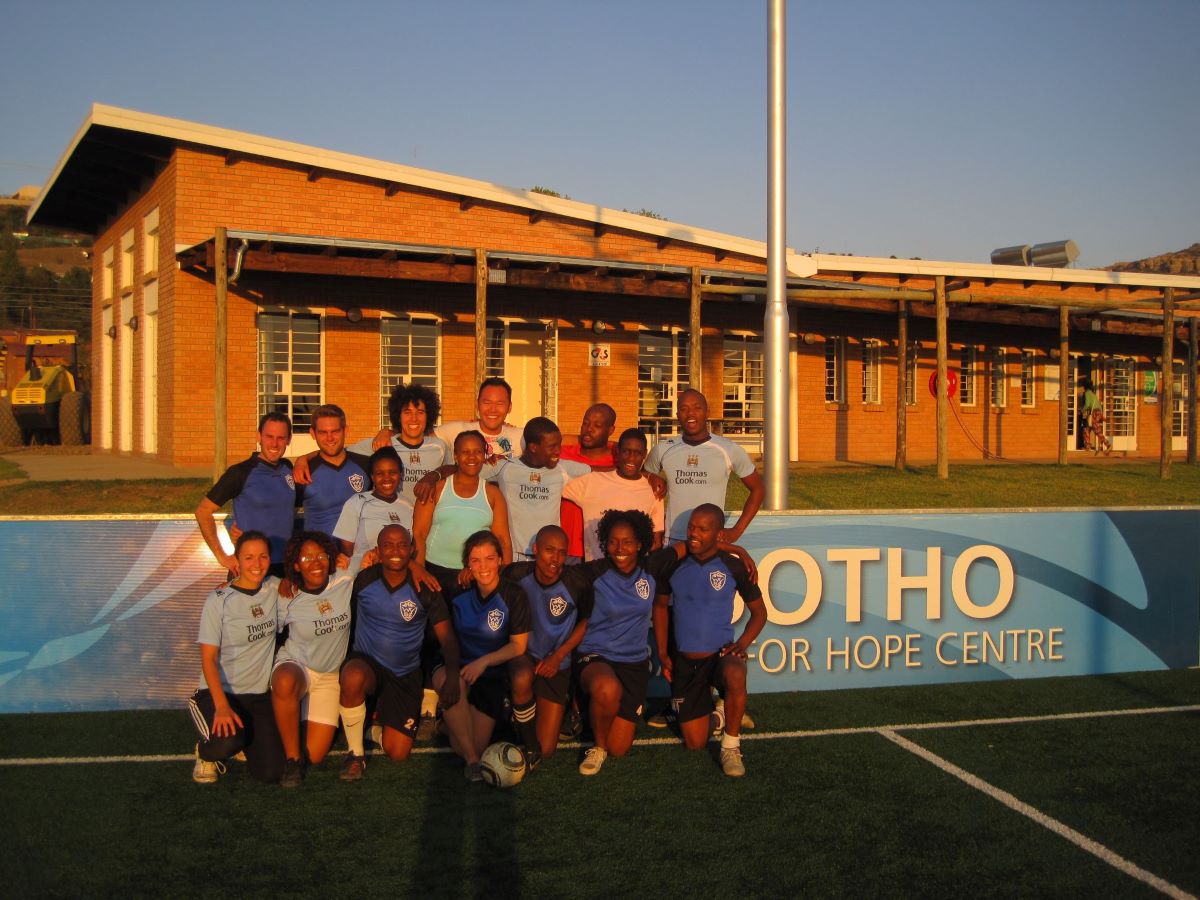 SK: In 2014 you came back to Europe to Grassroot Soccer. From the outside it appears that role would require quite a significant change in focus. Are there very specific skills needed when it comes to raising money? Was it tough getting used to UK life again?
LM: The scope of work was definitely a change in focus! It proved to be a great learning curve, though, and built on my work in South Africa. Grassroot Soccer is a renowned international NGO and one of the organisations I worked with closely in the FIFA legacy project. When my project contract ended in Cape Town it felt like the right move to relocate to London and build a UK charitable arm for the organisation.
The first half of 2014 was tough, re-acclimating to my country of birth after many years away. Moving in January from a Cape Town summer to the depths of British winter didn't help! I dived straight into devising a fundraising strategy to raise restricted and unrestricted funds in the UK through building relationships with corporate and foundation donors, writing grant proposals, pitching to philanthropists, and organising fundraising galas. It was a role that came with immense pressure–I was often working outside of my comfort zone. All the hard work was rewarding, though: I raised over £2million for an organisation that I'd seen change lives first-hand and I gained tons of professional experience and insights on business development and NGO management.
SK: Throughout your professional career you have collaborated with a host of high-profile organisations. Has that been a good chance to learn and make contacts?
LM: Absolutely. I'm continuously learning how everything from the largest sport governing bodies and clubs to the smallest NGOs and clubs are structured and run. It's such a complex local and global sport ecosystem! I'm really lucky, though, because it's such a rewarding environment. In the organisations I've worked in or collaborated with there also tends to be an infectious, uplifting energy amongst everyone because sport is what ignites their passion. In the sport-for-development sector, I learn from incredible change-makers and innovators who understand how to unlock the transformative potential of sport, often in the most challenging of contexts. And in women's football I learn from inspirational pioneers and activists who hustle and overcome hurdles daily.
A huge personal and professional growth experience came from being in the 2015 cohort of the Women's Sport Leadership Academy, along with 42 other women from 18 countries, spanning 13 sports. The programme is run by the Anita White Foundation and University of Chichester – I'd recommend it to any aspiring female leaders in sport out there. It came at a pivotal time for me in defining my ambitions, qualities, and things that I still needed to invest in to improve. I also became connected to a community of women in leading positions in international sport, many of whom I'm still in contact with today.
Another great chance for learning and making connections came along last summer. I volunteered for an initiative called Equal Playing Field, which is a group of extraordinary individuals from all corners of the world advocating for a level playing field for girls and women in sport. I would highly recommend She Kicks' readers go online and read up about Equal Playing Field!
At the 2019 FIFA Women's World Cup in France, they hosted a festival comprising a World Record longest 5-a-side football match (882 players, 69 playing hours, 47 referees and 771 goals!), a World Record football match with 53 nationalities, as well as workshops, panels and social activities. Amid the 40ºC heatwave that hit France that summer, it was one of the most exhausting and enjoyable experiences I've had. Being in a volunteer team with people I had never met before – learning, problem-solving and being challenged to the limits – was rewarding and I made friendships for life.
SK: Wherever you have been in the world, you have consistently been involved with girls and women's football initiatives. Do you think that's where you do your best work?
LM: It's certainly where my biggest passion lies! Over the years I have contributed to research, curriculum development, working groups and projects relating to girls' and women´s football and, more recently, broader gender equality and inclusion in football and sport for development. But there's still a long road ahead of us to make football – and sport – inclusive and accessible for everyone.
Today there are still too many black and ethnic-minority girls and women marginalised from playing, coaching and leading football. There are still too many people who identify as LGBTQI being stigmatised in and by football. And there are still too many people with disabilities who lack opportunities in the game. There are persistent and pervasive inequalities among people of different gender, race, sexuality, class, religion, dis/ability… and we need to have greater understanding of differing realities and need to (re)design sports programmes.
There are several world-leading groups that I've collaborated with that are working with this in mind. One such organisation is Women Win, a global leader in girls' and women's rights and empowerment through sport that mobilises voices from sport, sport for development, human rights and gender sectors to expose and analyse inequities and exclusion in sports from a feminist perspective to drive a sustained movement to increase gender justice in local and international sports systems and structures.
I'm a proud member of the Global Advisory Board of Ascent Soccer, a social-impact organisation in East Africa that identifies and invests in talented athletes with a holistic development model that comprises world class football, quality education and leadership and life skills. Ascent Soccer is driving systemic change in East Africa by nurturing talent and desire in girls and boys in a region where such opportunities otherwise rarely exist.
My focus as an Advisor is to support, challenge and improve Ascent´s girls´ football recruitment, development, and graduate pathways. Today, female players comprise 25% of the roster at Ascent Soccer's academies in Malawi and Uganda. The aim is to get to 50% in the next five years. This commitment to gender equality is what makes Ascent Soccer authentic to its mission and vision; a world-leading disrupter in football!
SK: Could you tell us about your role at the Barcelona Foundation? What are some of the initiatives you're currently involved in? 
LM: I'm moving into my third season at the Barça Foundation. As She Kicks readers will know, FC Barcelona is a club steeped in traditions and values and the Foundation is an integral part of the club that plays an important role in Catalan society and in 60+ countries worldwide. Barça Foundation runs sports-based programmes that promote social inclusion, prevent youth violence, and improve access to education among children and youth in the most vulnerable communities worldwide. We never focus on improving football ability or competition; instead, we focus on inclusive participation, fun, and improving life skills.
Based at Camp Nou, I am part of the International Programmes team and manage a sport for development programme in Catalonia, Italy, Greece, and Lebanon that brings together refugee and local children on sports fields in and close to refugee camps and centres. We have around 250 coaches and 8,000 girls and boys in the programme every year.
We train the coaches in the Barça Foundation methodology which comprises structured sessions of sport, team-building activities, cooperative challenges, discussion, and reflection. Coaches deliver the sessions twice weekly throughout the season and we also run coach development and parents' workshops, festivals, and coaching clinics with former female and male FC Barcelona players and legends.
This programme is just one of the many programmes that Barça Foundation runs all over the world. It's incredible to see and feel the magic and impact that Barça has on the lives of so many people (me included!) There are many reasons why Barça is "More Than A Club" and the Foundation is certainly one of them.
Article brought to you by @onubacomms, specialists in multilingual digital content and promotion in women's football.
Mónica Mendes: "Playing against USA shows you the standards to aim for!"