A bit about me: Hi everyone, I'm Ella. In this blog post I want to share a bit about myself and my women in football project @futfemreflect.
Probably like a lot of people reading, I have played football for as long as I can remember. I was part of local clubs growing up, and later joined University teams at both Sheffield and Edinburgh. Lots of memories stick with me from playing when I was younger, not so much to do with the football itself, but things like the freezing fingers after playing a match in the pouring rain, the smelly shinpads, and driving to matches with my mum and a friend who we used to take in the car.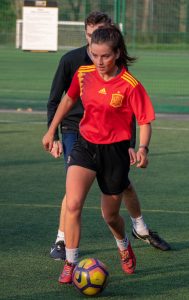 After I graduated, I moved to Spain where I also joined a local team and experienced the women's grassroots football culture here. This included the all too familiar allocation of the latest training slots of the day (21:00-22:30) for the only women's team at the club. Whilst living in Spain, I had a dream job of hosting football tournaments for grassroots and elite teams which involved travelling across the country and working as a translator and interpreter. In reality, this meant shorts and a T-shirt, lots of suncream, and watching loads of great football. (Sounds awful! – SK Ed)
More recently, I've started coaching. I love it, because it means I'm still really involved in football, and I'm working with a group of really talented and enthusiastic girls. I currently coach at a grassroots club in Manchester called Fletcher Moss Rangers where I am the new girls' development officer. I'm working to grow the women's side of the club by getting new coaches involved who can help form new teams and offer a development pathway for the players. Alongside this, I also work at Manchester City Academy in player welfare. It's an interesting contrast to my work at grassroots football because my role at City is with professional male youth players, and it's safe to say the experiences and opportunities available to boys at this level are a stark contrast to those of the girls at grassroots I also work with.
My project: futfemreflect
Fútbol femenino is Spanish for women's football. I began my project in Spain and it's a reflection on women in football: futfem reflect. I wanted to create a platform for female players to share their experiences in the game, with three main goals: (1) to profile these incredible girls and women in football; (2) to explore the many barriers that still exist; (3) to inspire more girls and women to get involved in football.
Futfemreflect is still young, I started it in July of 2020 and let's say the pandemic had something to do with halting its progress. So far, I have made three series, as follows:
Futfemreflect International – For this series I spoke to women from the University of Edinburgh Women's football club about their experiences growing up as girls playing football in countries across the globe. I spoke to women who grew up in the USA, Thailand, France, Russia, Italy, Austria and Ireland so as you can imagine there's a massive breadth of different experiences. One thing that really stands out in my mind from this series is how in the USA, it's the norm for girls growing up to play football, moreso than for boys. I love that. I wish that's how things were here.
1971 Women's World Cup – I'm lucky enough to have had the opportunity to do research on the 1971 Women's World Cup in Mexico with the players themselves. In this 3-part series I interviewed Chris Lockwood, Gill Sayell, and Leah Caleb about what it was like going to Mexico at the ages of 13, 14 and 15 to represent England in the World Cup. Their stories really are amazing.
Girls at Grassroots – This is the series I'm currently working on with the team I coach to find out what it's really like to be a girl in grassroots football in Manchester today. These videos offer a platform for the girls to share their experiences and for me to profile their successes. I hope that other girls at grassroots can watch these videos and identify with them, I certainly do identify with them. For girls who are not yet involved in football, I hope these videos might inspire them to give it a go.
Girls at grassroots –
Episode 1 – Why do you play football?
In this episode, the girls told me about what they like about playing football, here's just a few snippets of what they say in the video:
"You don't have to be good at it to play it and it's really fun to play" – Violet
"It helps me focus on something other than my schoolwork" – Gracie
"I like playing football because on the way to football me and my Dad talk and it just gives us time to see each other and be friends" – Mia
Episode 2 – What do people say about you playing football?
"It's not for girls, that you shouldn't be playing it" – Emily
"Girls have particular sports that they should be playing" – Scarlet
"They say we shouldn't be playing because we're girls and we're not strong enough, and it's a boys' sport, but I don't think that's true" – Megan
Episode 3 – Do you get to play football at school?
"There's a girls' football team and we get to go out of lessons to play matches" – Joan
"No, I'm not really sure why. They think, well they don't have people to teach it. So me and my friend Alisha, we want to write a letter to the head teacher and ask them if we can bring in coaches." – Emily
"Yeah, there's an A team and a B team, and I'm in the B team!" – Katie
Episode 4 – Who are your role models?
"Say you're not into football and you're watching football on TV, and then you might see this person and you're like oh my god that's amazing I wanna' be just like them!" – Katie
"Nikita Parris, she's very attacking, and she's a good person without football as well. She's very involved with helping people" – Molly
"My role model is my Mum and my Dad for supporting me during me playing football. They've been very supportive, like teaching me new skills"
Spoiler – Annie said I'm her role model, so this is definitely the best video of them all for me!
There's loads more videos to come this year in the series Girls at Grassroots so I hope you've enjoyed them so far and are looking forward to those still to come! 
What did you think? Send Ella a message via Twitter or her YouTube page or email us at: info@shekicks.net