If former England captain Faye White could have one more highlight from her esteemed career, playing more matches with Steph Houghton would be high on the list.
It is little surprise, therefore, that when it comes to potential England stars at UEFA Women's Euro 2017, White is giving plenty of backing to her old colleague.
The two were teammates with Arsenal and England, but such is the way Durham-born Houghton has impressed the 39-year-old, she wishes she was still alongside her in the heart of defence.
But while White takes on a supporting brief, the Manchester City centre-back will be leading her team in the Netherlands for the first time in this competition.
England get their competition underway against Auld Enemy Scotland on Wednesday, desperate to avoid a repeat of their group-stage failure from four years ago.
Houghton was part of that group when still in the infancy of her international career but, with a captain's armband now part of her armoury, White is backing the 29-year-old to stand up and be counted by her country more than ever.
"Steph is a young captain, I remember getting it a young age too and there are players with more caps, but she's got that commanding presence on the field," she said, speaking at the launch of The FA Girls' Football Week – Euro Celebrations.
"She's down to Earth and approachable off the field, has a good knowledge of the game and the assets in her game are fantastic, she's a defender first and foremost but an excellent goal-scorer too.
"I played with her at Arsenal and when she was young with England, but I would love to play with her now as my centre-back partner.
"I wish I was a few years younger, she has been an integral part of the recent success, she's been very consistent with her performances and the captaincy is in solid hands – she'll do a great job."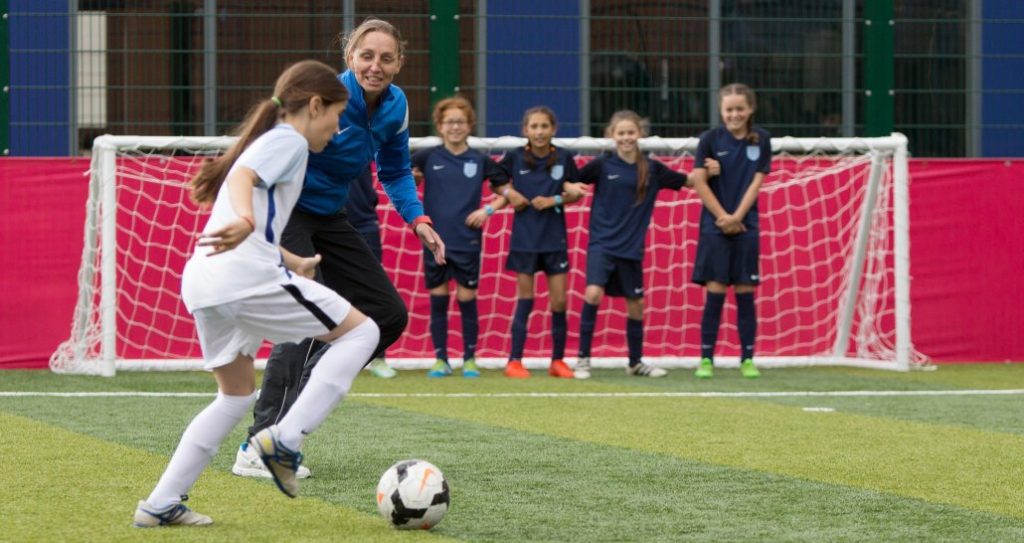 While Houghton is the one with the armband, White is adamant she is not on her own when it comes to experience.
No fewer than ten players begin the tournament in their 30s, while Casey Stoney has also previously been in charge of the team.
But that doesn't mean the competition won't come without its challenges for Houghton.
Yet White – a player often considered in similar ilk as the current captain – feels her mentee is up to a task she hopes can be filled with enjoyment as well as work.
"Getting the captaincy young is a massive boost, a great honour, but you're learning as you go along and you have to be willing to open up your mindset and learn how to cope with new things," added White, who is helping support The FA's Gameplan for Growth pledge to double the number of girls and women playing football by 2020, Girls' Football Week – Euro Celebrations. There are currently over 168 partners across the country set to deliver these sessions, with The FA welcoming more to sign up in the coming weeks.
"There are other experienced players in the squad, they will be there to give her advice if she needs it, but most importantly just there to work with her.
"I loved it, it improved my performances and gave me that extra bit of responsibility. It was certainly a privilege.
"Every captain wants to perform on the field. There will be a lot of duties and responsibilities off it, but it's important to do well when you're playing and balance your time.
"She'll have downtime where she can switch off and relax, it will be important to make the most of that – particularly with a long competition."
To find out more about Girls' Football Week – Euro Celebrations and register your involvement, visit: www.TheFA.com/ForGirls