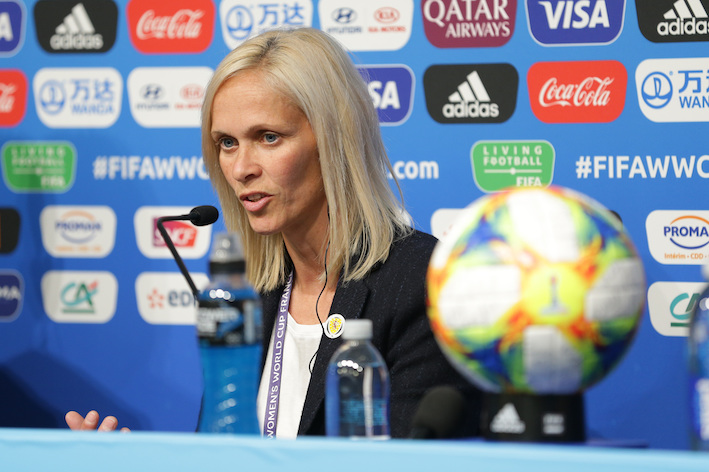 A truly memorable match is in prospect tomorrow night (Wednesday) when Scotland face Argentina at the Parc des Princes in a showdown that both sides will be desperate to win. Shelley Kerr's players are pointless after 2-1 losses to England and Japan, while Argentina have defied their underdog status by recording a goalless draw to the Nadeshiko and a narrow 1-0 loss to the Lionesses (reports CATHERINE ETOE).
Both teams are still with a chance of making it into the round of 16, though, so a thrilling encounter is surely in prospect. Scotland visited the stadium in Paris today to take in the pitch and talk to the media and here's what Kerr and talismanic forward Erin Cuthbert had to say about Argentina, VAR, USA v Chile and Sir Alex Ferguson…
Head coach Shelley Kerr on whether Scotland, as the higher ranked team, ought to win:
Yes, if you go by FIFA rankings, which we tend to do, this is a game we are looking to win, there's no doubt about that.  Both teams need to win to put themselves in contention to go through to the last 16 so it's got the makings of a tough game, but an exciting one.
On how the players are feeling following the two defeats:
In terms of the mood in the camp, it's been fantastic, despite two defeats against two top opponents. The players have had a couple of days off, they've been back in at training yesterday and today and we are ready for the game.
On what improvements need to be made to win this match:
If you think about our previous two games, a lot of people have been caught up expecting Scotland to win. In some ways that's good because it's a credit to the players in terms of what people think of us as a team, but in reality we have played two formidable teams. We have to be more attacking in this game against Argentina. It's something we've been good across the campaign to get us here. I've no doubt that if our players are prepared well enough and they bring their A game then I'm sure it will be a positive result for us. 
On whether Scotland need defensive discipline or can go out and play:
When you're playing against the very best teams, sometimes if you open up too much it creates more space for the opponents and you find yourself chasing the game. You've got to have structure defensively, but in attack that's when you can afford to be unstructured and that's what we need to do better. We need to make sure we get support in numbers in the final third and create. We need to get more possession first and foremost. 
On their opponents:
Argentina have had two amazing performances against tough opposition and they've been very, very tough to break down and we know that it might be similar for us and it's up to us to unlock the door. In all my experience, you can be tactically astute and set up in the best possible way, the highest level, under pressure, the best teams and the best players are the ones that can make decisions under pressure and that's what we're hoping to do.
On Argentina's danger players:
The goalkeeper [Vanina Correa] everyone has been talking about, the two performances she's had fantastic saves and [Estefania] Banini the captain, she has got such a great footballing brain, she's technically very good on the ball and the players have been well briefed on that. Every single team internationally have players that can hurt you if you are not switched on. Although we are talking about our attacking threat, we need to be mindful defensively as well because so far in the tournament that's something we can improve on.
On whether she would have taken this scenario before the tournament:
One hundred per cent. Scenario planning, not in a negative way, but we probably planned to be in this situation. We were hopeful that we would have taken something from the first two games but we always knew it would probably come down to this last game against Argentina.
On VAR:
It's like anything, when it's new there's going to be some teething problems. This is a world stage, this forum is such a tough one. You look at Nigeria [against France], they were so so unfortunate. We've had our fair share in this tournament, but I think eventually it will be good for the game.
On messages of support from Sir Alex Ferguson:
He did say he was disappointed in some of the decisions that were made against us, but he was very complimentary about the team, their determination, stamina, the togetherness to finish so strongly in both games. He's watched both of them and he sent us a message before we came here and it's brilliant for myself as a manager for him to contact me and also for the players for him to pass on his best wishes. He's going to be tuning into the game so it's brilliant, a great bit of support from an absolute legend.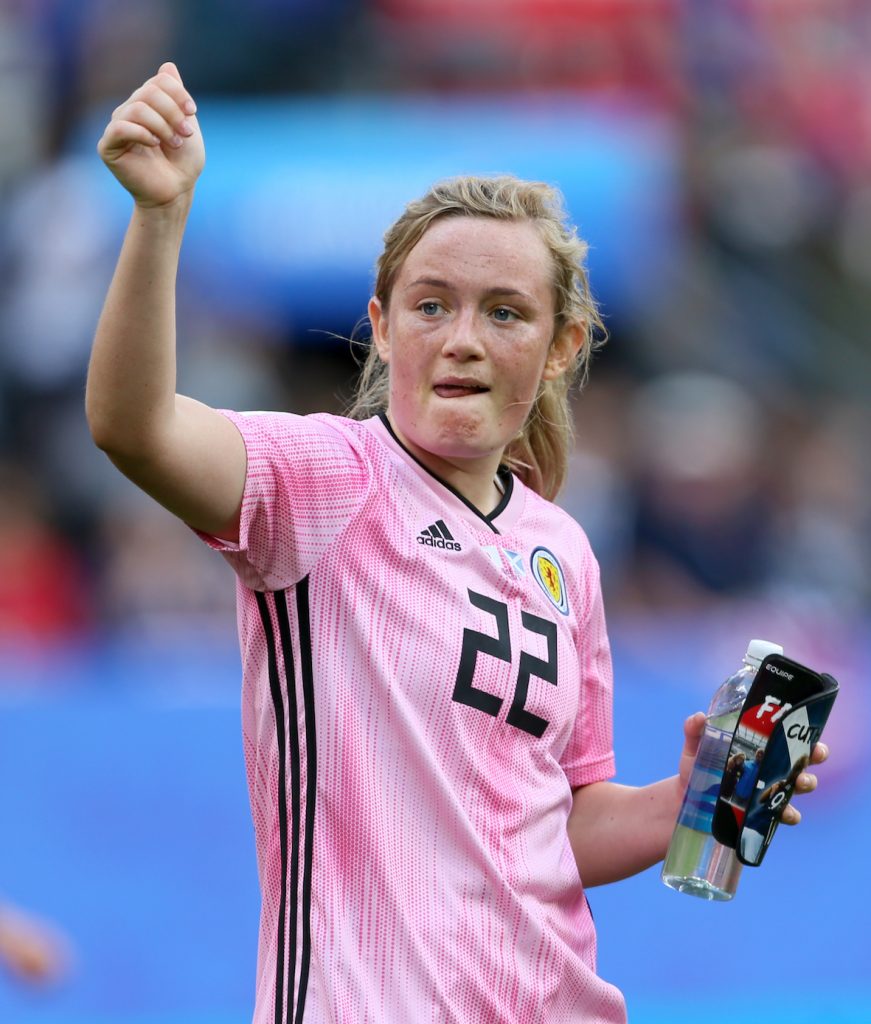 Scotland striker Erin Cuthbert on whether we can have faith in VAR:
Yeah we do we have to respect that it's a new thing. VAR will take time to bed in and we have to deal with that as well. I understand that it was a harsh decision [against Nigeria] but ultimately we have had a few harsh decisions as well. So I think we have trust in VAR and you have to trust that they make the right decisions in the camera room as well.
On whether she can follow in the footsteps of James McFadden whose super strike for Scotland men secured a 1-0 Euro qualifying win over France in the same stadium in 2007:
I wish it was that easy. I would just want anyone to score to be honest, it's going to be a really, really tough game and we're under no illusions that Argentina are here to beat us as well so they probably have the same conception that the last game is going the big one.
On the match:
We know it's going to be hard, they know it's going to be hard, it's a great game for the neutral to watch but ultimately we want to come away with all three points. 
On taking the game to Argentina:
Argentina is going to be a different game. In the first two games we've had to be more defensively structured and mindful of your defensive roles or else teams are going to hurt you. Argentina might have to open up and it might create more space for us as forward players and midfielders we might have better openings and we might be able to pick pockets out better.
On whether not being underdogs in this game is different psychologically:
Going in as the underdogs we've had to sit in and be more defensively structured and we've kind of worried about their threat at the same time knowing we can hurt them. With Argentina, we know that if we bring our A game they're not going to be able to live with us, but it's all about us performing on the night and I think you can have all the tactics that you want but ultimately it's going to come down to small margins and pieces of individual brilliance to break them down.
On watching the USA v Chile match as a fan on her night off:
A good stadium familiarisation you could say! Yes, really enjoyed it and I phoned my family later that night and told them I was there and how amazing it was and they said think of how [they] feel, [when] they are watching it out in the stands and watching their little girl out there.
On whether her family will watch her on Wednesday:
Yes they will be here, they will be here for every single game for as long as we're at the tournament, I can assure you of that. They're so proud of me it's amazing and I feel so much pride talking about them in their Scotland shirts with 'Cuthbert 22' on the back. Even my dad is in the pink shirt so that's saying something. Everything I do I want to pay back to them because they have given so much of their life for me, so it must be so nice to see their little girl out playing football.