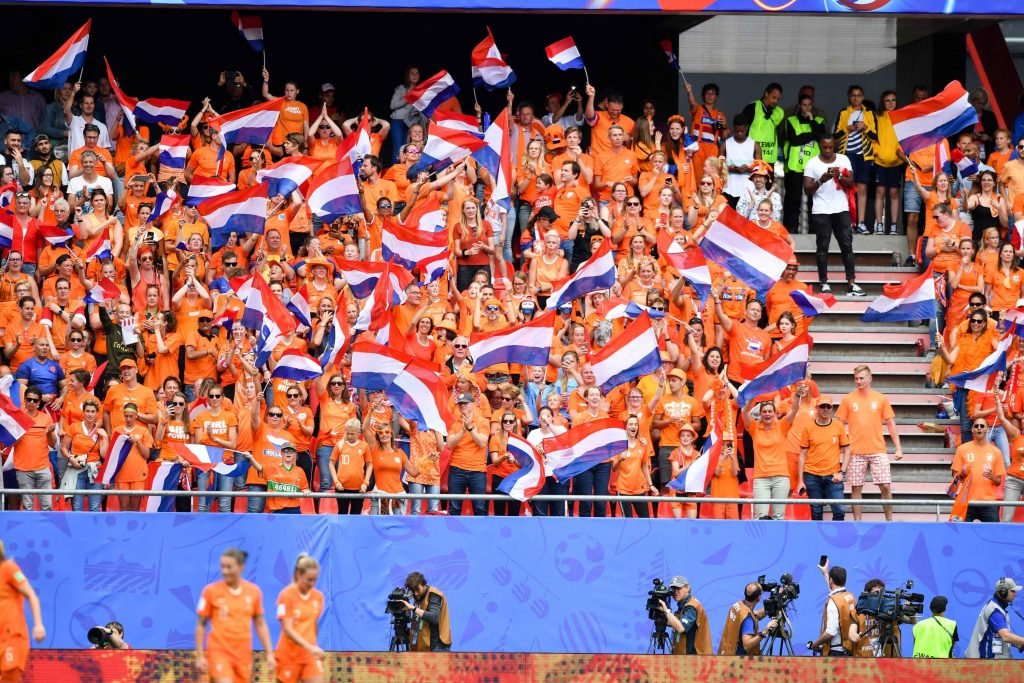 Our junior reporter Iris Fine (read all about her in 'Born Kicking in Issue 54) lives in Brussels and she's sending us write-ups from games the she and her mum and dad attend…
Netherlands 3-1 Cameroon
15th June, WWC Group E, Stade du Hainaut, Valenciennes
by Iris Fine
The players were met by a wall of orange in Valenciennes.  It must have felt like a home match for the Netherlands. The Dutch fans went home happy after their team secured their place in the round of 16, with a stuttering 3-1 victory over Cameroon.
In the first 20 minutes the Dutch had all the ball but did not manage any shots on goal.  In 21st minute Cameroon nearly made them pay. The Cameroon defence passed a long ball to the striker Onguene that she couldn't quite reach, but the Dutch defender van Lunteren slipped over in the tackle and Onguene was free to run on goal. She shot agonisingly wide.
The Dutch had all the ball, but found it hard to make clear chances. Finally in the 40th minute Van De Sanden got a long ball that she controled on her chest, before beating her defender to cross it to Miedema who headed it home. The difference in class showed at last! GOOOAAALLL!!!
But then, oh wow! Cameroon struck back straight away! A hopeful long ball caught  the Dutch defence asleep, Onguene won a header and, with the keeper in no-woman's land, rolled the ball home! GOOAAALLL!!!
The hundred Cameroon fans went nuts! The twenty thousand Dutch fans were completely silent.
Three minutes after the start of the second half, the Netherlands went back in front. They won a free kick out wide on the right. With two players standing over the ball, they put into action a training ground routine. As one player pretended to cross the ball in to the box, the other ran sneakily down the right, to receive the pass completely free. She crossed from the byeline, there was a scuffle in the box and the Dutch defender Bloodworth smacked it home from 6 yards out. GOOAALLL!!!!
Cameroon had one last chance to equalise late in the game. Onguene switched to the right wing. She made a skilful dribble past the Dutch left back, all the way to the byeline. She pulled it back to Akaba who shot … surely a goal?! No! A slight deflection took it wide. It was truly a great chance, and the Dutch made them regret not taking it.
In the 84th min Miedma cut in from the left, beat a defender for pace, ran at the goal and shot hard and low inside the near post. GOOAALLL!!! A great strike to win a great match!