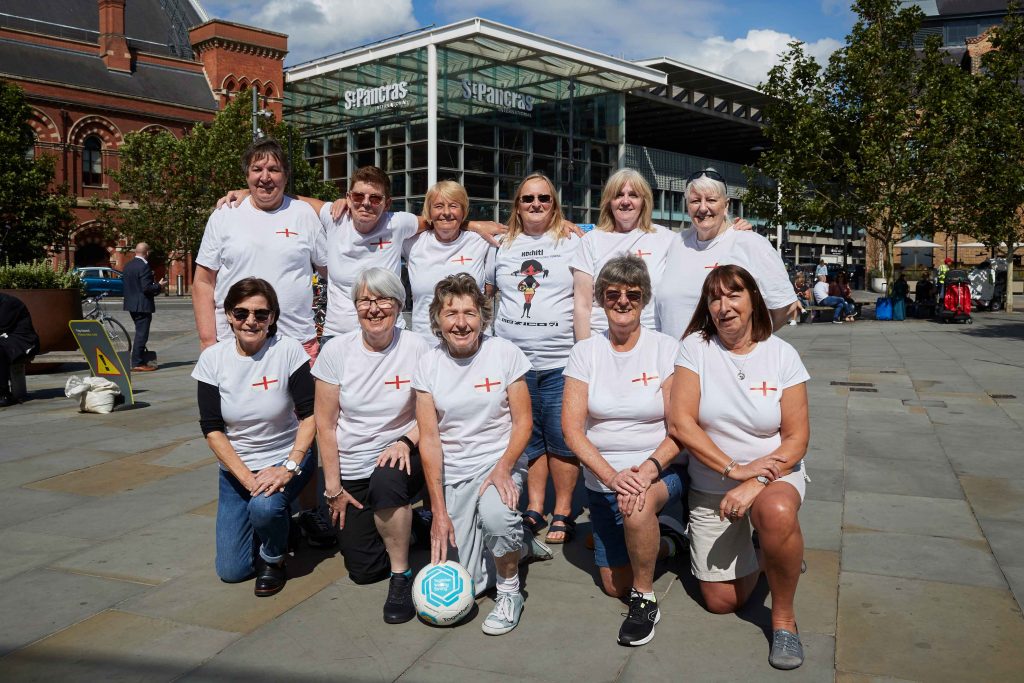 England to be roared on by Lost Lionesses as UEFA invite 70s pioneers as special guests at FIFA Women's World Cup semi-final.
UEFA Together #WePlayStrong will host the women's football team that paved the way for The Lionesses at the FIFA Women's World Cup when England play USA in the FIFA Women's World Cup semi-final at Parc Olympique Lyonnais.
The Lost Lionesses are the first-ever unofficial England women's team and played in front of a crowd of 90,000 during the 1971 Women's World Cup in Mexico City. The team will attend today's sold out event with UEFA, the European football governing body – a symbol of how far the women's game has come over half a century.
In 1971, the 14-strong squad were barely thought of as professionals and their journey to the Women's World Cup in Mexico received little coverage in the UK. The team were unaware of the interest in women's football across the world and upon arriving in Mexico City, they were welcomed by thousands and treated like celebrities. The team was knocked out but returned home in high spirits, excited for the future of women's football in the UK. However, the squad stopped playing when the FA restricted professionalism in women's football.
Today, the England National Team prepare to play in the semi-finals of the 2019 FIFA Women's World Cup in front of 60,000 spectators and with millions more watching from home. The team have become heroes for young aspiring players and it was the Lost Lionesses who literally set the ball rolling for them. The 1971 team have been reunited and hailed as an inspiration for the current team, who will be playing for a place in the FIFA Women's World Cup Final.
Chris Lockwood, a midfielder for the Lost Lionesses, said: "Women's football is finally getting the recognition that it deserves and it's amazing for us to tell our story so people can truly see how much the game has evolved. Thinking back to when I was part of that 1971 England team, and comparing our experience to that of the incredible women that form the current team, I feel an immense sense of pride that's difficult to put into words. They truly are living our dream.
"They have a tough match to play against the defending FIFA Women's World Cup champions, but I don't doubt that they have the skills and strength deliver a good game – and perhaps our presence in the stadium will bring them some luck too. We can't believe that we'll be watching it together and we'd like to thank UEFA's Together #WePlayStrong campaign for reuniting us for this moment and allowing us to be part of the dream."
Roman Putsch, Head of Marketing Activities at UEFA, said: "We were really touched by the Lost Lionesses story and we're delighted they'll be able to see for themselves how much the women's game has grown. Together #WePlayStrong is all about changing perceptions of women's football and revealing the strength of the women behind the game. The 'Lost Lionesses' will not only have inspired the England team today, but their confidence, togetherness and determination will inspire generations of young girls for years to come."
Through the Together #WePlayStrong campaign, UEFA aims to make football more culturally relevant and aspirational for girls in their teenage years, where they traditionally drop out in large numbers.
Together #WePlayStrong has already achieved significant success in partnering with globally renowned actor Millie Bobby Brown and popstar Rita Ora and launching an always-on YouTube channel offering a variety of fresh, original content from a squad of professional women's football players to provide inspiration for players across Europe.
To join the Lost Lionesses at the match, follow @weplaystrong on Instagram and for more information on Together #WePlayStrong visit http://www.weplaystrong.org.