FC United of Manchester Women's Cara Fields is keen to play again as soon as possible, with her side top of the North West League and still in two cups.
The 23-year-old central midfielder has helped FC United – who missed out on top spot by two points last season – into a strong position in the title race, the Manchester FA Cup final and Argyle Sports League Cup quarter-finals.
SK: Can you tell us a little of your footballing history and any personal high points? 
CF: I began playing football when I was around 13 for a local grassroots team until I got scouted for Manchester United Centre of Excellence, which was amazing being a young United fan! After four seasons I went into open-age football and signed for Manchester City (not my most loyal move) for two seasons before moving to Sheffield FC. I'm now at FC United Women in my third season for the club.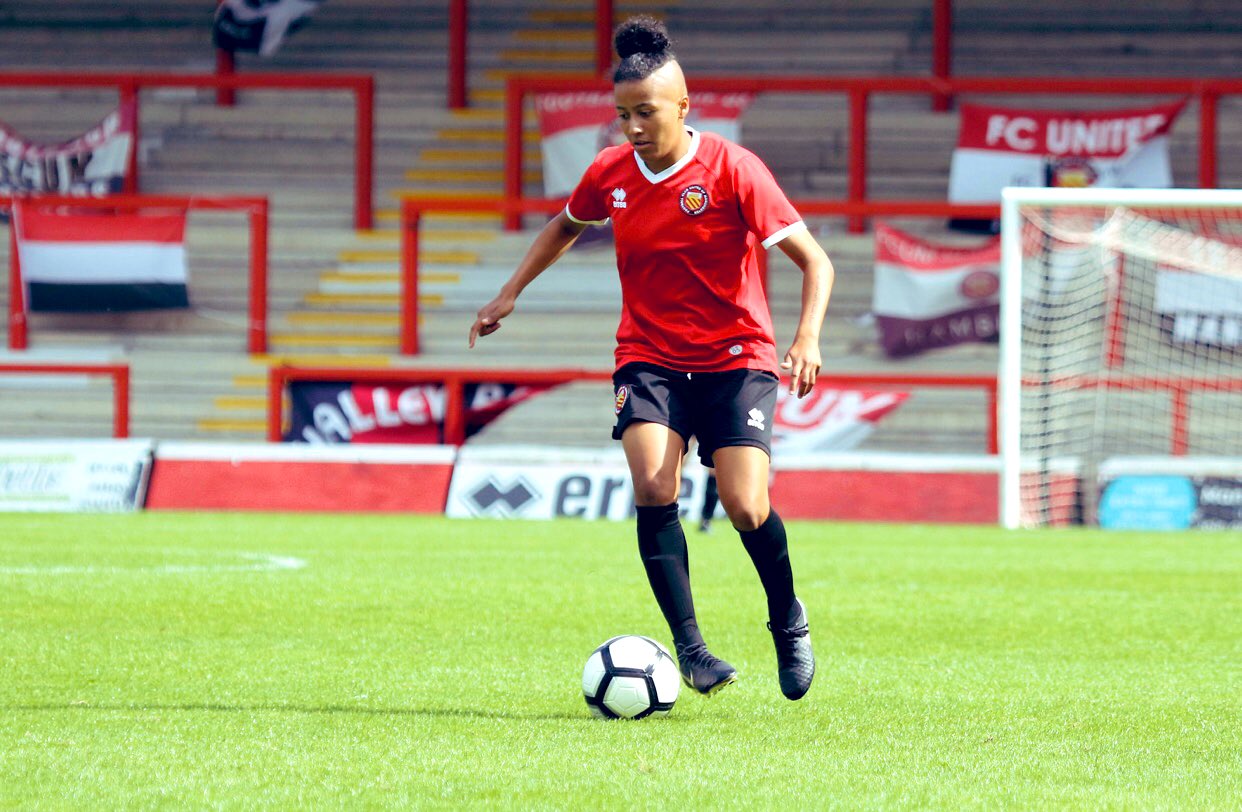 I've had some amazing experiences at these clubs over the years and feel very grateful for all of them! Some of my personal highlights have been going to La Manga football complex with Manchester City for a pre-season tour. Being a 17 year old looking up to some of the best England international players, it was an honour to train and play alongside them! But I have to say my favourite achievement has been winning the treble with FC United in my first season, nothing will ever compare to that!
SK: How has your team's season been going and have you been happy with the campaign so far? 
Our season this year is off to a great start (well until a few weeks ago when coronavirus decided to rudely interrupt) but we've been unbeaten so far in the league and we are still in the two cup competitions which we won the year before! It was a big transitional period, getting a new squad and new manager and a tough pre-season, so it's great to see us being successful and playing good football. All our hard work has started to pay off and we're itching to get back on the pitch and get back down to business! Hopefully sooner rather than later.
SK: Any rising stars, club veterans and/or stand-out personalities that our readers should know about? 
CF: Jordon Bailey joined us from Bury, who were in the league below, and she had teams from the league above trying to sign her so we're lucky to chose us! She has absolutely smashed it so far. She's a goal machine with crazy feet but tends to limp off every game because she's been kicked black and blue all over the pitch when defenders get wound up and can't get the ball off her.
Kirsty Chambers has been at the club since the women's team began seven years ago and has been captain for the majority of that time! She gives everything to the club, literally lives and breathes FC! You won't find a more loyal player than her. The fans adore her, she's always gives 110% and she bosses the wing, even if she's getting a few grey hairs now and getting on a bit (I can say that because I'm her best mate).
We're all a bunch of mad heads to be honest and I think that's what makes this team so special. Without getting cringey, we're all just a big family! We all want to work for each other and we're all there for each other on & off the pitch.
But I'd say Kaylea Cunliffe is definitely the loudest, Chelsea Patient and Fran Davies are like the mums of the group, Abbie Carrington is probably most likely to get carded because she's a machine. Kate O'Gara just loves to hug everyone (probably best she can't do that now) Caitlin Clancy is the baby of the group, Aimee O'Keefe is our personal motivator (she does CrossFit), Robyn Hartley is the silent assassin, Chloe [Ainsworth] – our goalkeeper – is De Gea's long lost cousin! Maxine Smith is Miss positivity, Natalie Richardson is the cheeky one and I'm probably like the annoying sibling! I could go on and on, everyone brings something different to the team and I think that's helped us be successful so far this year.
SK: What are your hopes for your team and/or personal aims once you can resume playing? 
CF: When we eventually resume playing, our ultimate goal is promotion. We're on target to do that but we just need to make sure we stay focused. It would be amazing to win the two cups and get that treble again but we're going to take each game as it comes and work hard to achieve what we've set out to do!
SK: Any football-related things you will be doing to help fill the void?
CF: I'm hoping everybody's doing some sort of fitness whilst we're all in self-isolation, so when we go back and Kam [Hussain] – our manager – makes us do 5,000 sprints, we're not all going to throw up and pass out. So Kam, if your reading this, take it easy on us! But for now the focus is to keep safe and get through this period and hopefully be back on the pitch as soon as possible.