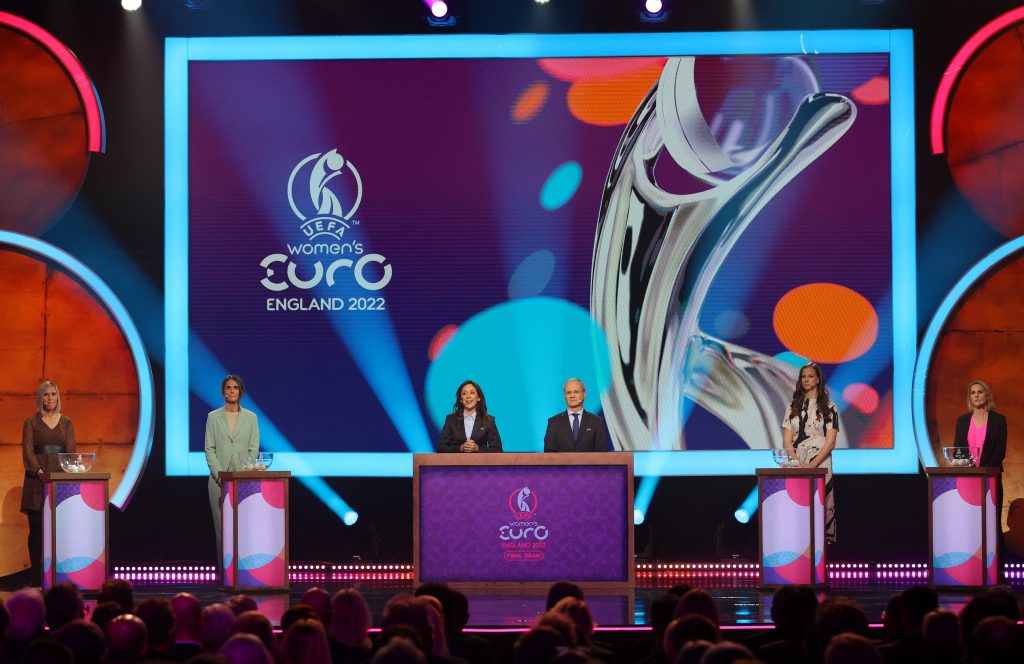 We caught a few words with UEFA's Head of Women's Football and former UEFA and FIFA Women's Player of the Year Nadine Keßler in the mixed zone after October's Euro 2022 Draw in Manchester. With just over six months until the tournament gets underway we thought we'd share some of her insider knowledge and anticipation for a record-breaking event next summer and, "some really, really tight matches."
Nadine on what the draw event tells us about the kind of tournament we're looking forward to England putting on next year?
We couldn't ask for a better host, better country, better Federation, better situation. An audience that is really hyping women's football at the moment. The FA and us [UEFA], we are really trying to put all efforts together to make it an outstanding moment next year. And it's already something special.
On the comparison from her own playing days:
There's no comparison. I was actually amongst the lucky ones who did the draw in 2017 in the Netherlands and the Netherlands was a fantastic tournament. Tonight was an event that is incomparable to whatever we've done before.
On whether there is a game at the Euros that she could pick out from the group stage that will be amazing for the neutral to watch:
I'm going to try to be at all of them! Hopefully I'm gonna have a very quick transfer from one venue to the other and see them all and all venues.
She needs a 'Kessler scooter'! On having won this tournament (with Germany in 2013) and now playing an integral part in setting this up, unbundling the sponsorships, all of these decisions:
You know, to be able to say, you have a life dedicated to football is something really special. And I don't mind working a few hours more and giving my everything if that's gonna be such a great outcome for the sport I love, so I think not many people can say they have a job they are passionate about and care about on a daily basis, but I do so I'm very grateful to be part of this.
On whether her family will be coming over to England as supporters too:
Absolutely. The plan is that they will come over. I already bought tickets myself for them. So I will bring them all over and make it a family thing.
On having talked before about bringing her experiences as a player to bear in the decisions about how they run a tournament. Has she been able to influence things in that way?
Yes, absolutely. I think the player perspective is invaluable and you will see next year, particularly in tournament standards, they will be at a completely different level [than before]. Whether that be teams now finally flying in Business Class, having single hotel rooms [for players], all the pitches will be top quality and so on and so forth. I think making everything that is around the teams right should be a top priority and something I didn't quite get to experience myself.
And UEFA will fund and facilitates that?
Exactly. Yes.
On whether she expects TV audiences and attendances, particularly at the tournament opener and the final to be broken:
For sure. But also, for the other matches to finally be sold out. We need to be realistic. This was never the case before. Even in the Netherlands [in 2017], the Dutch games were sold out but not every match was back then.
So we also got to make sure that people travel, people come to England and follow their nations, and that every single match is heading in this direction. I just believe we have to be ambitious and confident because without any ambition, you don't get anywhere.
So I really think that would be fantastic – that even more than the opening and final, we could send a signal that there's a continuous interest in the women's game.