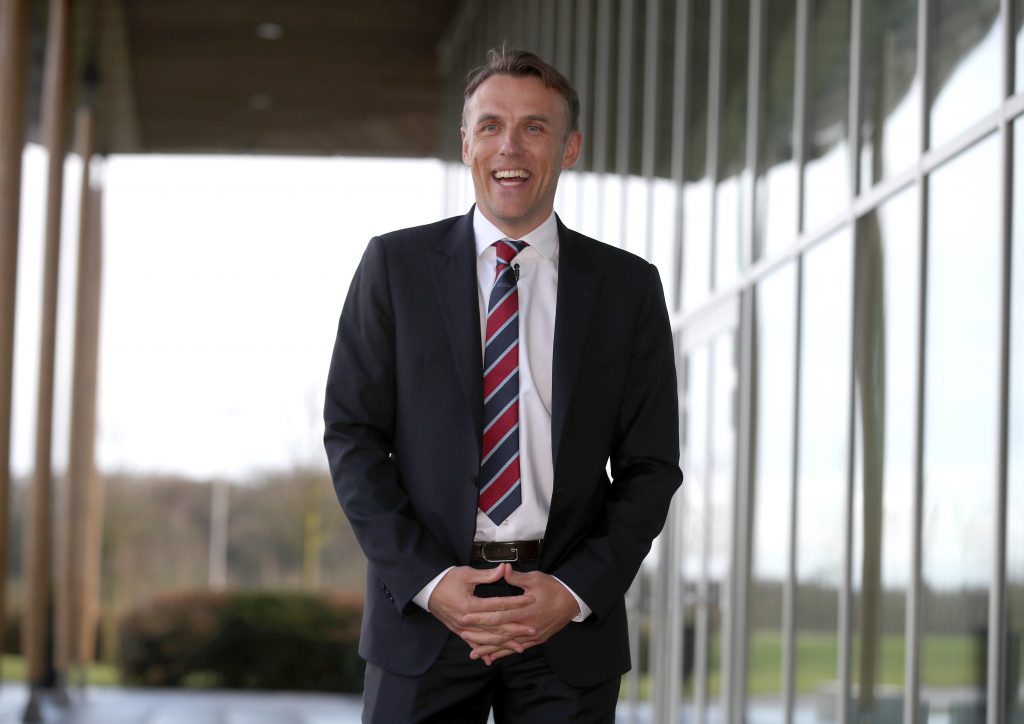 The FA officially unveiled their new England Women's Head Coach Phil Neville to the media, at St. George's Park today. After several rounds of broadcast interviews and medium-level grilling from the mainstream written press, Neville then spent time with some of the women's football-specific journalists present (including @Wosozone & @lawsosop) to talk a bit more about football and coaching, and a little less about Twitter…
We thought you'd be keen to read the conversation, so here's what Phil Neville had to say, as @RichJLaverty reports:
On how extensive his current knowledge of the England team is, ahead of picking his first squad (has he taken advice from coaches and staff around him):
I watched 30 players play on Tuesday against Holland. I watched two league games over the weekend, I'm at a league game on Thursday and another game on Sunday. Do I know everything about the women's game? No, but I will in a very short space of time.
I have to get closer to my players, I have to know the ins and outs of what makes them tick as players. I have to know their character, every facet of their life and that's what I've been doing so far.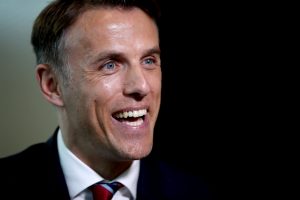 I've seen every interview they've done over the last 12 months and watched a lot of their performances over the last 12 months. I followed them on social media to know a bit more about their personal lives because that's management. Management isn't just about what you do on the pitch, it's about getting to know your players as people and over the next three weeks I'll be going out and getting to know them even better by meeting them away from the pitch.
The 30 players who were in La Manga, I know their strengths and weaknesses, that's the easy bit. The hard bit is to get to know them as a person and that's the priority.
On his priorities over the next three weeks before the SheBelieves Cup?
The priority is the World Cup qualifiers, but the priority before that is to get the staff on board. I'll have a meeting with my coaching staff next Monday and by the end of this week I hope to have my close staff appointed, my assistants and my goalkeeper coach hopefully named.
Then we can start planning, I can start planning my vision for this team. I've met a couple of candidates for the assistant job and we'll be meeting more before the end of this week.
On the opponents at the SheBelieves – who are three of the top ranked sides in the world – and what he knows about them:

I know France, I watched us play against the USA last year and I watched the USA play Denmark earlier this month. One of my strengths is analysing football games, I know the USA game will be a fantastic occasion and the whole tournament will be a fantastic opportunity to assess my players in probably the kind of arenas you have to perform in.
If we want to be the best in the world you have to perform in tournaments like the SheBelieves Cup. I know a lot about the French because I've studied them. The USA play with an arrogance and a confidence that I think we need to learn a little bit from. They know they're number one and they believe they're number one and it's up to us to knock them off their perch.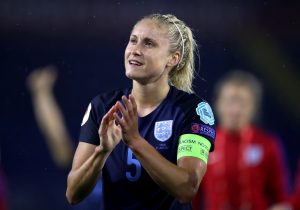 On the England captaincy:
Steph [Houghton] will continue as captain and she knows that.
On whether SheBelieves is the perfect first camp for coach and players:

It's whether your glass is half-full or your glass is half-empty. I actually wish the tournament was starting tomorrow. What it will give me is an opportunity to spend 12 days with my team and with my staff and get to know them better. People are talking about me coming from the men's game into the women's game, but if you go into any job you have to get to know your players.
It's easier if you're on the road with them, sharing meals with them and hotels with them. You get quality time with the team and with the staff and the staff have to get up-to-speed with me. SheBelieves can't come quick enough because ultimately it gives me a chance to coach the team and that's what I'm here for, to coach my team and win football games.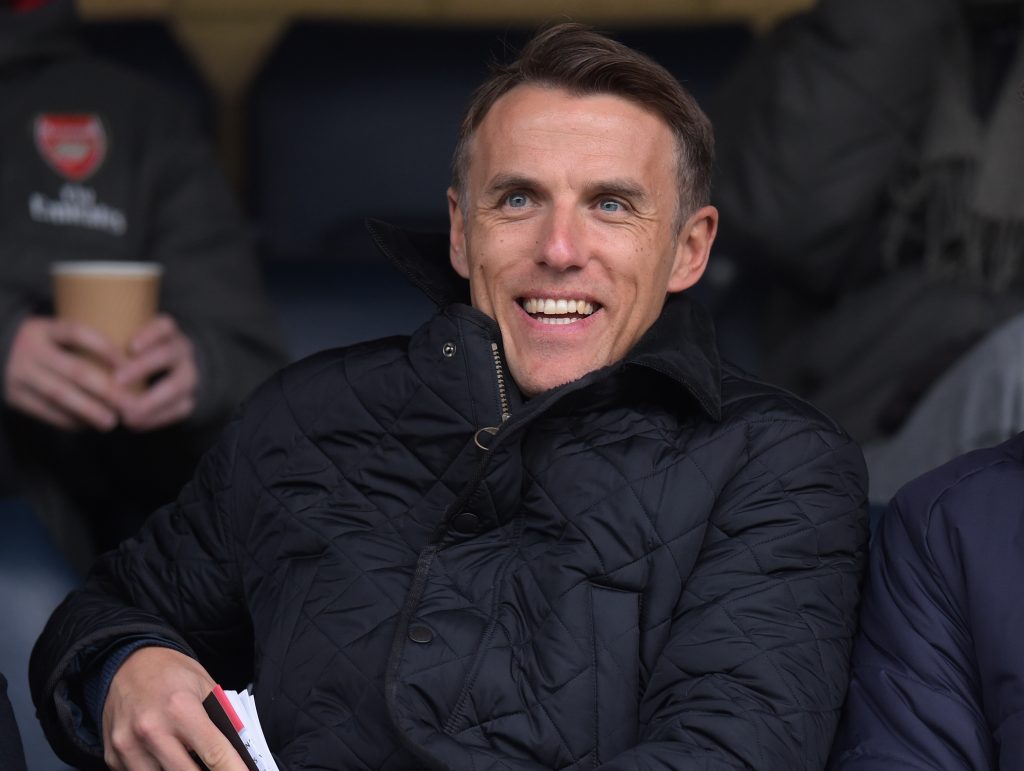 On watching WSL games week-in and week-out but also keeping tabs on the likes of Lucy Bronze, Jodie Taylor, Toni Duggan and other overseas players:
I aim to go to see Lucy and I told her that the other day, Barcelona would be a nice trip too! Barcelona and Lyon play each other in March, it's part and parcel of being an international manager that you have to travel to go and see games.
When I go to Lyon or Barcelona, it's more about spending time with the player on a one-to-one basis, management now is all about forming and building those relationships. Lucy without doubt is one of our finest players and such a key player going forward.
I watched a couple of players over the weekend, young players, who won't go to SheBelieves but I believe will go to the 2019 Women's World Cup, that excite me as much as the 30 players who went to La Manga.
On being pressed about who impressed him:
I think it's unfair to name names, but I've seen a few. There was a young player who genuinely excited me on Saturday. I'm not going to name names because it's unfair to put that pressure on her but she genuinely excited me.
I think we've got a crop of good young players coming through who can put pressure on the players already in the squad.
On his thoughts about the games he watched over the weekend:
The quality of football I thought was fantastic. The game on Sunday was feisty, it was tough and it was very competitive. It was everything I thought it would be.
The game on Saturday, I thought Liverpool perhaps had more experience. Bristol City were a young team but impressive in the system their coach used. I learned a lot from both of them.
Mark Sampson got the team to third in the world playing football that won matches, rather than necessarily football that was attractive to watch. What might their style going to be moving forward? On whether it is about becoming number one or playing good football:
I want both. I think that's important, Mark did a fantastic job and the foundations left are fantastic. But to get to number one I think you have to do both and I think the players are ready to play with a style.
You watch the two games over the weekend and both teams are playing out from the back, playing through the middle but entertaining in the wide areas. These players can do it, I've seen them do it and now they've got to do it on the biggest stage.
"I'm actually going to try and raise expectation, that's one area I want to push."
On whether he has watched back any of Euro 2017:
It was disappointing, but after the success of the World Cup there was a lot of expectation on the team. Whenever you have that expectation of being the third best team in the world, that's something we're going to have to deal with now, it's managing that expectation.
I'm actually going to try and raise expectation, that's one area I want to push. We want this expectation and we want this pressure and in critical moments, like against the Dutch, we have to be better.
On whether he is thriving on the fact that in 2015, nobody really expected a third-place finish but now England could possibly go into a World Cup as one of the favourites…
I relate it back to the USA team and the way they puff their chests out and say 'we're the best in the world', that's the kind of arrogance I want from my team.
We shouldn't be embarrassed about being third in the world, we shouldn't be embarrassed about being one of the favourites and if anyone is then they shouldn't really be in the squad. We're going in a certain direction and I've spoke to the team about this, they have the same beliefs as I do. It's not going to be easy, nobody is going to come and hand it to us on a plate but we're going to give it our best shot and make sure we do it with a certain style.
First thing's first is we have to qualify, it's a big six months for the team and then we'll be looking forward hopefully to going to a World Cup.