Claudia Walker has signed a two-year deal with Birmingham City, with whom the 22-year-old had been on loan from Everton for the latter half of last season.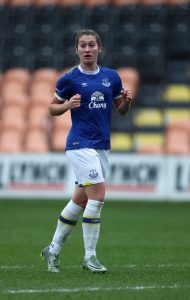 The Blues say Walker, who helped them to their best-ever tally of 40 points in FA WSL, strengthens Marta Tejedor's attacking options following the departure of striker Ellen White.
Walker told the club's website: "When I came here [in January] my main aim was to show my abilities to get a permanent place at Blues, and I'm happy that I've done that.
"I need to push on now and make sure I get some goals and assists and help the team win games."
Manager Marta Tejedor said: "Claudia Walker is a young player, full of potential, who can perform in a range of attacking positions.
"She's one of those athletes who make coaches better and I'm sure we'll all move forward next year together."