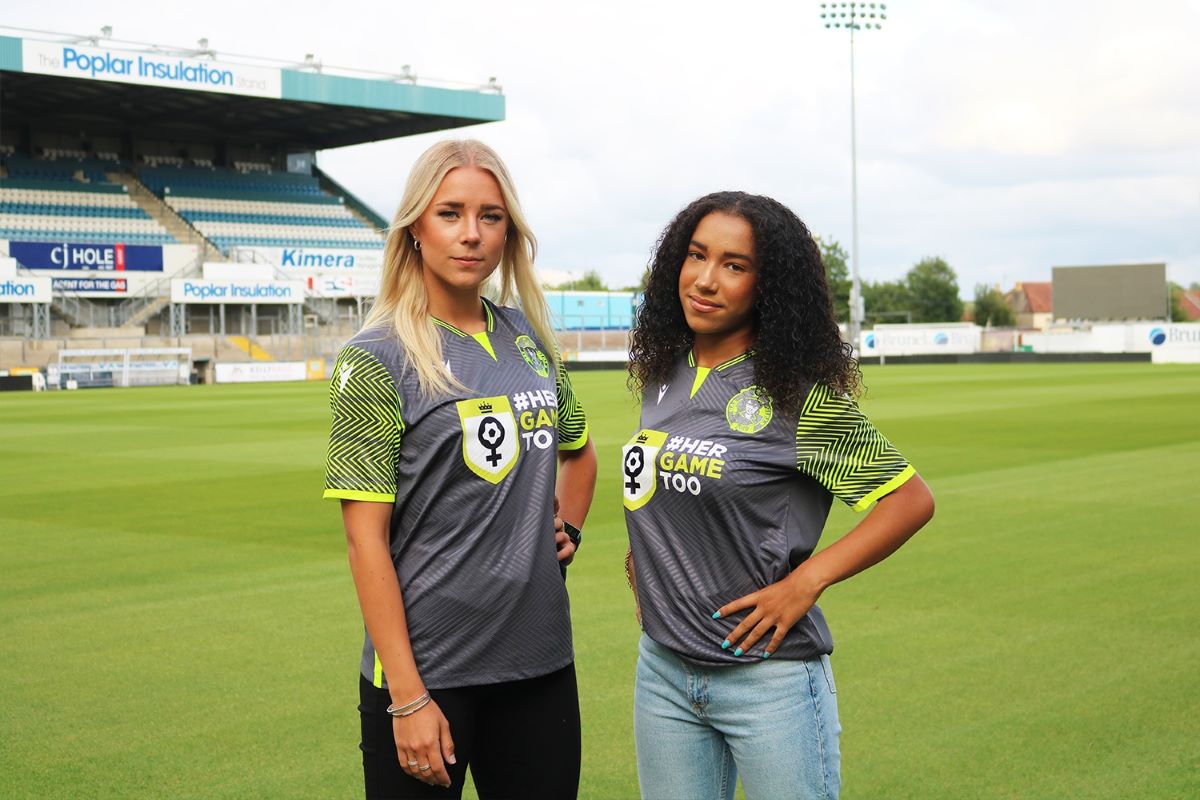 Bristol Rovers Community Trust and the Gas Girls have donated front of shirt sponsorship of their new away shirt to the #HerGameToo campaign.
HerGameToo was founded by 12 passionate female football fans, who are committed to growing their campaign with the aim of fostering an ethos in football in which women are welcomed and respected equally. They aim to campaign against sexism in football and to continue to fight against online abuse targeted at female football supporters.
After the success of the last season's Bristol Pride away shirt, which now resides in the National Football Museum, we hope that with our support, the Her Game Too campaign will reach a wider audience and raise further awareness of the serious issues faced by female supporters and players.
Bristol Rovers Community Trust CEO, Adam Tutton said: "We are thrilled to have been able to offer the HerGameToo campaign the front of shirt sponsorship on our new kit. After witnessing the regular online abuse targeted at female football fans across the country, I felt it is vital that as the club's official charity we aim to foster an ethos in football, in which women are welcomed and respected equally."
Charis May, Co-Founder of HerGameToo and Bristol Rovers supporter, said: "Bristol Rovers Community Trust are continuously doing our football club proud with their efforts within the community and for the development of Bristol Rovers Women's FC. Adam [Tutton] and Matt [Davies] offering the front of the shirt sponsorship to HerGameToo within a matter of days of the campaign launch is an incredibly heart-warming gesture and something I will be forever grateful for. The support means a lot to all of us and we are extremely lucky to have the backing from the Community Trust. We are thankful to the Gas Girls, the Trust and anyone else who helps us in spreading the message of HerGameToo as we look forward to building a better future for females in the game."
Bristol Rovers Women's Co-Founder and Club Secretary, Matthew Davies, said: "With the continued growth and exposure of Women's Football across the World, it is more important than ever to ensure that women and girls continue to be inspired to play the beautiful game. As a club at the heart of our community, we are delighted to be supporting the team from HerGameToo to help raise awareness, develop a strong sense of community, and create a welcoming environment for young girls. We'd also like to thank Bob Seymour from Ahimsa Yoga Bristol, for sponsoring the back of our kit and helping us to spread our message."
All proceeds from the shirt sales will be re-invested back into the free football provisions for girls within the community.