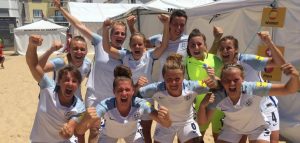 England held off a Switzerland fightback to lift the Euro Beach Soccer Cup with a 4-3 victory in Nazaré, Portugal.
Ramona Birrfelder put the Swiss ahead, only for Shannon Sievwright to equalise 2 minutes later, with Gemma Hillier and Molly Clark then taking England into a 3-1 lead.
Sievwright made it 4-1 but a tense finish was forced as Birrfelder and Schenk replied.
However, England held on to claim their first ever Euro Beach Soccer Cup.
The Netherlands took third place with a Grytsje Van de Berg goal enough to defeat the Czech Republic, while former holders Spain had to settle for fifth spot after beating Greece.