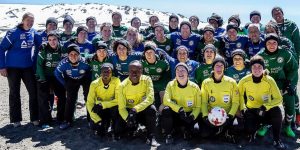 Two Scottish female FIFA referees have achieved Guinness World Record status after officiating at the highest-ever football match at the summit of Mount Kilimanjaro.
Morag Pirie and Vicki Allan were part of a team of five match officials who refereed a 90-minute women's match between Volcano FC and Glacier FC on Thursday 29th June, as part of an Equal Playing Fields initiative.
A total of 37 players representing 20 nationalities, including retired USA international Lori Lindsey and former England midfielder Rachel Unitt, completed an 11-a-side match at nearly 19,000 feet – an altitude never attempted before.
After a rigorous training regime, the group scaled the Tanzanian mountain with a team of medics over a seven-day period.
They used flour to mark the pitch and trekking poles as corner flags with the fixture taking place on a volcanic ash pitch.
The match may have ended in a 0-0 draw, but the group achieved their goal of highlighting the inequality women face in sport.
Morag Pirie told scottishfa.co.uk: "I'm hugely proud to have been a part of the climb – it was an absolutely amazing experience.
"I only had three weeks' notice that I was going whereas some of the other participants had known for over a year. I missed the vast majority of the 12-week training programme but I think my referee training helped and I climbed a number of hills close to where I live to help prepare.
"It was hugely challenging – even things like tying my shoelaces was difficult at that altitude. We warmed up for the match by simply walking around the pitch because it was so hard to breath.
"It's something few people have achieved and everyone is proud to have played their part – there was a real sense of achievement and relief at the end of the match.
"As a female referee in a male-dominated sport, I can understand where Equal Playing Fields are coming from and what they are trying to achieve. I was more than willing to help their cause and I hope it can help make a difference to women and girls around the world."
See footage of Vicki Allan's climb here.
Find out more about Equal Playing Fields here.