Aberdeen snapped up the services of Scotland youth internationalist Francesca Ogilvie in April 2019 and the zippy winger made her mark immediately, scoring on her debut in a 4-2 win over Buchan, writes CATHERINE ETOE.
The 18-year-old football coach weighed in with further goals in an unbeaten SWFL Division One North term for the Dons and her strike against Kilmarnock in the Scottish Cup was declared goal of the season at the club's inaugural awards. One to watch on the international front too, the self-confessed Lionel Messi fan also breached Northern Ireland's defence in an under-19 friendly back in August. Here, the teenager talks about her biggest supporter and what we can expect from Emma Hunter's promoted side.
SK: So Francesca, what are you expecting from SWPL 2 this term?
FO: It's going to be a hard league. Last season we had it quite easy, without disrespecting other teams, but we had come down from the SWPL. Now with 10 teams, it's definitely going to be really competitive. Each game is going to be a battle.
SK: And what can we expect from you?
FO: I'm hoping to score and create goals, as many as I can for the team.
SK: How did pre-season go for you?
FO: The men took over Aberdeen last season, so we've been using the new facilities, Cormack Park, and we've had the sports scientists in as well, doing conditioning and fitness work with us so it's been tough. Some of the Scotland players, we train in the mornings and have had testing recently as well so it's been a tough last month I would say so it's now just starting to ease off and we're going into the games on Sundays.
SK: Do you like pre-season?
FO: Not the running. Just getting the ball at my feet, touching and passing.
SK: What's it like playing for Aberdeen?
FO: We're all really close. I was a bit nervous coming into the team, didn't know what it would be like but we have a motto, 'one team' and we really stick to that so when we're taking players in we're considering if they can be part of our 'one team'. So family is a really big thing for us.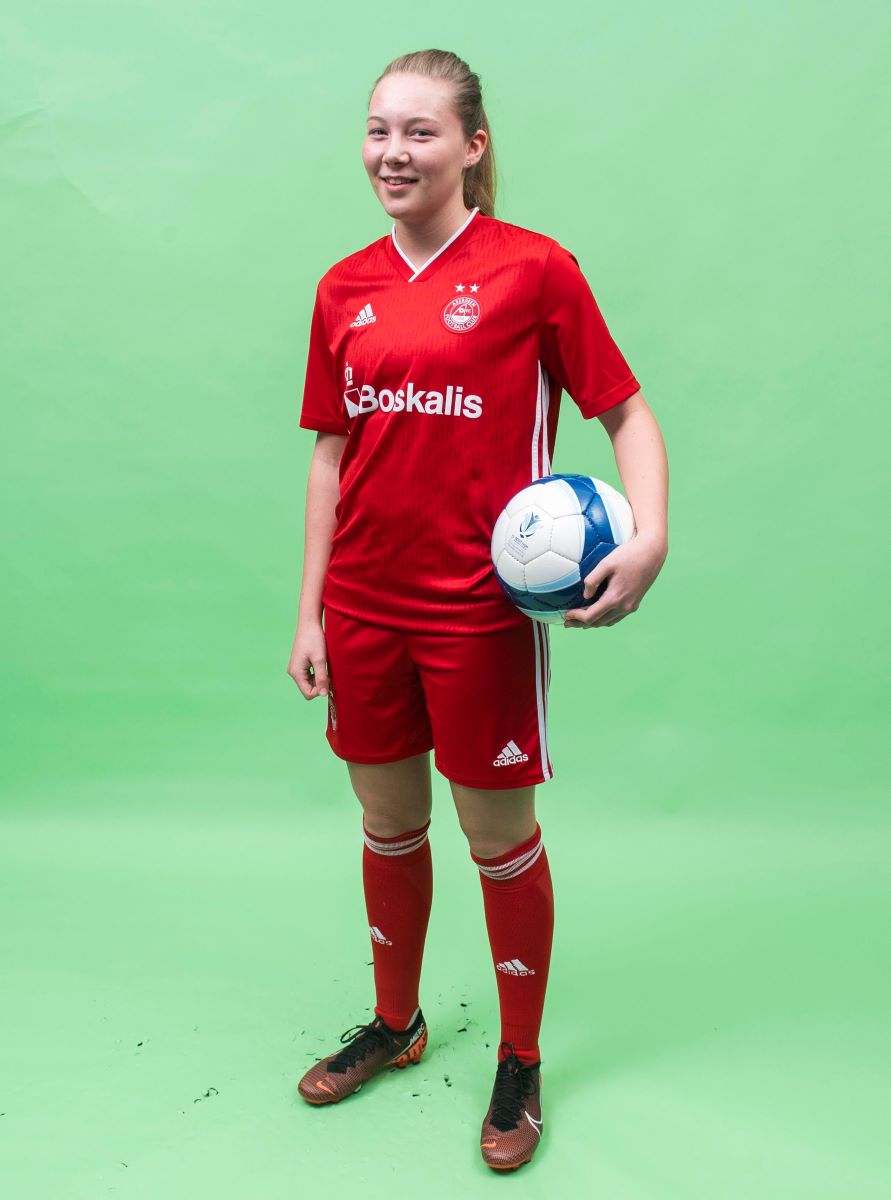 SK: Who has been your biggest support over the years?
FO: Definitely my mum and dad. When I first started at Stonehaven there was a lot of travelling to football so my dad would take me to every training session, every game, he'd be out in the garden with me, helping me. And definitely team mates of course.
SK: What can anyone planning to watch you at your home ground expect to find?
FO: We've managed to get Cormack Park as our home pitch, it's astro and really big which suits our style of play because we like to keep the ball on the ground and pass. There's a cafe, but there's not a stand at the moment unfortunately.
SK: And what can we expect to see on the pitch this season?
FO: We're a possession based team, and with our 'one team' we bring that on to the pitch as well not just off the pitch. So everything we do on the pitch is as a team, we press as a team, attack, defend as a team. Everyone wants to fight to win that ball.
Follow Aberdeen WFC on Twitter @AberdeenFC and Francesca @FrancescaOgilv1
2020 #SBSSWPL 2 – GETTING TO KNOW: Megan Quinn (Hamilton Academical)