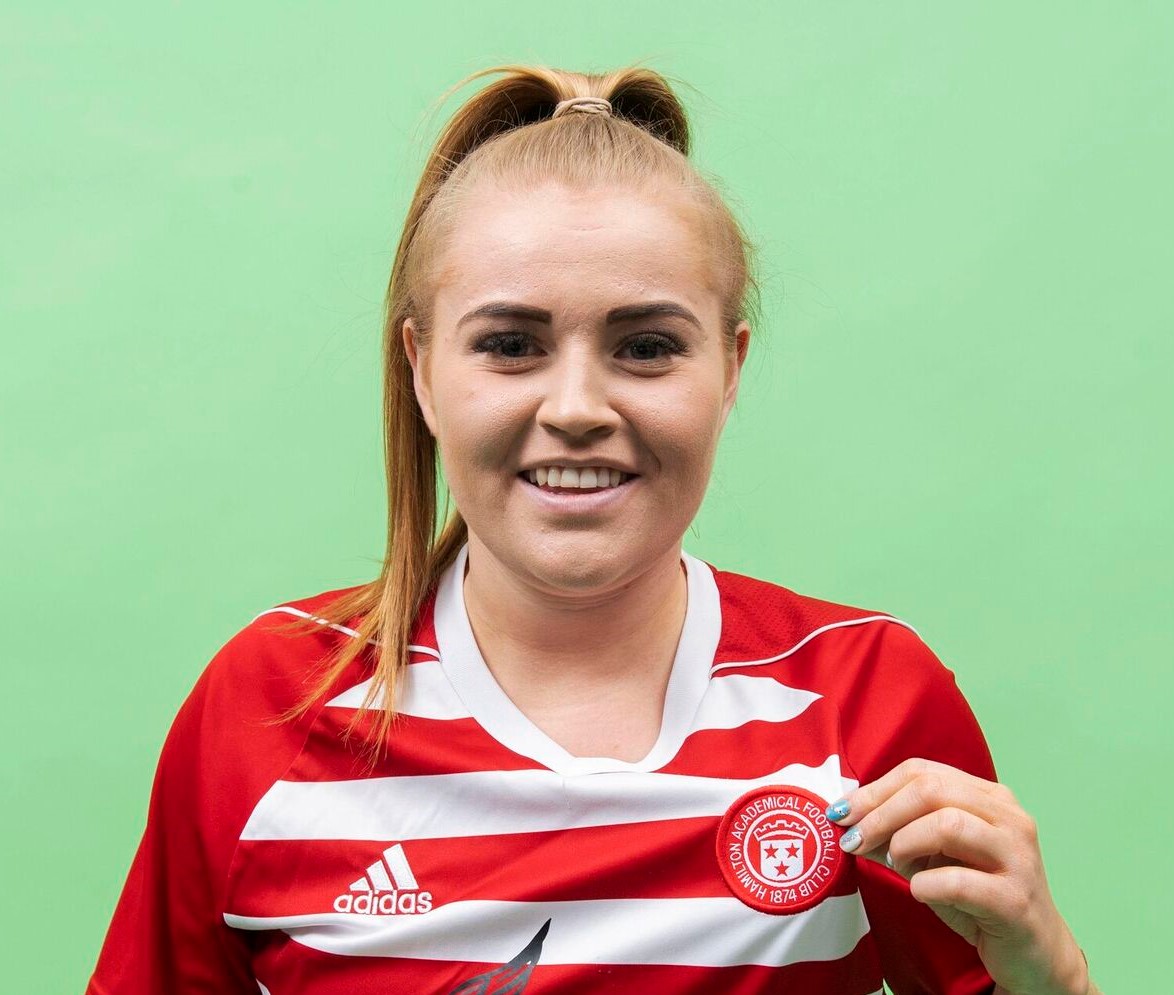 Following on from our 'Getting to know' series of SBS Scottish Women's Premier League 1 players, first up from SWPL 2 is Hamilton Academical's Megan Quinn, writes CATHERINE ETOE.
PE teacher Megan Quinn is a familiar face to Hamilton Academical fans, Their vice captain, who started out with a boys club aged six and spent many years at Celtic, will surely hit an impressive century of appearances for Accies this term. Gary Doctor's side finished runners-up in SWPL 2 last season and they hit the ground running in 2020 with an emphatic 5-0 opening day win over Stirling University. Here, 25-year-old left back Megan tells us how the club's new players are bedding in, what fans can expect from their team and a visit to their home ground at New Douglas Park.
SK: Did you get a break before pre-season?
MQ: We only had two weeks off at Christmas which is quite different for us, usually we're off for like a month or something. I think it's been really beneficial because we've had so many new girls come in and we've got to know them all better because we've been in quite a length of time. I think it's shown in our pre-season games that we've really gelled well as a squad and I do think it is because we've been training that wee bit extra.
SK: Just two weeks, what did you do?
MQ: Well, because I'm a teacher I literally just sat in the house, went out for dinner and met friends a few times. Other than that, it was nice just to chill and not have kids running about all the time and not needing to listen to the sound of my own voice!
SK: How do you keep in shape during your holidays?
MQ: I actually moved house round about Christmas time and I've got a gym literally at the end of my road, so it's been great. It's like a country club so it's got a gym and pool and I've been going to classes at the gym to keep myself ticking over, but pre-season has been good and maybe ticking over has helped.
SK: A country club? Do you live in a mansion or something?
MQ: Ha, ha. No.
SK: How was your first day back into training?
MQ: It was good, nice seeing all the girls again, you're used to seeing them constantly so when you don't for two weeks it's hard, because all your pals are there. It's like a right wee family at Hamilton.
SK: What did you do on that first day back?
MQ: We actually just played a lot of games, no fitness or anything like that, it was just getting into the swing of things, getting a touch of the ball, a lot of the girls have maybe done nothing for two weeks so it's just getting a touch of the ball, small sided games, wee team building things, starting to get everybody to know each other, the new girls.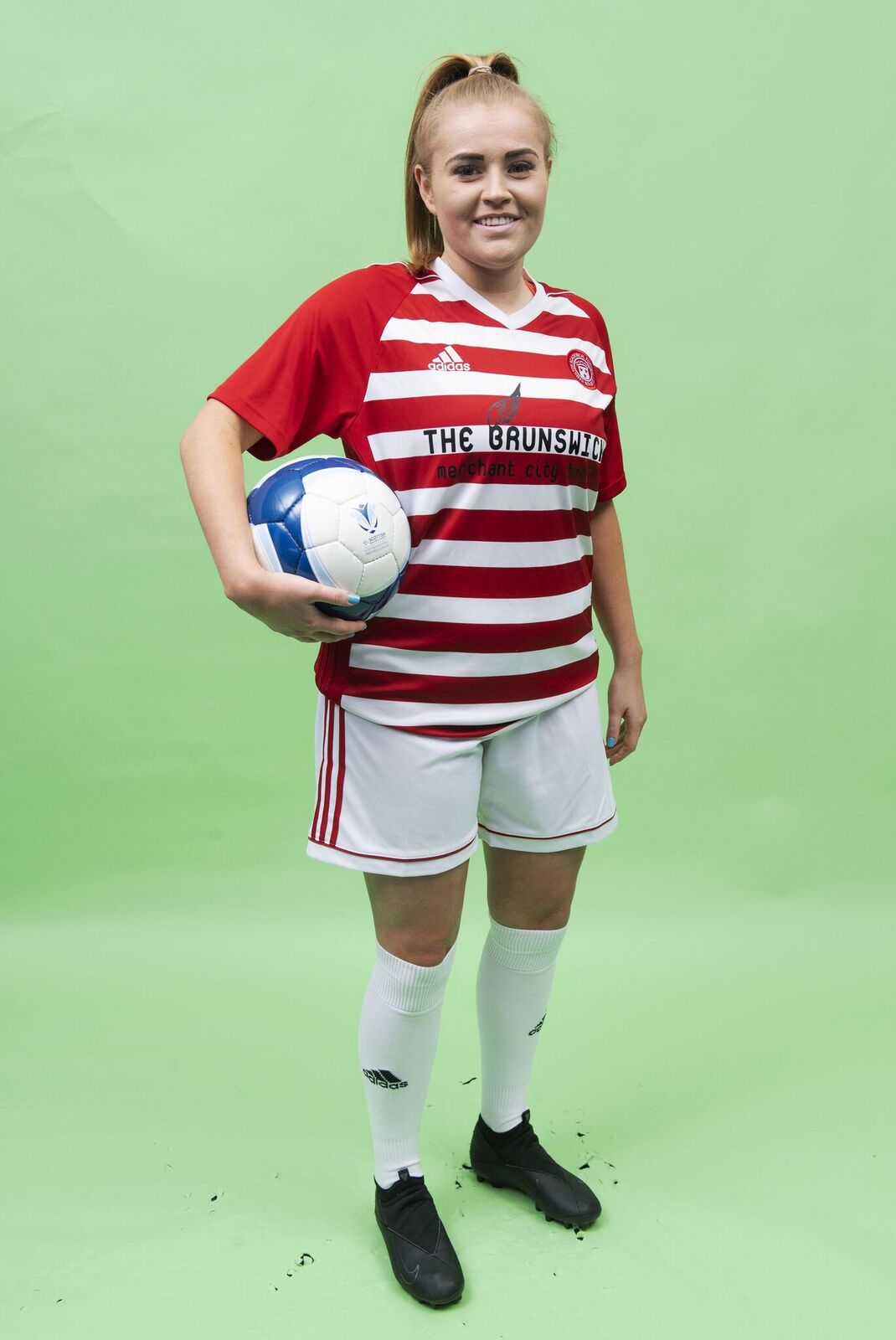 SK: How do you make new players welcome, any initiations?
MQ: We're really big on fines at Hamilton and it's the players that take ownership of that so if they forget their kit or wear the wrong kit one night, which always happens to girls who are new, straight away they get a fine or have to wear a tutu to training, that beds them in quite well!
SK: What's your training routine?
MQ: We train three nights a week, Tuesday, Wednesday, Thursday, and game day on a Sunday, on a Tuesday we have strength and conditioning before training and then we go down to the pitch for two hours and on a Wednesday and a Thursday it's an hour and a half.
SK: So who has been a beast in running sessions?
MQ: Kirsty McIntosh is up there, and [SWPL 2 player of the year and Accies skipper] Amy Anderson as well. They are probably the two fastest in the team, they'll run length to length of the pitch for you every game, they're always ahead of the pack, zooming away.
SK: Who is the team comedian?
MQ: There's a lot of banter in my team. I would say Ellie Kane and Megan Quigley, they're always up to mischief the two of them.
SK: Anyone come back from the holidays with a tan, if so who had the best?
MQ: I don't think anyone did but Amy Anderson likes a fake tan so maybe that would count!
SK: Who has the fanciest boots?
MQ: Probably Lauren Grant the goalkeeper, she's got some outrageous clobber I'm telling you. Her gloves are usually white but her boots are outrageous.
SK: Who is the chattiest?
MQ: Loads of them, but I'd say Ellie Kane.
SK: Who are you and your team's biggest fans?
MQ: Both my parents are really supportive, my boyfriend Martin, my brother as well. We've got a lot of supporters, more or less everybody's parents come to games and because we're affiliated with the men's team you find a lot of the men's team supporters coming along as well because they get in for a £1 so our stand is always pretty full.
SK: What can fans coming to your home ground for the first time expect?
MQ: It's really central, kind of in the middle of Hamilton, so it's right in the hub. There's plenty of parking outside. The train station is just there as well so if you fancy a pint and that before the game the pub is just by the stadium. When you come in we've got food and hot drinks, it's all seated and all covered so you don't need to stand for the 90 minutes and if it starts pouring with rain you're covered, so we've got really good facilities.
SK: What are your targets this season?
MQ: The first is for us to win the league, that's the most important thing. We were really unlucky not to go up last season so I feel like this is our year and we're ready for it. Personally I'd like to score a few more goals this season.
SK: And how do you expect it to go?
MQ: I do think we'll win the league, I feel like we could really do things this season, have a really good run in the cup as well. The signings we've added to the team have really made a difference and all the girls we've retained from last year as well. There were a few teams that maybe came in for girls but they decided to stay and I think that speaks quite a lot for our club, that girls do want to come and play for us and stay and be a part of that so yeah, hopefully a good run in the cup and winning the league convincingly.
SK: Finally, why should our readers get behind your team?
MQ: We're a right family club and there's a right family feel about everything to do with Hamilton. If anybody was to come and watch us play you'd see there is a real team ethic about us, nobody gets left out, everybody is backing each other up, if somebody flies in for a challenge, somebody is behind you backing you up and I think you would be able to see that if you came and watched us. Also social media wise I'd say we're the best in Scotland!
Follow Hamilton Academical on Twitter @accieswfc and Megan on @megannnquinn
2020 #SBSSWPL 1 – GETTING TO KNOW: Mariel Kaney (Hearts Women)