Here we are delighted to share Judith Darcy's delightful footballing 'scrapbook'. As you will discover, it is, "rather full!"
Judith is 57 (she will be in 58 in June, 2020) and has always loved football although she is as surprised as the next person (and also thrilled), to discover that many of her playing days still lie ahead of her. Here is her story…
In 2015, I had a serious back operation. Six months after my operation, the surgeon advised me to keep active. I built up my strength and confidence through cycling and CrossFit. I didn't think I would kick a football again. Then I found walking football which definitely helps to keep my back strong and (touch wood) injury free, as well as boosting my well-being.
When I play walking football, I am in another world – one where my team, my teammates and playing the game are the only things that matter. You could say, I pack up my troubles in my old kitbag and play, play, play.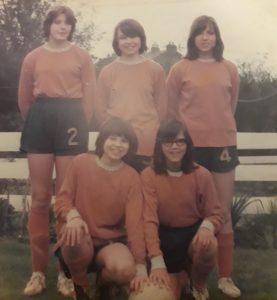 MY STORY
Following two trials (in September 2019 and in October 2019) I was selected for the very first England Women's Walking Football squad (Over 50s). To cap it all, I was lucky enough to be chosen to play in the first-ever Women's Walking Football international which took place on 1st November 2019, in Guernsey. I fulfilled my dream of pulling on an England shirt, flying the flag for women's walking football and being part of history in the making. A flick through my scrapbook reveals my story – please, be my guest:
MY SCRAPBOOK
FIRST HALF – Things kicked off in the early 1970s when, as a little girl, I played football on the streets in Lancashire with my twin sister, my best friend and other kids. It was literally jumpers for goalposts! In my teens, I went to an all-girls convent school where women's football was not on the curriculum.
Undeterred, I joined an 11-a-side women's football team and played competitively every week. Little did I know back then that my boots were made for walking.
SECOND HALF – Almost 50 years on, my boots are still firmly on my feet, and my love affair with the beautiful game continues.
December 2016, an advert caught my eye – July 2017 – the first ever women's walking football tournament to mark the 100th anniversary of the Dick, Kerr Ladies football team – the Preston team that made history (another story for another time). I was picked to represent Accrington Stanley in this inaugural women's walking football tournament. I had from April to the end of June to prepare. I thought, "I don't need to train – walking football can't be that difficult." A voice on the terraces shouted, "Don't run before you can walk!" – very wise words indeed! I did some homework and one Sunday morning, I took to the pitch at The Arsenal Hub. Within minutes, I was hooked. The day of the Dick, Kerr Ladies tournament came. I went back to my roots and replayed the FIRST HALF. I teamed up with my twin sister and my friends from Lancashire. The old magic was still there and we finished second in the tournament. We had a brilliant time.
I have been playing walking football for two and a half years now, at The Arsenal Hub in a mixed team and in a women's team. The game caters for all abilities, from beginner to experienced. For example, some women players are of the generation that football missed, and others are rekindling their love for the beautiful game. In addition, the health and well-being benefits (both mental and physical) walking football brings are endless. I have made lots of new friends from all walks of life and being part of a team gives me a great sense of belonging.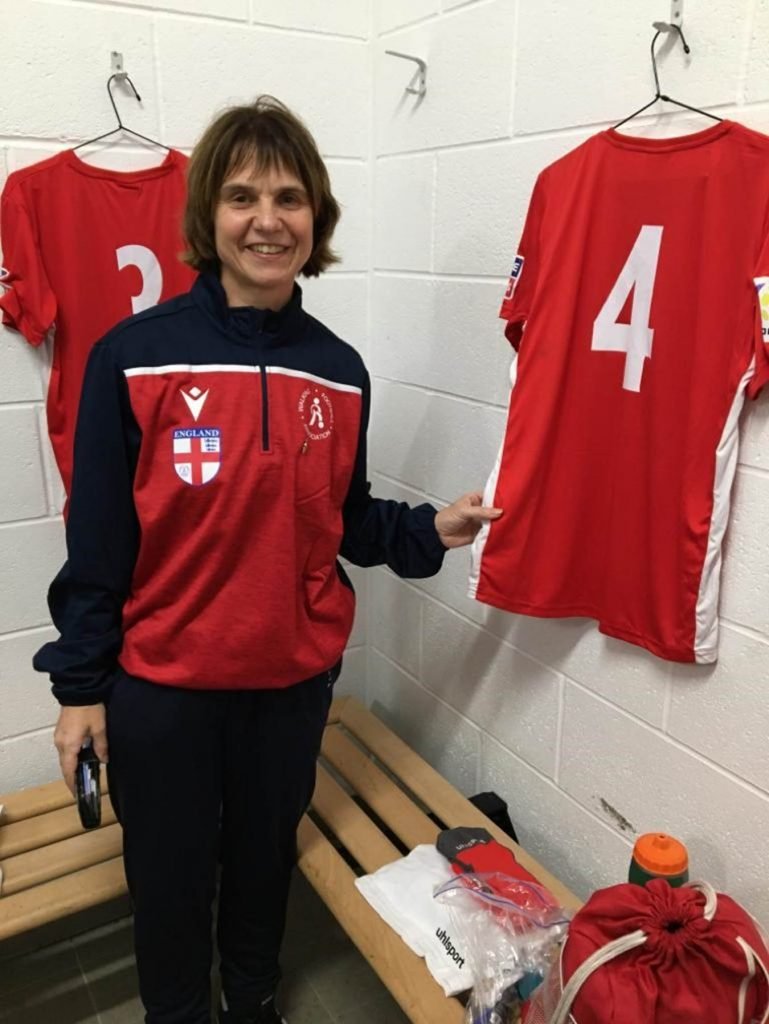 Going places – I have been lucky enough to play in walking football tournaments around the country. And, I have been privileged to play on the pitch at the Emirates – the home of Arsenal, and on the pitch at Craven Cottage – the home of Fulham. I was also lucky enough to get my hands on the FA Cup.
Meeting people – I have mingled with football legends, including my heartthrob, Robert Pires.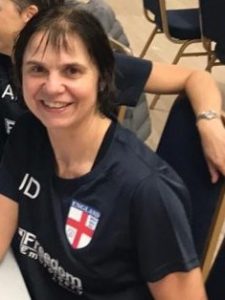 EXTRA TIME – Being selected for the very first England Women's Walking Football squad opened another 'dressing room' door. Inside, I found a great sense of togetherness and a wonderful work ethic. 1st November 2019 was a memorable day on and off the pitch and one that will stay with me forever. After a mid-morning training session, the England team bonded over lunch before retiring to the hotel to rest before the big match (Guernsey Women v England Women). In the early evening, the team made their way to the stadium and spirits were high. The excitement in the dressing room, the rush of adrenaline waiting to walk out, the national anthem, and the energy on the pitch was magical. It was a well-contested game, which finished Guernsey 0 England 2. The match was streamed live and encouraging numbers watched it. As a result, I hope many more will take up walking football.
My childhood best friend of 52 years was also selected to play for England. We grew up on the same street in Lancashire (the street doubling as our football pitch!). Then we played for the same 11-a-side women's football team for 21 years. After being separated geographically for almost a quarter of a century and to achieve recognition together and to play together for England is a dream come true. Football has a unique bond.
INJURY TIME – I still dare to dream. I want to play football for as long as I can – until the final whistle! After all, there are still many more pages in my scrapbook to be filled… In the words of A.A. Milne, "When you see someone putting on their big boots, you can be pretty sure that an adventure is going to happen."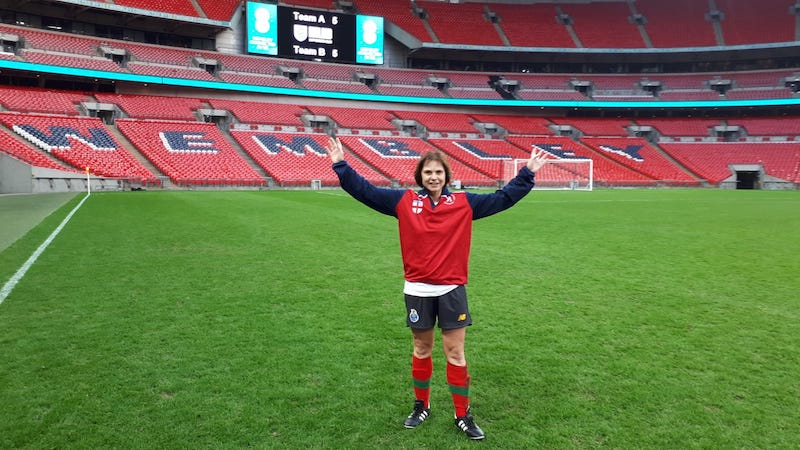 STOP PRESS!: WALKING DOWN WEMBLEY WAY
I and two others (from the Walking Football Association England Women's Walking Football squads) were chosen as winners by the FA to play on the pitch at Wembley Stadium on Sunday 17th November 2019.  Along with other winners, we enjoyed a reception in Club Wembley and an awesome stadium tour before heading to the dressing rooms. Each player received an England shirt courtesy of the FA.  Walking in the footsteps of the great and the good and emerging from the tunnel on to the hallowed turf was incredible. Men and women played 11-a-side for 90 minutes. It was a fast-paced game where running was the norm! And, it was played in the right spirit. After the match, the players were treated to refreshments in a Wembley Suite – the one which backs on to the Royal Box! It was an amazing and an unbelievable experience. The stuff that dreams are made of. Unlike my football studs, the adventure hasn't sunk in even yet!
WANT MORE INFO? HEAD HERE ↘️