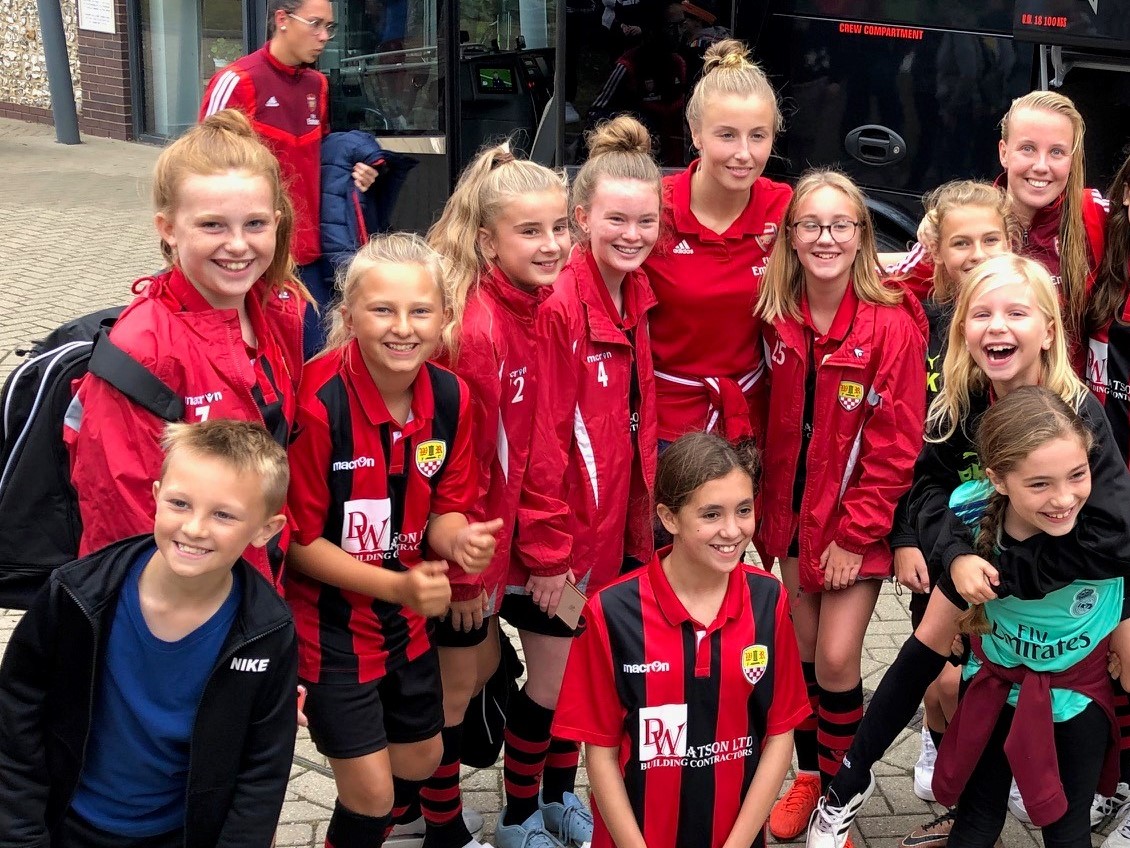 We spoke with coach Dan Kirby and right back Poppy Kirby, one of the dad & daughter duos at Wormley Robins U-13s in the Herts Girls Football Partnership League.
SK: Tell us about your footballing history and any personal highs
Dan – I played as a youngster myself, both for the school I went to, Broxbourne Secondary School and Wormley Youth, and have gone full circle returning to the club I loved. Having no son, I was overjoyed when my eldest daughter Poppy came home one day telling us how she was joining a football team. Even more so when this turned out to be at Wormley, taking me back to my childhood.
Very quickly it became apparent that the fantastic lady (Zoe Watson) who had set up the team needed some help and I was only to happy to offer my services. It was one of the best decisions I have ever made and I became coach of the team, along with my co-coach Tim Gale, father of another player, Mia. It was made even more special as the team would be the first and only female team in Wormley Youth's 45-year history, which is also one of my proudest achievements.
Poppy – I had never really been into football when I was growing up but a friend at school had told me her mum was starting a team,  so I decided to go along. Having never kicked a ball, like all the girls, it was very tough to start but the feeling and memories from scoring our first goal were all worth it. A lot of the girls did not know one another but we have become so close as a team, friends, we never argue, which says a lot for a bunch of teenage girls! We played our first season in the HGFPL last year and it was brilliant, with so many fun times, which culminated in us winning our own tournament with the trophy presented to us by Grace Neville from  London City Lionesses, who has supported us so much this season and become a friend.
I know I love football, both playing and watching (womens!), I am a season ticket holder at Arsenal Women, and have mascoted for the London City Lionesses a number of times (once against Arsenal), I love all the players, they are so friendly and inspirational.
SK: How had your team's season been going?
Dan – The Robins were in their second ever season in the HGFPL and had started well. They won all their pre-season matches and at one point had been on an unbeaten run, keeping 10 consecutive clean sheets (like the old Arsenal sides!), which is amazing at any level of football.
Poppy – We had been doing ok. Our division is very tough, with a number of good teams, all on the same level. It was very close in the table and we were in fourth with three games to go. We would not have won the league but I think we had played very well in most games and sometimes deserved to win when we had not, but as my dad often says "that's football" (he loves footballing quotes).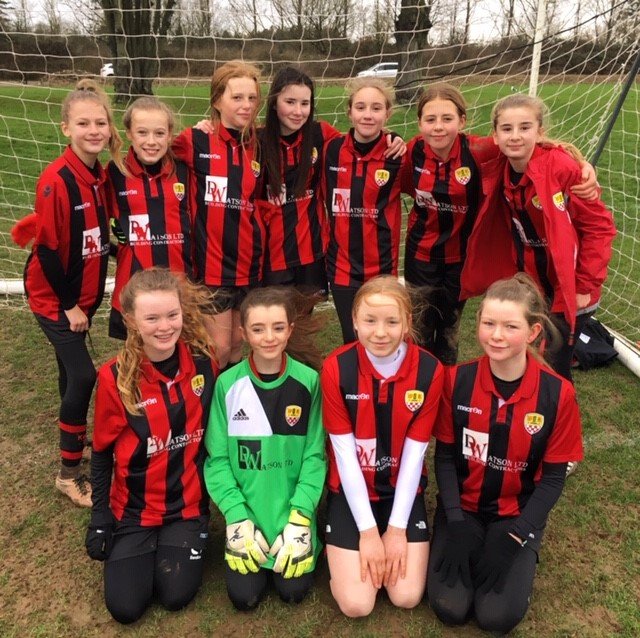 SK: Any rising star, club veteran, or stand out personality we should hear about?
Dan – We have a couple of rising stars, Belle Lowe, our top scorer both seasons from midfield, is developing into an outstanding player, she reminds me of Guro Reiten, along with Mia Gale, our little pocket rocket! She's small and sweet, but looks can be deceiving, as many a team have found out who have underestimated her! Shes our very own Danielle van de Donk.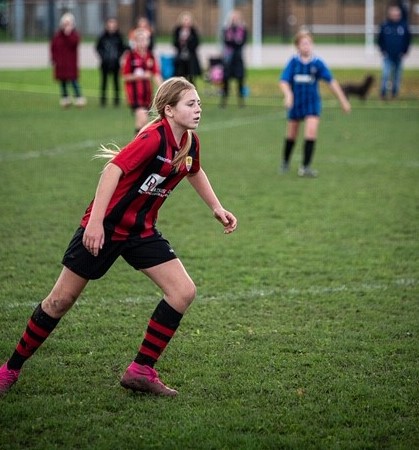 Poppy – I would say the star of our team is Belle, she has only been playing for two seasons, but she is now such an amazing player! She will often almost win games on her own for us, not just because of her goals but her effort. The team has so many brilliant personalities. All the girls are so funny in their own ways. We all never stop laughing, much to the coaches annoyance at times and there will always be someone who does or says something silly at some point.
SK: How are you keeping fit and filling the void in football:
Dan- I am keeping active in many normal ways, running etc, but also playing and practicing football with both my daughters. We have even roped my wife in for our games of 2v2 or 3v1! Poppy and I have been watching old football games or films, as well as reading our
copies of She Kicks! (shameless plug). Along with this I have been trying to keep all the girls involved, entertained (quiz nights, movies nights) and active in these very unusual times.
We have been running many challenges on various social media, from the teabag challenge to the bottleblast, which has included the whole club and continues to grow. We have been lucky to have been set challenges, some of the players from the London City Lionesses, and primarily Hannah Short, who has been excellent with the team.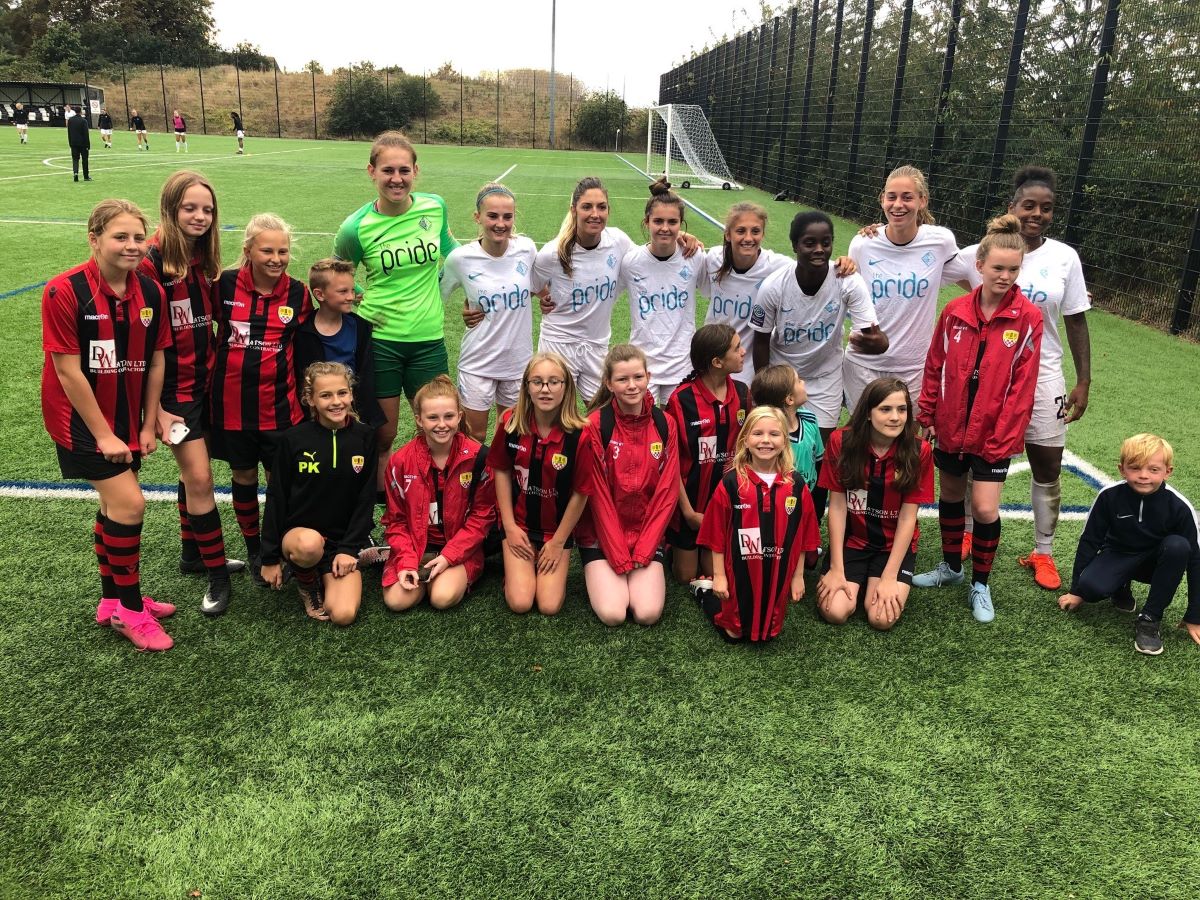 Poppy – I am practicing my football most days with my dad and sister. Also twice a week we take part in the Football Fitness sessions that Simon White at Wormley Youth has set up during this lockdown. It has been brilliant, as he has created a site on Instagram
@WormleyFootballandFitness and does live sessions and challenges. My dad is also keeping the whole team busy with various football challenges, and also running fun social events for the girls to keep us all together, which have been so good.
TRAINING AT HOME WEEK 4: more great suggestions/advice from a 'socially distant' U12s coach