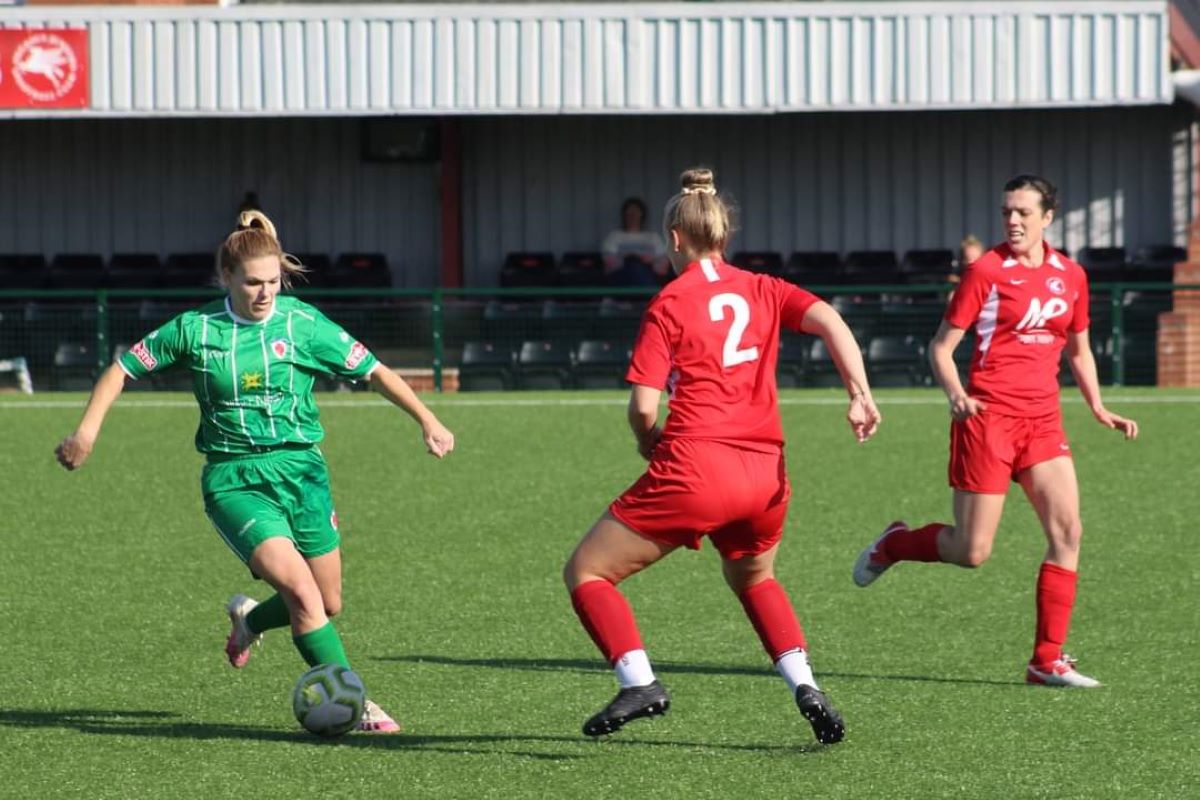 Our third and final look at the County Women's Leagues during the festive break in play begins in the Midwest Counties and finishes in Wiltshire.
Midwest Counties – An exciting title race has Bromsgrove Sporting Development are unbeaten and top by one point from Worcester City Development, Malvern Town are a further point behind from one game less and Hereford Pegasus playing catch up.
North Riding – Redcar Town Reserves top the Premier by three points from Poppleton, while high-scoring Thornaby are also contenders with their games in hand.
Norfolk – Mulbarton Wanderers Belles are top of Division 1 with seven wins, Thetford Town have dropped just two points, while the next two in the table – Bungay Town and Fakenham Town – can both be a threat having played less games. Caister have a two-point lead over Kings Lynn SC in Division 2, while Shrublands sit fourth and without defeat.
Northamptonshire – Northampton Town Development have won every game so far in the Premier and are five points in front of Roade, who have missed out on only two points and are the leaders' one real title rival. Eight wins from eight have Desborough top of Division 2, with Long Buckby the other main contenders.
Northumberland – Alnwick Town Development's Premier Division leadership is under serious threat, with Newcastle East End three games in hand, one point behind and with a perfect record. Ponteland United have probably the biggest lead throughout the leagues, top of Division 1 by 18 points from Cramlington United after 11 straight wins.
Nottinghamshire – Mansfield Hosiery Mills are yet to be beaten and top of Division 1 on goal-difference from West Bridgford, who have played a game more. Bingham Town may be top of Division 2 for now but Teversal are set to takeover, having won all games with five more in hand and just one-point behind.
Sheffield & Hallamshire – Sheffield United Community are on course to become Division 1 champions, ahead of Dronfield Town and Barnsley Women's Development, while AFC Bentley are a second unbeaten side. Division 2 leaders Handsworth Development look hard to stop, nine wins giving them a nine-point advantage on nearest challengers Socrates. Penistone Church have a narrow lead over Eckington and Staveley Miners Welfare in Division 3, while Rotherham United Reserves have won all their games and have several more with which to make up ground.
Somerset – Pen Mill are in pole position in Division 1, Bishops Lydeard Reserves level on points with them but from a game extra. Wellington lead Division 2 but Bishops Lydeard Development look likely to overtake them, Woodspring are five points in front of Cheddar in Division 3 but from one match more.
South East Counties – Cray Valley top Division 1 West by six points from Baldon Sports, Leatherhead lead Division 1 East but both Eastbourne United and Steyning Town can catch up with games in hand. Kent Division 1 East has Herne Bay Reserves first ahead of Diamond United, Sevenoaks Town lead Kent 1 West with Anchorians United best-placed to challenge them. Sittingbourne Seconds sit top of Kent 2 East but with The Fountain SSC in a strong position, Orpington are a point ahead of Bromleians in Kent 2 West.
Staffordshire – Lichfield City lead Division 1, Leek Town are level on points but from a game more. Shifnal Town are top of Division 2, although both Albrighton and Hednesford Town should overtake them.
Suffolk – Holland Ladies hold the Premier top spot by seven points but second-placed Brett Vale have four games in hand. Henley Athletic have a similarly at-risk lead in the Championship, as AFC Kesgrave trail by six points from three games fewer.
Surrey – Richmond Park U-21s' six straight wins see them lead Milford & Witley by three points, despite having played a game less.
Sussex – Montpelier Villa top the Premier by seven points, while second-placed Pagham have two games in hand. AFC Acorns Development are looking good for the Division 1 title, two games and three points better off than Horsham Sparrows. Premier United are unbeaten in their Division 2 leadership, although Eastbourne Borough will go within a point of them if they win their game in hand.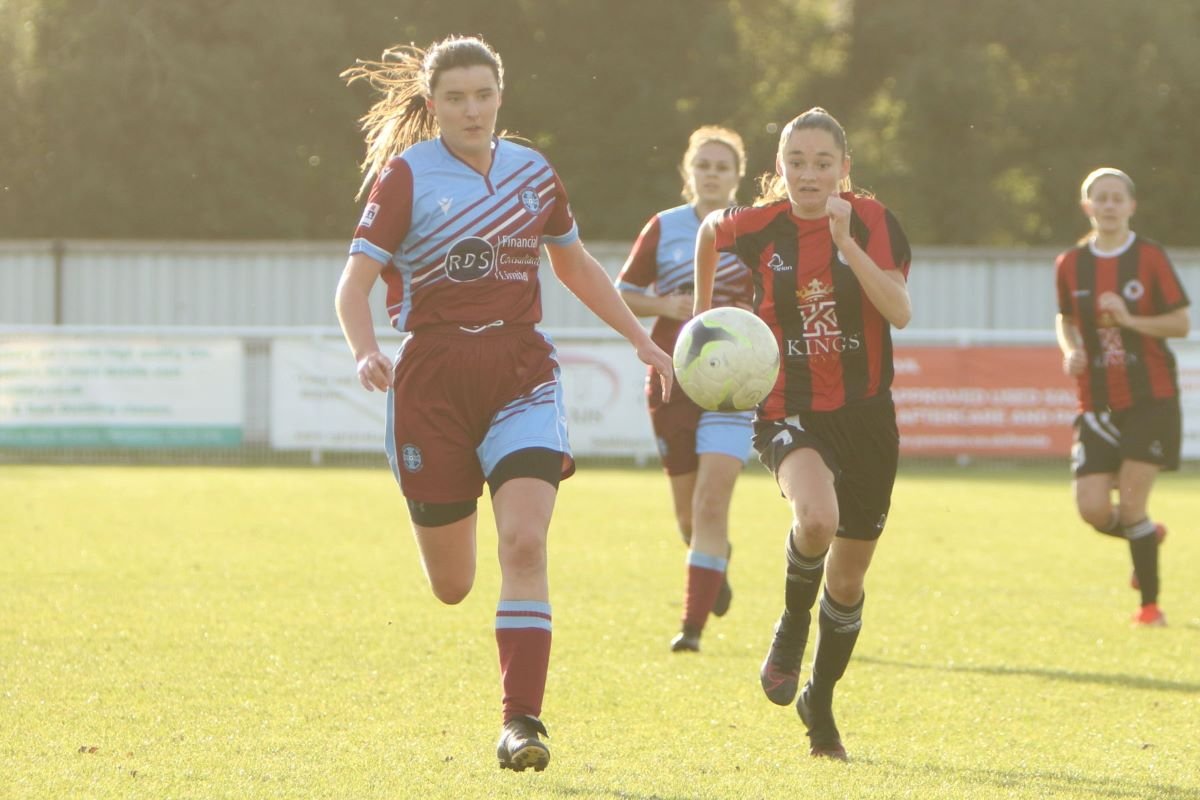 Thames Valley Counties – Badshot Lea's eight wins have them five points ahead of Tilehurst Panthers in Division 1, with two additional games to go. A tight race in Division 2 sees Kidlington goal-difference ahead of both Banbury United and Haddenham from two games fewer, while Slough Town can go level with the leaders. Division 3 North leaders Easington Sports are in danger of being caught by Bletchley Shamrocks and also Chinnor, Barton United's perfect form could see them take the 3 West leadership from Headington. S4K FC Berks County lead 3 South by six points but Goring United have two games in hand, nine wins give Ascot United Reserves a seven-point cushion over Ruislip Rangers in second. Shinfield Rangers are within four points of Development Division leaders Thatcham & Newbury Town and still have three games to make up.
West Riding – Lower Hopton lead the Premier, however Leeds Medics & Dentists, Ripon City and Yorkshire Amateur can all catch them. Huddersfield Amateur sit three points ahead of Leeds United U-21s in Division 1, while Morley Town have won all their matches so far. Hepworth United Development have 30 points from 10 games in Division 2, while Thackley Reserves have lost one of their eight fixtures. Top Division 3 side Athletico are within reach of Brighouse Town Development, West Yorkshire and Burley Trojans.
Wiltshire – Melksham Town are three points behind leading pair Durrington and Bath City, while FC Chippenham are also in the hunt.