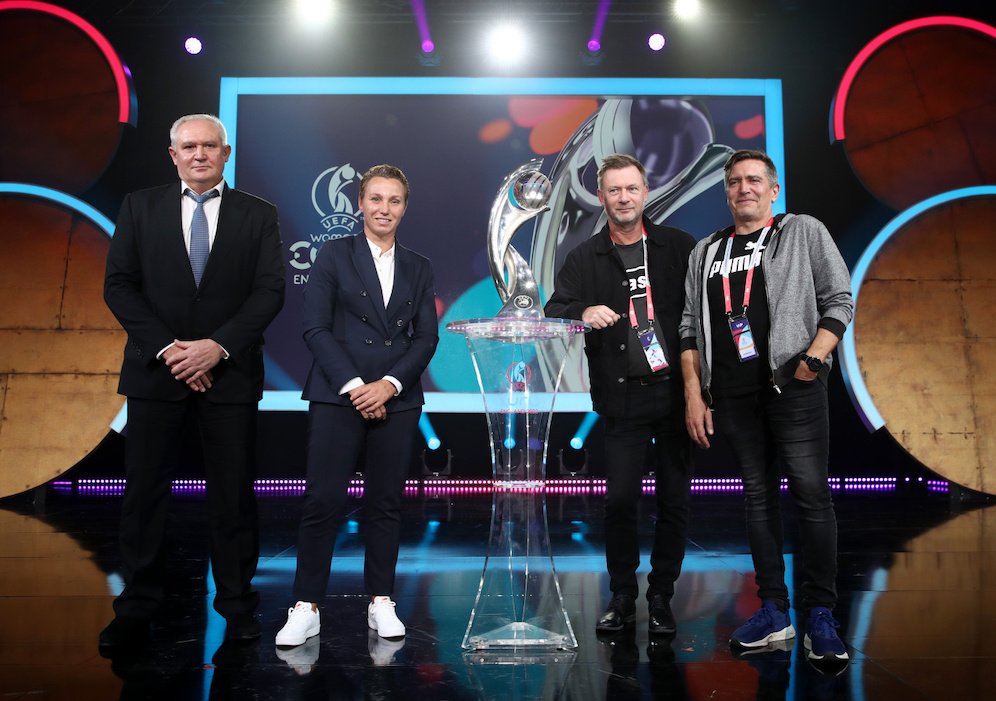 Currently ranked no.2 in the world, Tokyo 2020 silver medallists Sweden were nevertheless drawn out of Pot 2 (due to a coefficient calculated based on Euro 2017, 2019 World Cup – where they won bronze?! – and Euro 2022 qualifying) and into Group C where they will face: Netherlands, Russia & Switzerland.
We spoke to their friendly, highly-respected, music-loving coach Peter Gerhardsson in the mixed zone just minutes after the draw ceremony had ended. Here's some of his thoughts…
On his initial reaction to the draw:
A draw is a draw. It's good that is finished so we can start preparation. The first thing is naturally to see where we can stay, get a good environment for training and living and things like that. There's also scouting opportunity but for me personally, we have World Cup qualification in November, which is the most important thing for us just now. We have people who are going to travel around [recceing venues etc] – they're leaving tomorrow to Sheffield and Wigan, so they do not have far to go.
On whether he had any frustration at not being in Pot 1?
I cannot understand the ranking, but that doesn't matter so much. If you are ranking number two in Europe, you could be five in the world. That you can understand. But two in the world and five in Europe? I don't know… but it doesn't matter.
On whether there is now extra pressure and expectation on Sweden, after the silver medal last summer:
There's always pressure. If you're going to take steps, going up in the rankings, going to be a good team, you have to handle it. I think that it doesn't mean that you are going to win the championship game. But it shows you something with confidence that you can win, that you are near. Pressure, that's that's very individual. It's not the whole team. It could be some girls sometimes that feel pressure. But I don't. I don't feel pressure. I'm proud of all the girls that we have made it like that.
On what he think it will be like next summer:
I think it's going to be the biggest tournament in England. You can see in the broadcasting and everything like that, I think it's the perfect time. They're asking the capacity of the arenas that we are going to play, so I hope that we can fit in every Swede that will want to come and it's going to be full in arenas. That's most important for us, that we can play in front of many people. I had hoped for meeting England in the first game, but maybe later.
On whether it makes any difference having players in his squad who pay their football in England, in terms of familiarity and understanding the culture etc, like Magda Eriksson, for example:
I don't know. I think it's more about the personality and who they are. I think Magda, she could play on Mars, on another planet and she's still going to be that person.
On VAR and how they will approach it, given how his side missed out on a penalty decision [on Lina Hurtig] in the World Cup semi-final v Netherlands:
Yeah, sometimes it's those small things. I think now when we have VAR, I think that's good for good decisions. I think the referees, they have learned more about it now and it's getting better. I think in the Olympics, it was perfect to have it because there was some situations – we have a penalty against Canada – but it was okay when you see it. I think it's fair that some of these situations they can look at. Then it could be a tactical thing. You have to ask players to show when it's wrong, also.
On whether it is good to face the favourite – the holders Netherlands – after showing they could upset the favourite by beating U.S. at the Olympics:
I think everybody, me and the players, they know that [it's not] what you have done, it's more that you have to do it again. You don't think that you can just win the game because you are better. We have been struggling now for for three games. We won 1-0 against Slovakia, 1-0 against Ireland. I think in the women's international game, teams are improving and that's good because it's more even games.
On being a coach who likes to play football in a positive way, much like the Netherlands, so does it make it a great game to open the group, for everyone watching:
Yes, I think so. When we played them in the World Cup, in the semi-final, it was 0-0 (until Jackie Groenen's winner for Netherlands in extra-time), so there were not many goals in that! But I think two teams who want to attack; wide and even in the centre. Miedema, who is one of the world's best strikers, and they play in the 'Dutch way', so you know what they're going to do. We have sometimes different formations – three centre-backs or two centre-backs – and that depends sometimes on the team we're going to meet. I think it's going to be a very important thing, because if you win that game, you put good pressure on the other teams. I think both teams are going to go in 100 per cent to win it.
On his interest in visiting the UK for things away from football, like music festivals, and whether he has been to the north of England [where his team will be based, at Sheffield & Wigan] many times to before? (Sweden beat England in a friendly in Rotherham under Gerhardsson in November 2018)

No (laughs). We have been in Sheffield with the national team once, but I haven't been up there so much. I've been more in the south; End of the Road Festival, and also in Wales. I hope that I will have a free day to get to a concert some time! That will fill me up for better days, and the girls will see that they have a happy coach.
On his choice of an Oasis t-shirt for the draw:
Somebody said to me, I know [Oasis] are supporting City, so I should have to change to Morrisey or something who support Manchester United. But I only have Oasis.
On the fact there's a good music scene in Sheffield:
I know!
So who is his favourite?
The Verve [from Wigan]. Pulp is ok… but Oasis is number one in this neighbourhood.