Before we get started, I should probably say, I like Canada. As a squad, they're a likeable group of players with some incredible talent in their ranks and, as a nation, I like the people and if I'm having buttermilk pancakes, am partial to having maple syrup on them. So, whilst I am very happy for the Canucks (serious, we need a better nickname), I'm immovably sad for Sweden but let's crack on, shall we?
First and foremost, oh thank God they moved the kick-off time so these teams weren't playing in 40 degree weather. Seems like a no-brainer but we are talking about the combined efforts of FIFA and the IOC, so it was hardly a certainty.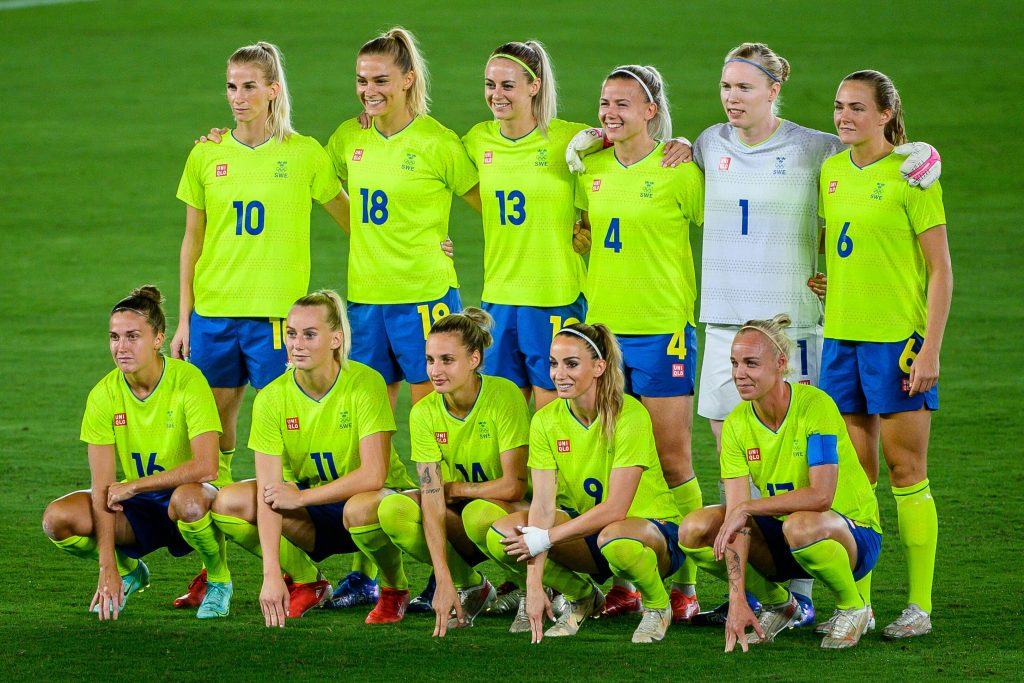 Kicking off in the cooler, but still staggeringly hot and humid evening, the nerves were clear but hey, it's a major tournament final, they're supposed to be cagey. Sweden looked to attack but struggled to really get as their opposition with the Canadians defending resolutely – and lets be real, for as good at defending as Canada have been this summer, this was their best game. The only real blip for Canada came ten minutes before the break when Asllani's square pass was taken first time by Blackstenius, the Swedish powerhouse NO LOOK NUTMEGGING Gilles to beat Labbé. The deflection off of the inside of the defender's leg enough to beat the 'keeper.
With the heat and just sheer BRUTAL nature of the tournament likely playing its part, Sweden were happy to sit off for a good chunk of the second half, letting Canada run around in the sticky night air. One such attack bringing about the equaliser as Ilestedt (having a tournament to forget be-tee-dubs), caught Sinc in the box, the spot kick sent home by Fleming. 90 minutes came and went and then did all of extra time but, finally, the Olympics had stopped producing goals (101 in 26 matches, WUT?!) and we were reduced to penalties. Or as I'm going to rename them, painalties.
Before we get onto that agony, it's worth pointing out that Sweden had had a ton of shots but the finishing had been dreadful. Think we all know those matches, when no matter what a team does, they just can't score… "But Sophie, they did score" you're about to tell me and mate, via a deflection: One. Of. Those. Games.
Okay, onto the painalties.
Asllani, who's been so instrumental for Sweden and just spends match after match getting kicked to s**t for her country, was up first. If you've already forgotten because it was YEARS (seven days) ago scored a penalty against Japan, anyway, she hit the post. 
Fleming made it three from three from the spot with ANOTHER ridiculously cool and calm penalty – Chelsea's new penalty taker maybe? – making it advantage Canada. Nathalie Björn was next up for Sweden, but I pause in this story to tell you not just that her first name is actually Gun, but that björn is the Swedish for bear making her GUN BEAR. Right, anyway, good penalty from Yogi. Lawrence, who could easily be the player of the tournament, was up next to hammer home the advantage but Lindahl saved. One all.
Schough was up next, the second Rosengård player to be facing her club goalkeeper, no nerves, bottom left. For Canada it was the turn of Gilles who had rubberstamped the shoot-out against Brazil, in the final she could only find the bar: 2-1 to the Swedes.
Anvegård (Rosengård again) had the chance to pile the pressure on but like Lawrence before her, drew the save from the opposition goalkeeper, firing into about the same area too. Like those before her, Leon opted to go left and again the glory went to the goalkeeper, it was still 2-1 to the Scandis. 
Yet another Rosengård player was up for Sweden, the ever present and ever reliable Seger but all the captain could do was pull the shot over the bar. Needing to score to stay alive, Deanne Rose stepped up and cracked in a glorious pressure penalty, finding the top right corner. Hello sudden death painalties… Andersson could only offer up a tame effort which Labbé saved with ease before Julia Grosso slotted her spot kick under Lindahl's diving frame. Elation for Canada, agony for Sweden.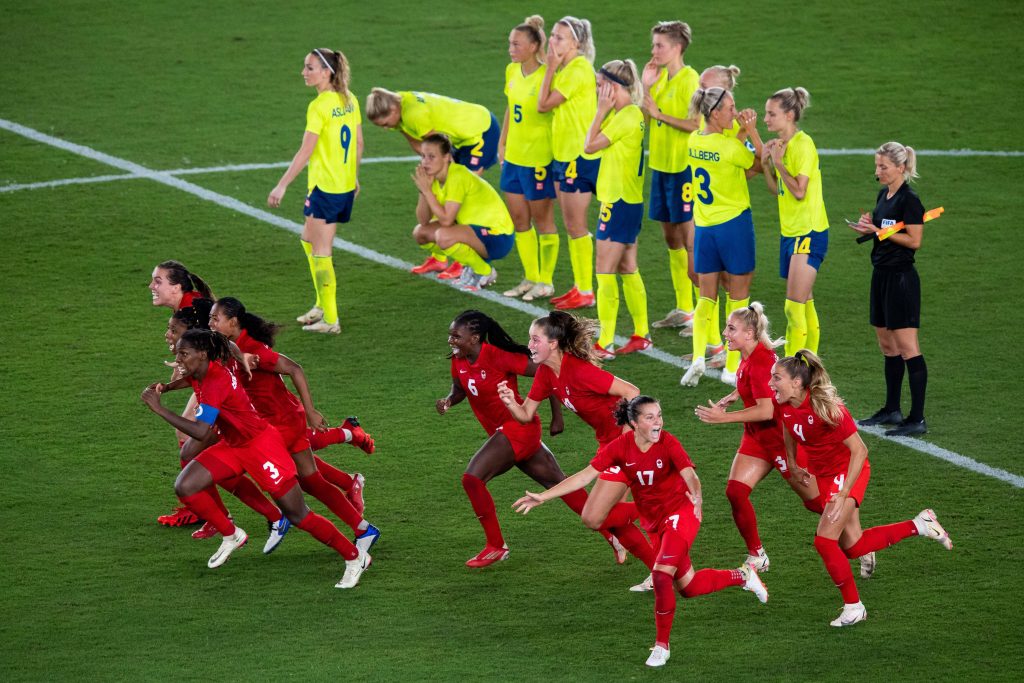 And that was that, 26 matches over 17 days with a staggering 101 goals scored. We made it, we survived the multi-screening and time differences as English summer came and went. I hope you all had a good time, have to say, I was enjoying it right up until those last few spot kicks. Now, to peel myself out of this armchair for the first time since GB kicked off against Chile last month.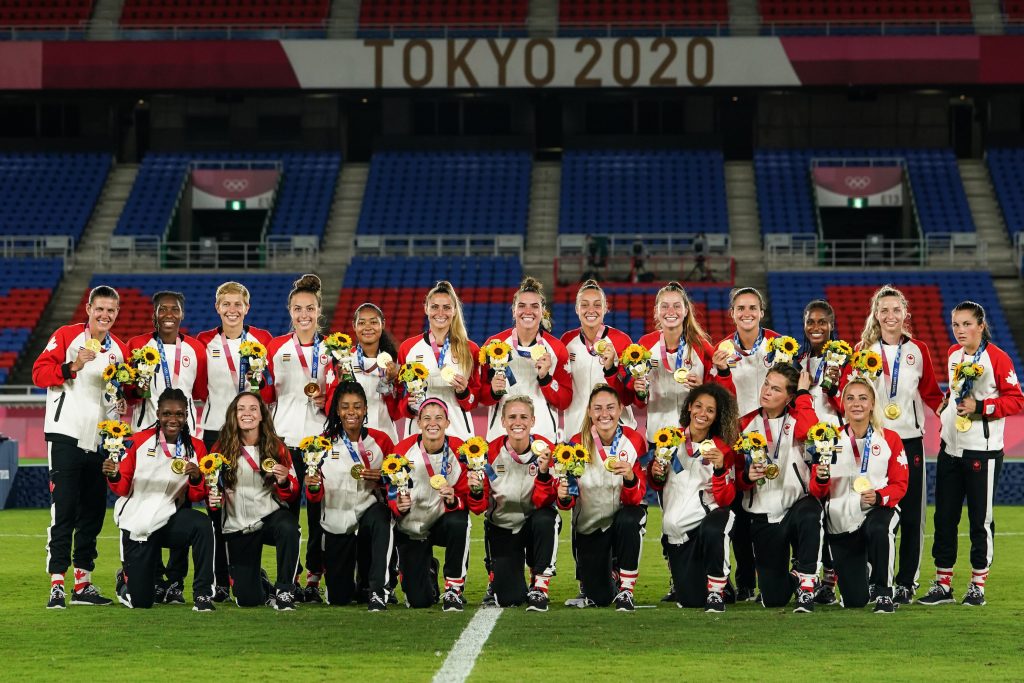 Thanks to the brilliant Sophie Lawson for her own insightful, honest, amusing takes on the Tokyo 2020 action. Congrats to Team Canada and coach Bev Priestman and commiserations to Sweden. Who is ready for Paris? Oh hang on, there's Euro 2022 and WWC2023 to come first. Bring it on!
Follow Soph on Twitter: @lawson_sv
#TOKYO2020 Olympics Day 6: Armchair reaction/recap (with Sophie Lawson) #battleforBronze