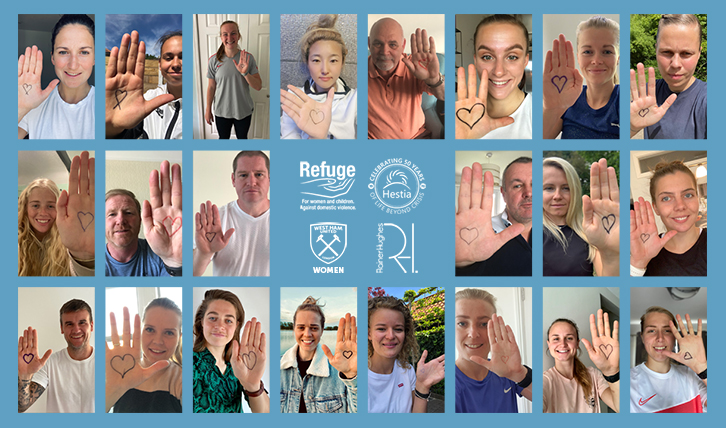 Sadly, as a result of the COVID-19 lockdown measures, the UK has seen a sharp rise in domestic abuse incidents in recent weeks. 
According to Refuge, the number of calls and contacts to its National Domestic Abuse Helpline were 49% higher than normal after three weeks and in the last three weeks demand has risen to around 66%.
Because of this, West Ham United women's team are teaming up with Hestia and Refuge in order to support their urgent appeals to raise funds for the thousands of people they support across London and the South East.
COVID-19 is hitting the most vulnerable in our society hardest. These charities have prioritised the immediate safety and well-being of vulnerable women, children and men across Newham and Barking & Dagenham, who are often in unsafe accommodation and unable to safely isolate, as well as campaigning to raise awareness of the issues affecting them.
Hestia's urgent COVID-19 appeal will help to provide packages which include essential items including food, nappies, cleaning equipment and entertainment, so that individuals and families can stay safe and well during the lockdown.
The club has pledged to run a bucket collection at a future West Ham women's fixture when fans are in attendance, in support of both charities.
West Ham women's captain, Gilly Flaherty, said: "Domestic abuse is one of the lesser known knock-on effects of the COVID-19 lockdown and it's really scary to think that some women, men and children don't even feel safe in their own homes. We need to highlight the options out there for people when they feel like they have nowhere to turn. So, I'm proud that the Club, and Rainer Hughes, are supporting Hestia and Refuge – charities that are giving victims across East London a lifeline, at a time when they need one the most."
Hestia's refuges have remained open and continue to provide lifesaving support and Tamara White, Area Manager for Hestia's East and South London Domestic Abuse Services, added: "Those who arrive at our domestic abuse refuges often have just the clothes on their backs. Britain's lockdown period is making it even more difficult for the people we support to access essential items, like food and nappies, as they self-isolate. We are really grateful to have the support of West Ham United in accessing these items, so the families in our refuges can keep safe during this difficult period."
In October of last year, Refuge launched a domestic and sexual violence service. Since its opening, this specialist service has received a higher number of referrals than the charity had initially expected, reaching the annual target for received referrals within the first six months.
Sandra Horley, CBE, Refuge Chief Executive says: "Refuge is enormously thankful to West Ham United for supporting its life-saving work through this joint fundraising initiative. It is critical that we continue to provide urgent support and safety for women and children trapped with their abusers, and we rely on public donations to do this. With this support, we can provide essential items for families arriving in our refuges and help our staff to continue doing their life-saving work remotely during this challenging time."
Club sponsors Rainer Hughes have donated the rights to their dedicated West Ham United women's matchday for the benefit of the charities, and Senior Partner Sanjay Panesar added: "Our Family & Child Law department are acutely aware of just how vulnerable clients have felt during this COVID-19 outbreak, so we are delighted to be able to help assist these lifesaving charities, who are going the extra mile in these uncertain times. Please just pick up the phone and call us if you are a victim of domestic abuse and want legal advice about the options available to you. We are available 24 hours a day, 7 days a week."
If you would like more information on Rainer Hughes support services, please visit: http://www.rainerhughes.com/. The Rainer Hughes team can also be contacted on 01277 226644 or by email at info@rainerhughes.com.
If you would like to support Hestia's COVID-19 appeal please visit: https://www.hestia.org/appeal/coronavirus-urgent-appeal
If you would like to support Refuge, please visit: https://donate.refuge.org.uk/page/51133/donate/1