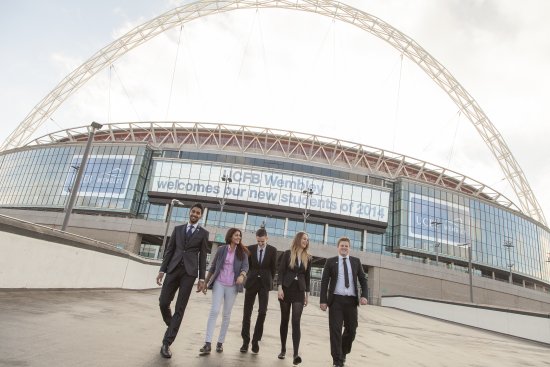 University Campus of Football Business (UCFB), which has UK campuses in London and Manchester with Wembley and Etihad stadiums at their heart, has announced plans to give students and graduates the chance to study at some of the most iconic stadiums in world sport.
New York Metro's Red Bull Arena, Atlanta's brand new Mercedes-Benz Stadium, Toronto FC's BMO Field and the Melbourne Cricket Ground (MCG) will host the brand new UCFB Global Study Hubs, enabling students and graduates to further enhance their knowledge and expertise of the international sports industry as well as learn from professionals working at some of the biggest organisations in the sector.
Every UCFB student, as well as alumni of its football and sport degree programmes, will have the opportunity to travel to and experience UCFB's new Global Study Hubs.
Beginning in the 2019/20 academic year, each stadium will host a week-long global summit with seminars, guest lectures and networking opportunities allowing attendees to explore the inner workings of the leading sports organisations in international markets.
Each city and sports partner has been carefully selected by UCFB as a leader in its field.
The Red Bull Arena partnership will allow students to learn from the most innovative brand in 21st century sport; Atlanta's Mercedes-Benz Stadium is the most spectacular and technologically advanced arena in the world; Toronto FC and its owners, Maple Leaf Sports & Entertainment (MLSE), run the world's leading multi-sport franchise group; and the MCG is the largest and most iconic stadium in the southern hemisphere, sitting at the heart of the world's greatest sporting precinct.
Brendan Flood, UCFB Chairman and Chief Executive, said: "We've invested time to forge the right global partnerships that complement our unique proposition of providing best-in-class sports education in inspirational learning environments.
"Our partners MCG, Toronto FC, Red Bull Arena and Mercedes-Benz Stadium share our vision to upskill the sports industry and create a global network of knowledge sharing.
"We are thrilled that UCFB students and graduates will soon be able to experience some of the greatest arenas and organisations in world sport, not to mention have the opportunity to learn from the incredible professionals running them."
UCFB's Global Study Hubs have been eight years in the making.
After UCFB introduced itself to the world with its first campus at Burnley FC's Turf Moor, further campuses were opened at Wembley Stadium, London, in 2014 and Etihad Campus, Manchester, in 2016.
With UCFB also delivering several innovative postgraduate degrees to a global online audience, over 2,500 students around the world currently access its unique sports education.
Brendan added: "I've previously stated that my vision for UCFB is to become the 'Harvard of Sport', and I believe this new and exciting opportunity for students, on top of what is available to them already, moves us further towards that position.
"Innovation and opportunity is part of the UCFB DNA, and these Global Study Hubs really deliver that."
Over 90% of UCFB graduates are in employment within six months of graduating with almost two thirds working in sport.
UCFB was recently ranked as the best higher education institution in the UK for employment prospects at the University Compare Annual Student Experience Awards 2017, based on 10,000 graduate reviews from around the country.
For more information, visit ucfb.com/global
Commenting on the new UCFB Global Study Hubs:
New York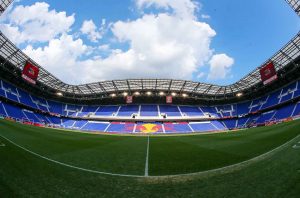 Joe Stetson, Marketing, Multimedia & Communications Head at New York Red Bulls: "We really like what UCFB has done with its stadium campuses in the UK, so it's exciting to be joining an expanded global network of venues where the next generation of sports professionals will be building their knowledge and contacts.
"By partnering with us and creating this study hub at Red Bull Arena, UCFB students and alumni will see exactly what makes this city the epicentre of world sports. We're looking forward to hosting educational summits inside our award-winning stadium, showcasing the best fan experience in the New York area and working with UCFB on a wealth of future opportunities."
Brendan Flood, UCFB Chairman and Chief Executive: "We are very excited to partner with Red Bull Arena to create what will be a ground-breaking UCFB Global Study Hub in the heart of North American sport."
Atlanta
Carlos Bocanegra, Technical Director at Atlanta United from Mercedes-Benz Stadium: "We're really excited for the partnership with UCFB. It's a world class organisation specifically for sports, and the more highly qualified candidates we can populate our work force with is a really exciting thought."
Brendan Flood, UCFB Chairman and Chief Executive: "Sports fans around the world have been awe of the Mercedes-Benz Stadium since it opened in 2017. Its unique, innovative design has made this the go-to stadium in world sport right now, meaning our students and graduates will be immersing themselves in something at the absolute cutting edge of the industry."
Toronto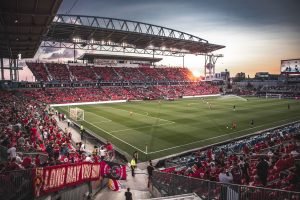 Chris Shewfelt, VP Business Operations at Toronto FC: "All of us at Toronto FC look forward to welcoming UCFB students and alumni to Canada through this partnership. BMO Field and Toronto FC will provide a really unique setting to learn and experience the best that Canadian sport has to teach, in a city that is extremely passionate about its teams."
Sharona Friedman, Chief Marketing Officer at UCFB: "We are very excited to partner with Toronto FC to create what will be a ground-breaking UCFB Global Study Hub in the epicentre of Canada's sporting capital. As a proud Torontonian and Toronto FC fan, I know that the club epitomises everything that we look for in a partner, with a winning mentality and a world-class staff that will add tremendous value to UCFB students and alumni. I truly believe that this partnership between a world leader in sports education and a world leader in sport will see us producing the future leaders of Canadian and global sport in the near future."
Melbourne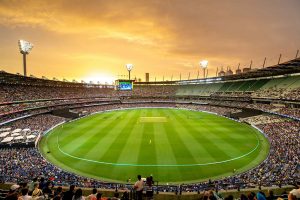 Lewis O'Flynn, Commercial Partnerships Manager at MCG: "The MCG is one of the world's landmark sports destinations and it makes sense to partner with UCFB as part of their global expansion. The Melbourne sports scene is the envy of the world and we're delighted that we'll be able to showcase this to UCFB students and graduates. All of us look forward to an exciting partnership with significant growth potential over the coming years with UCFB."
James McKeown, Head of Global Marketing & Communications at UCFB: "We are very excited to create this incredible UCFB Global Study Hub at the MCG, an iconic stadium at the heart of the best sports city in the world. As a proud Melbournian and having been part of UCFB since its campus opened in Wembley Stadium, it's amazing to be able to take our first steps into Australia and open up unique opportunities to experience the best that its sports industry has to teach.
"This is a city that is unbelievably passionate about its sport, and with UCFB's passion for providing an immersive sports education where people can learn from the best in inspirational locations, we couldn't have found a better partner than the team at the MCG."