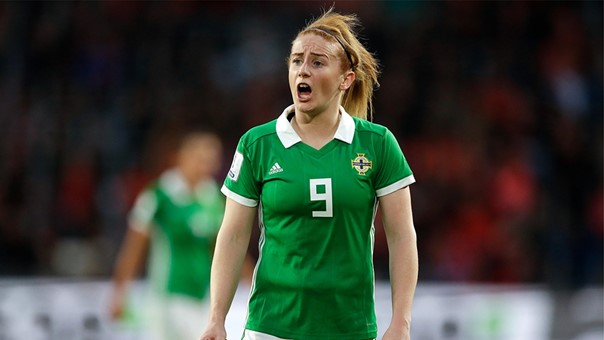 Northern Ireland suffered their first defeat of the Turkish Women's Cup after two late goals for France 'B' in Antalya, reports irishfa.com.
Group A: Turkmenistan 0-10 India, Uzbekistan 0-1 Romania
Group B: Kazakhstan 1-1 Jordan, France 'B' 3-1 Northern Ireland
It was a cruel result for Alfie Wylie's side who went behind in the first half after 4 minutes but rallied well for the rest of the first half.
The second half saw the Irish draw level on 53 minutes when a quick break led to a Marissa Callaghan cross being hammered home by Rachel Furness from the edge of the 18 yard box.
France stepped up their game looking for the winner but were met with a strong defensive display. However, the referee awarded an 88th minute penalty before the French added a third in the final moments.
Northern Ireland next face Kazakhstan in their last group game on Monday.
Northern Ireland: Jacqueline Burns, Rachel Newborough, Julie Nelson, Freya Holdaway, Demi Vance, Sarah McFadden, Rachel Furness, Kerry Montgomery, Marissa Callaghan, Simone Magill, Rebecca McKenna. Used subs: Ciara Sherwood (80 mins) Megan Bell (80 mins)
Andreea Voicu's goal 10 minutes into the gave with Uzbekistan was enough to give Romania a second victory in two Group A games.
India hit double figures against Turkmenistan, Sanju Yadav leading the way with a five-goal haul and Dangmei Grace netting a hat-trick.
Kazakhstan and Jordan got off the mark in a 1-1 tie, Kamila Kulmagambetova's cancelling out Stephanie Al-Naber's early goal before half time.