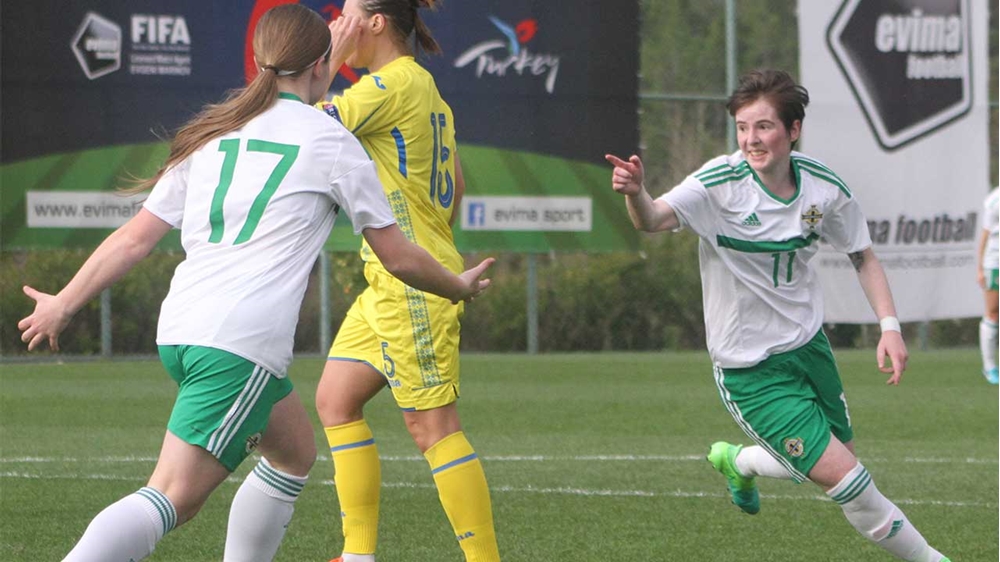 Northern Ireland will play-off for fifth place at the Turkish Women's Cup, after a 3-1 loss to Ukraine on Sunday afternoon.
Jan Kalinina followed up a save by Jackie Burns to score the first and soon struck again with a curling effort from outside the area finding the top corner on 57 minutes.
Kirsty McGuinness pulled one back from an Emily Wilson cross but Daria Apanashchenko quickly made it 3-1, as the Ukrainians finished top of Group A.
Ukraine now play Poland for 3rd place, while Alfie Wylie's side await confirmation of their opponents in the 5th place play-off on Tuesday.
Northern Ireland: Jackie Burns, Rachael Newborough, Ashley Hutton, Freya Holdaway, Jade Lindsay, Jessica Foy, Ciara Sherwood, Sarah Robson, Marissa Callaghan, Megan Bell, Lauren Wade.
Substitutes used: Lauren Perry, Madison Guy, Emma McMaster, Emily Wilson, Kirsty McGuinness, Yasmin White, Rebecca McKenna.
Mexico face France in final
Mexico will play France 'B' in Tuesday's final, after beating Poland 1-0 in the Group A decider. Katie Johnson got the goal in the last minute.
Jordan edged Latvia 3-2 to finish third in the group and set up a 7th place play-off with Romania. They were 2-0 up before Anastasija Fjodorova got one back and the Jordanians netted a third two minutes from time, with Kristin Girdza finding time to reduce the arrears.
Kazakhstan and Kosovo drew 1-1 and so finished with identical records in Group B. Mireta Jakupi made the  breakthrough midway through the second half but Kazakhstan captain Begaim Kirgizbaeva soon restored parity.
In an inter-group fixture, France 'B' had another comfortable win, this time 3-0 over Romania. Claire Lavogez volleyed in the opener on 15 minutes, with Delphine Cascarino and Clara Mateo adding to the score by the break.