Find your way into the recruitment department at almost any of the elite sides in men's football and you will be faced with a dizzying array of information…
As the game has gradually professionalised, football clubs have been chasing increasingly-marginal gains in a bid to get an edge over their competitors. Where clubs might once have sent a rag-tag band of scouts around the country to pick out up-and-coming talents, there is now a whole industry built around the process of discovering the next big star. You can use video scouting to watch a player in Uruguay. You can find the running stats of a youngster in China at the click of a mouse. You can use machine learning to predict the risk factors in a player's future. And then, there is the playing data.
At one point in time, you would be lucky to find the most basic information about players' performances even within your own league. Now, clubs are collecting ever-more granular data to help them determine where they should spend their money in the transfer window. Where once you could only find out a player's goals, assists and maybe a pass completion rate if you were lucky, analysts can now tell you the precise location of a player's most preferred passing clusters, the number of pressures that a player made in a game along with their locations on the pitch or the likelihood of a player scoring their chances across a sample size.
This level of detail has seen incredible development within the men's game over the last decade. But when it comes to the women's game, there is a problem: the data is just not available.
Women's football is in desperate need of its own data revolution.

Fortunately, one platform has recently expanded into the women's game. TransferLab is a scouting tool produced by data company Analytics FC. Using a unique algorithm, TransferLab allows you to see how players are adding value in terms of their impact on a team's goal difference. If a player is increasing a team's chances of scoring goals, they will show up favourably. Poor performance, though, will produce a lower or—in the worst cases—a negative score.
What does this look like in practice? Well, let's take a look inside TransferLab to see what it can do…
TransferLab uses different profile templates to help you compare players against each other by position. Here's Leah Williamson's profile in a 'Centre-Back – All Around' template: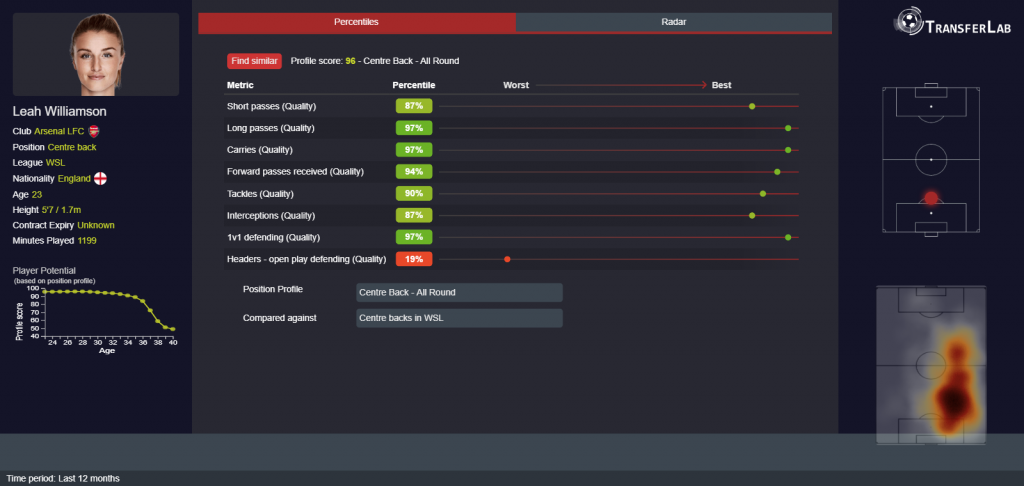 As you can see, there are a number of different metrics within this template that show you how Williamson performs according to TransferLab's algorithm. For example, compared to other centre-backs in the Women's Super League, you can see that Williamson is in the 97th percentile for 'Long passes'.
By adding up all of these percentiles in this profile and averaging them out, you arrive at the player's overall score. In the 'Centre-Back – All Around' profile, compared to all centre-backs in the database, Leah Williamson has a score of 96.
Using these scores, we can now compare players against each other. TransferLab allows you to filter players for age, height, contract expiry, profile score or minutes played. Here are the top centre-backs in the 'All Around' profile who are under the age of 23: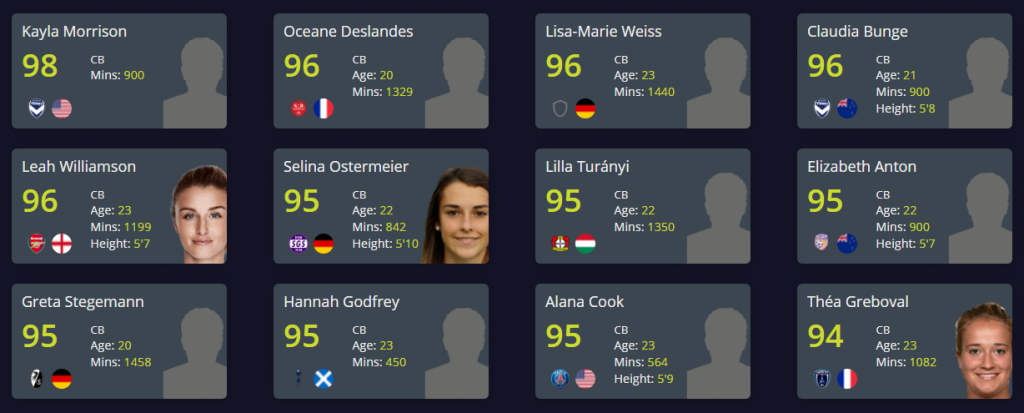 Now that we can compare players, we can use TransferLab to build a Best XI from the Women's Super League: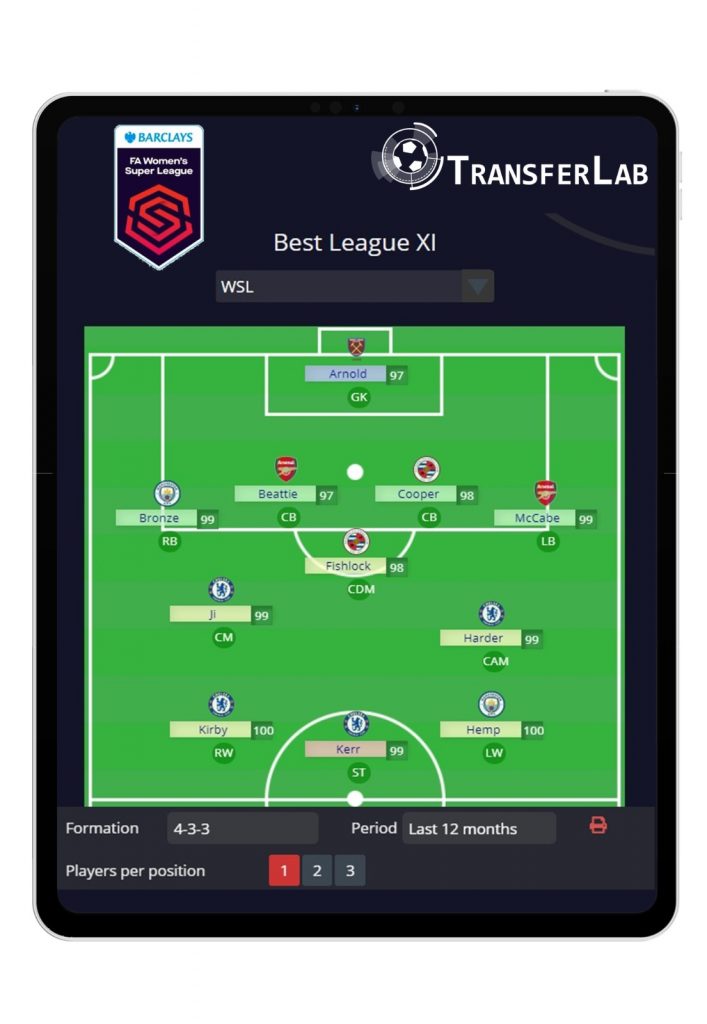 There should be no surprises at the names who are cropping up! Players like Pernille Harder, Samantha Kerr and Fran Kirby would be expected to appear in a WSL Best XI.
It's nice to see Lauren Hemp performing so strongly this season for Manchester City. Here's her profile on TransferLab in the 'Winger – All Around' template:
"Of course, you don't need a scouting tool to tell you that these players are good. All you need to do is watch the knockout stages of the Champions League and you'll see for yourself."
Of course, you don't need a scouting tool to tell you that these players are good. All you need to do is watch the knockout stages of the Champions League and you'll see for yourself. Where TransferLab comes into its own is in its depth. Covering over 5,000 players across 20 leagues, the tool can help you find the players that no one is picking up on; players who are performing well for struggling teams or playing in lesser-known leagues.
Across the history of football, there is a long tradition of women using data to analyse the beautiful game. You only need to think of Mariela Nisotaki at Norwich, Sarah Rudd at Arsenal and Lucy Rushton at Atlanta United. But without access to top quality data, algorithms or platforms in women's football, these analysts have had to restrict themselves to working in the men's game.
TransferLab is the first platform dedicated to data scouting in the women's game. Let's hope that it will provide a foundation for the data revolution in women's football.

To find out more about TransferLab, make sure you get a copy of the May issue of She Kicks magazine or visit www.analyticsfc.co.uk.