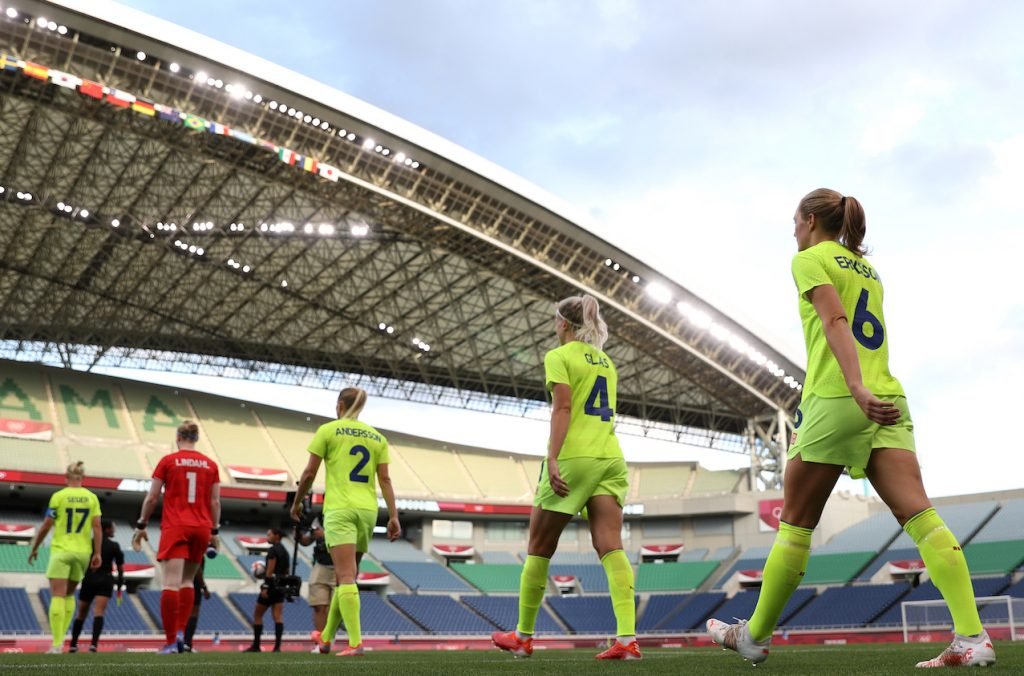 "When I get to work with Sweden's football analyst, the more fun it is to play football and I learn so much" – Hanna Glas
Football analysis has been a tool used to aid a team's or individual players' development for a long time in the game. Analysing your own game, tactics and the results of studying an opponent can be the difference between winning and losing. As the women's game grows, increasingly fans and analysts regularly post their opinions and findings after games on social media. They create and share fancy graphics with accompanying statistics, based on how their favourite team has performed collectively but also sometimes centred around the performance of individual players. 
An interest in football analysis is clearly growing among fans and viewers, so MIA ERIKSSON asks on behalf of She Kicks Magazine: "How do the players themselves relate to it? How do they use analysis in order to improve and what do they think is the most important information to get to be able to perform?"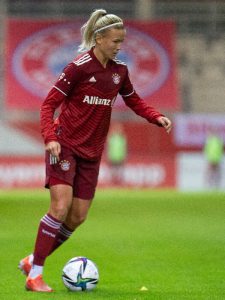 Hanna Glas is Sweden's regular right-sided full-back and her career has continued to go from strength-to-strength since she departed the Damallsvenskan ahead of the 2018/19 season. After two seasons at Paris St Germain she signed a three-year contract with Bayern München, and kicked off her German journey by winning the 2020/21 Frauen Bundesliga league title in her first season. After reaching the semi-final stage in the Champions League last spring, Glas was also an integral part of Sweden's impressive and successful run in the Tokyo Olympics, first putting an end to the US national team's winning streak and ultimately coming away with a silver medal. 
She Kicks sat down with Glas to talk football and her relationship with football analysis. To set the context, Glas describes how she views her own role and position out on the pitch like this;
"My role as a full-back, first and foremost, is to keep the opponent's attackers away from scoring by not letting them progress on my side of the pitch. I always want to look at it as a duel with the opponent's wingers or forwards depending on what formation they play. Even if I should always prioritise defending I also have the responsibility to take part in the attacking play by participating in the build-up too. It's a lot about running up and down at the right moment, both overlapping and making deep runs, daring to take 1v1 duels, making crosses inside the box or putting short passes in that will create the spaces we need to progress further up the pitch." 
Looking at her numbers in the three preset full-back profiles on the scouting tool TransferLab, Glas ranks highly for each type of profile in the Frauen Bundesliga: 
Fullback – Allround: 96
Fullback – Attacking: 95
Fullback – Defensive: 96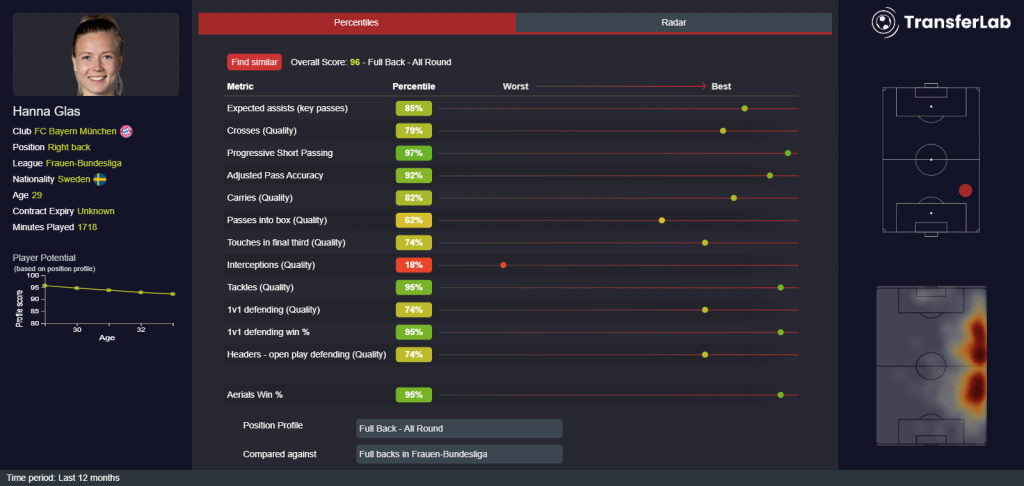 Glas has earned 49 caps with Sweden so far, and although she seems to have a lot of fun scoring goals for Bayern München from time to time, she is still awaiting her first for the national team. 
SK: What are the difference from playing in your club team and in the national team when it comes to football analysis and how has this changed and developed throughout the years?
HG: "I have had various experiences with football analysts. In some clubs I have played the information and the feedback has been quite poor. One thing is that the information hasn't been concrete enough or transmitted in the right way. It's important that it is in order to know what a team can develop till the next game or what I as an individual could have done better or differently. I have sometimes found myself wondering: 'OK, but what should I do with this information? How can it help us as a team?' Sometimes it has felt that the analysis just becomes: OK, the crosses you made today were not good. As a player you know when an action or a decision wasn't good enough but after the game you might want to look at why it wasn't good to learn.
"It's easy for those who look at a game to miss the whole perspective. If I have a game where I make a lot of poor crosses, why is that? Is it because the pass I get before making the cross is too slow? Is it because my teammates give me bad options before I cross? Are they positioned where they are supposed to be? Have they taken the runs we have decided on before the game, to create the right spaces inside the box? Is my body in the right position for me to make the perfect cross? Or… was it plainly and simply just a technical mistake from me or from my teammates?"
SK: Sweden's national team analyst is Anders Eriksson, what is it like working with him?
HG: "He is extremely skilled and not only has he helped Sweden as a team to become better, but also me as an individual to develop. I love the way Peter Gerhardsson and his management is using Anders and I fully believe that he is a big part in our success. He is very good at giving the right information at the right time and from the way he gives us feedback after the games I feel that I have been able to really develop as an individual. When I get to work with Anders, the more fun it is to play football and I learn so much from him."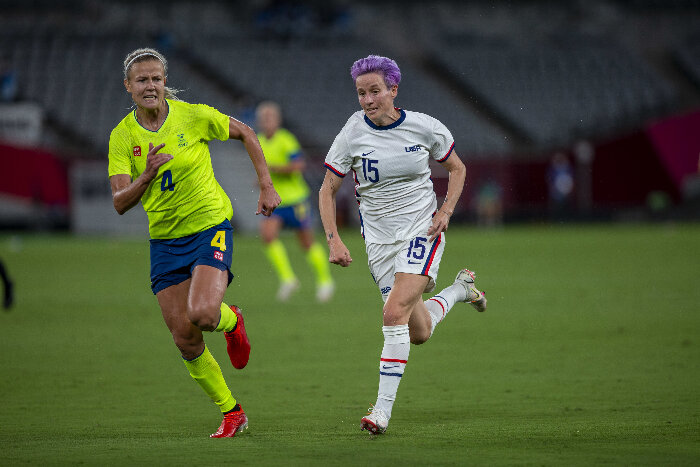 SK: How is your performance affected by the amount of information you get on your opponent before a game? 
HG: "I both feel and know that my performance is affected by that. For example, from games that I have played with the national team where we have won big games, like in the Olympics, I have already known beforehand how our opponents will behave in certain situations or what they would do. It's like a game of chess, where I felt that I always had the upper hand. It's extremely important as a defender to know those things since it helps me to find space to cross into, or to know how the opponent presses, because from that I know which areas they will leave for me to operate." 
SK: Can there sometimes be too much information?
HG: "Well, of course. I believe as players we are all different in that way. My experience is that I think it's harder when you get a lot of information. It's better to keep it less, but important. But I have respect for my teammates that need more information or different type of information. As a defensive unit, the backline, we will probably need more detailed information on how the opponent's attackers will behave and act than our own attackers need. It's more relevant for us.
"After a game there can also be too much information sometimes. Of course, you can dive deep into every aspect of a game and find everything you want. For me personally, it's more important to look at behaviours, my own but also the whole team's. Do we act like that a lot? Has it happened before? Or was it only a one-off sequence in a single game that led to us conceding or scoring? To look at a single technical mistake will not give me anything because I will probably know straight away, after I've made the error, that it wasn't the best." 
There are several ways nowadays to transmit or get the information you need when it comes to football.  We as spectators most often get to see numbers, statistics or a colourful graphic. This is an example from TransferLab on what is called a player plot: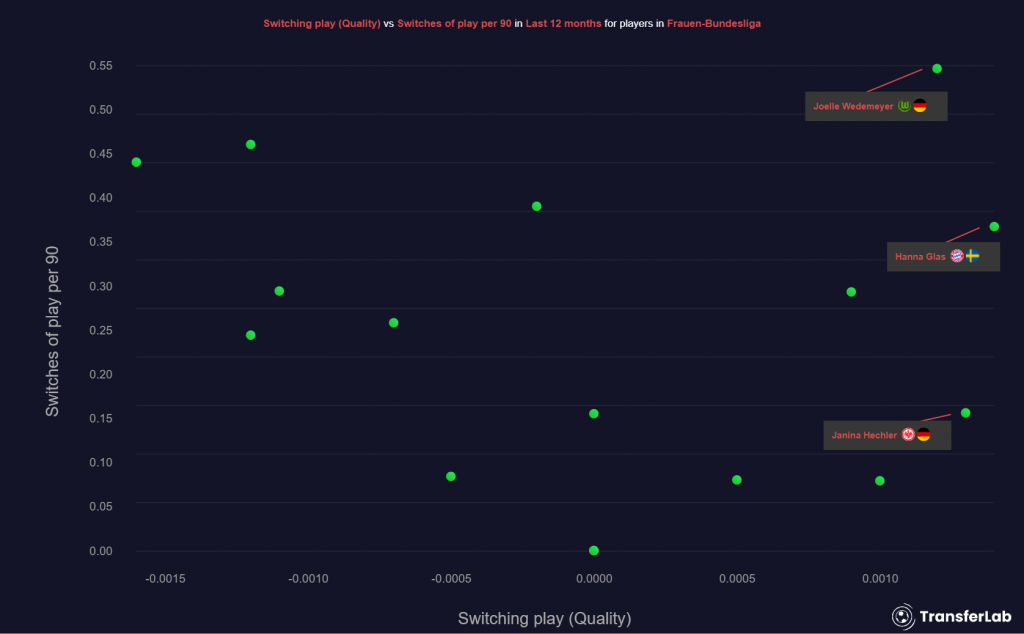 The plot shows switches of play per 90 minutes, such as the quality of the action switching play. What we can find out from this plot is that Glas's quality in the action of switching play is seen as one of the best amongst right full-backs in the Frauen Bundesliga. Without putting it into context it will be hard to judge Glas as a player but it could help us to notice this aspect of her play when we watch her performing. It's important to remember that. Statistics have not been around for too long in the women's game, and the several different platforms offering statistics, often use different types of glossaries for the same or similar types of action. What is described as an 'interception' on InStat Football might not be the same on WyScout or Fbref. 
So, what does this mean to a player? 
SK: How do you prefer your information and feedback? Is it through fancy graphics, plain numbers, videos or from written reports?
HG: "I really want the information in as many ways as possible. It could be collectively or individually, from video or talks. Sometimes it can be important to look on videos but also during talks when we train together out on the pitch. Video makes it clear, but to find the mix of both watching videos and talking about how we are going to make it happen for real when we train is what I like the most. You have to understand that situations out on the pitch while they happen can be experienced differently from when you see it on a video.
"To watch video sequences as a unit is also important for me. If I watch a video with the backline or maybe even just with the winger that plays in front of me; that could give me a lot of good things to take out on the pitch both for training and for games.It's also nice to discuss with someone else. But everything, for everyone, is different, like I said earlier. Watching videos together can be equally about finding new relationships or to strengthen already existing ones out on the pitch.
"Sometimes I receive a match report from InStat after a game. I don't think it gives me that much as a player, if I'm honest. I sometimes wonder about what they base their numbers on, like what is a pass or a duel in their glossary? Some statistics and numbers can be interesting but to me as a player I need the numbers presented together with video where they happen, to make it useful."