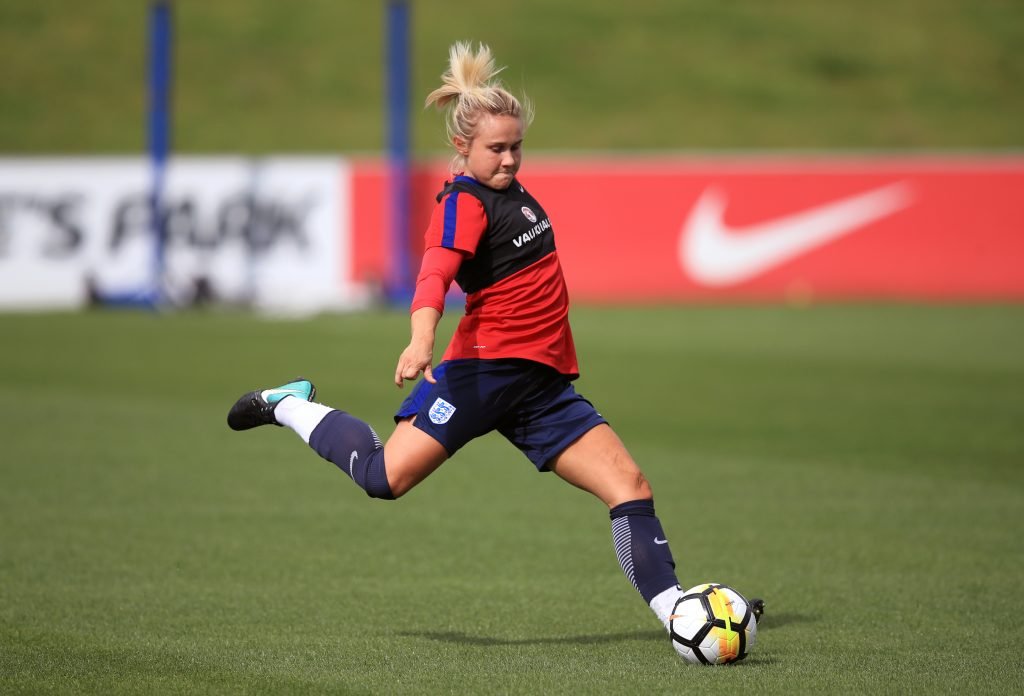 The SK LONG GAME (Longer Read) INTERVIEW: #Lionesses midfielder Izzy Christiansen on leaving City for Lyon
Having won everything domestically during her time with Manchester City, England midfielder Izzy Christiansen knew that it was time for a change and a new challenge, writes KIERAN THEIVAM.
So when the five-time European Champions and French giants Lyon – the side that had thwarted City's chances of a UEFA Women's Champions League Final, two years running – registered an interest, it presented an opportunity, understandably, which was too good to turn down.
"I was aware Lyon were interested for a good few weeks and it was something I obviously thought about," said Christiansen.
"I was still under contract with Manchester City for two more years, so it was something I had to think about a lot, but I felt like it was the right time for me as a person and where I was at in my football and my life.
"The chance to play with the French champions, a team littered with world-class players, this was something I could only dream about. So I took the opportunity with both hands and I am really pleased that I am here."
#Mercato Isobel « Izzy » Christiansen, milieu de terrain et internationale anglaise a signé un contrat de deux saisons avec l'OL Féminin.
?https://t.co/fJOPLhngxd pic.twitter.com/u3Mzl0PKCh

— Olympique Lyonnais (@OL) July 23, 2018
That opportunity to train with world-class players day in, day out, is often the line you'll hear from new recruits to the French club, who can boast the likes of Norway's Ada Hegerberg, Germany's Dzsenifer Marozsán, and of course, BBC Women's Footballer of the Year, Lucy Bronze.
Her England teammate has just completed her first full season in France having made the same move from Manchester, so it was inevitable that Christiansen would speak to her to sound out her views on Reynald Pedros' side. The questions she asked, received the responses she wanted.
"I spoke with Lucy a few times," she said.

"There were a few things I wanted answered and she gave me honest answers, which I was pleased about. I appreciated her honesty and that played a big part in my decision, as those questions were answered how I wanted them to be."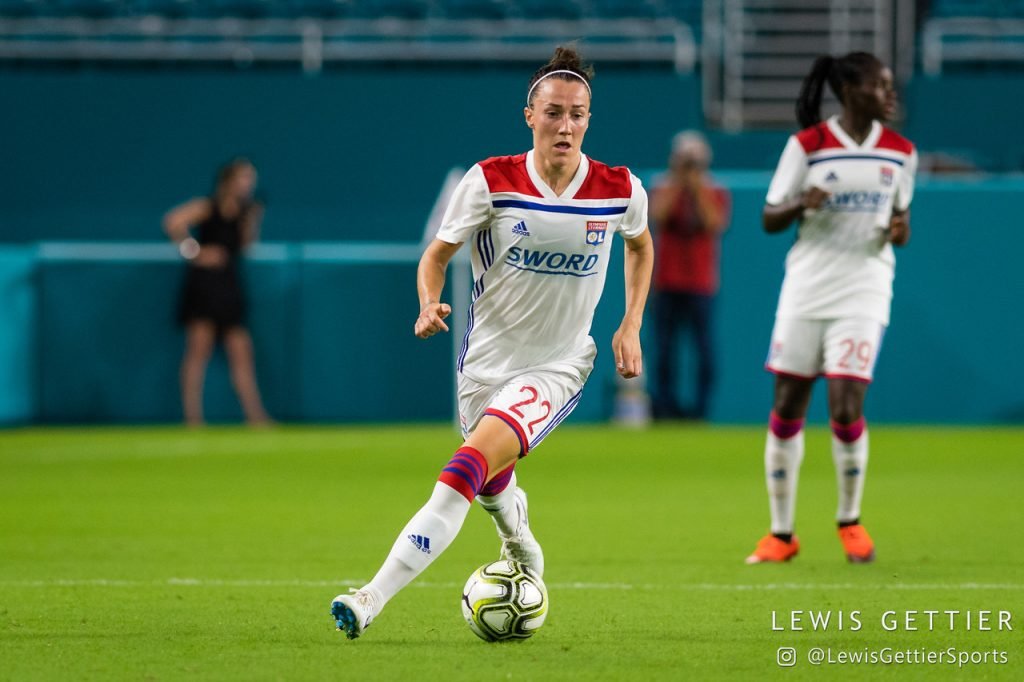 Christiansen was unveiled towards the end of July and within a week, was making her non-competitive debut, ironically against Manchester City, in the humid conditions of Miami.
Lyon and City joined Paris St Germain and the North Carolina Courage in playing in the first Women's International Challenge Cup tournament, with Lyon and City paired up for one of the semi-finals.
Christiansen, coming off of a hamstring injury picked up on international duty, played the second half, and she said it was a good scenario to make her introduction.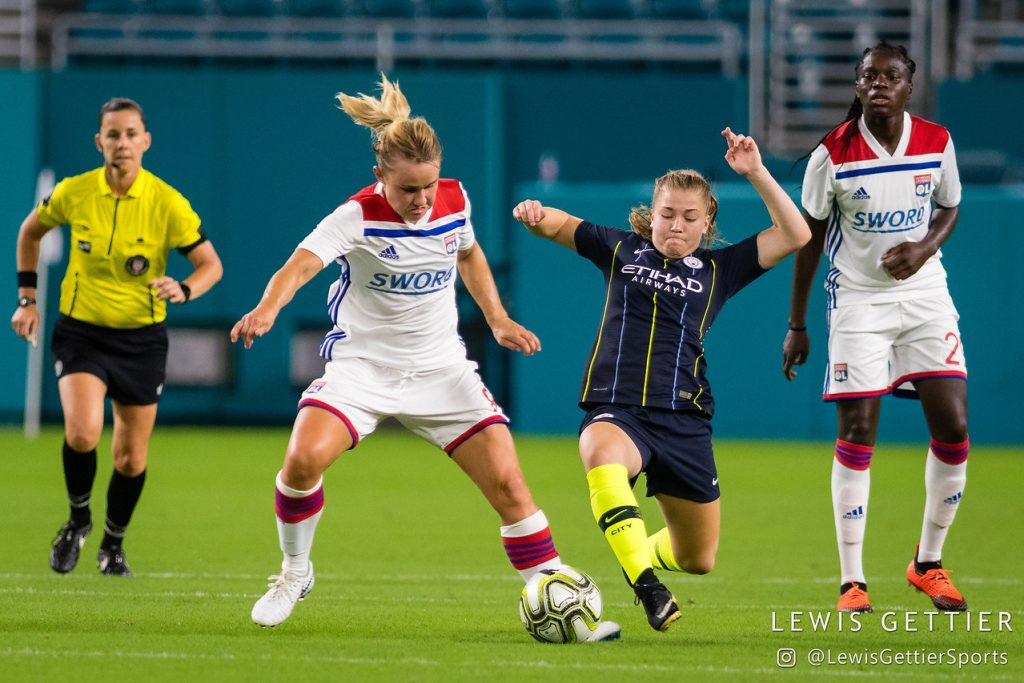 "I knew that the game was scheduled, and I knew I was going to be touch and go for the game, but I felt good and I was asked if I could play half a game, and I felt ready. 
"The initial thought in my head was a bit 'this has happened all very quickly,' but I felt I handled the situation professionally, and it was really good to play against City and play for my new team. 
"It was tough conditions in the humidity in Miami, so the intensity in the second half dropped a little. But that suited me having come off my injury, so it allowed me to run around and move the ball. It was good to see some of the girls again."
Good to see the girls again, but having only been with her new side a week, was there any point during the match where she instinctively thought about passing to her now former teammates?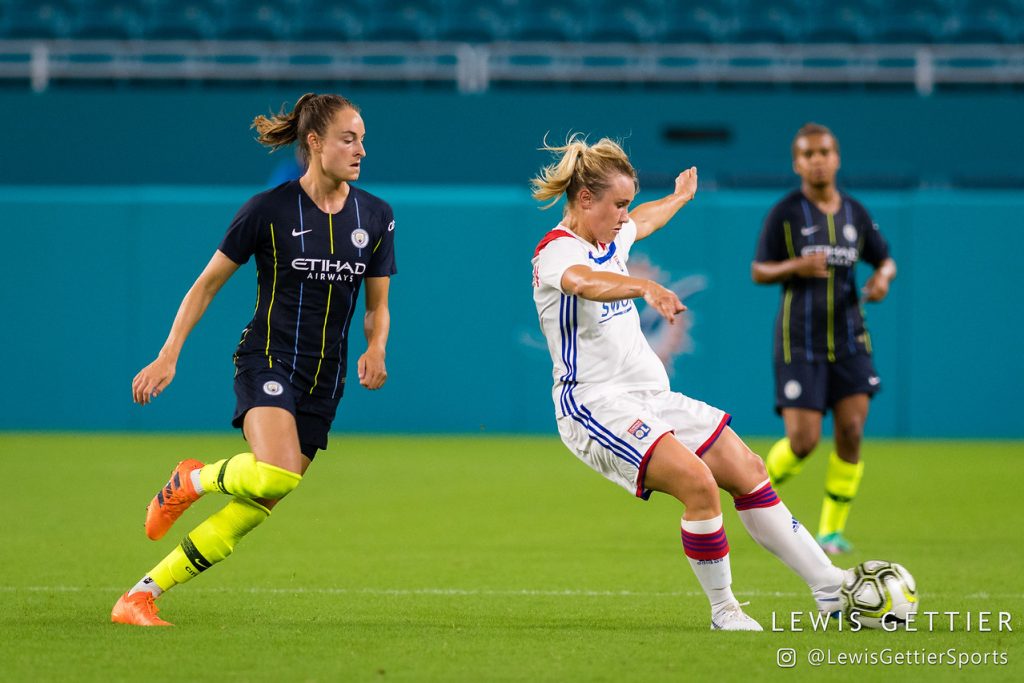 "Haha, no it was okay, I managed to find a player in white. But if I did find a player in blue, it was more to do with my bad pass," she joked.
Lyon would go onto lose the final of the mini competition to North Carolina, but Christiansen played a full 90 minutes and her team dominated for large periods, despite the defeat.
Now back in France, she is starting to settle into her new surroundings and gain a thorough insight into life at Lyon and the reasons she joined the club.
Speak to any Lyon player, past or present, and they will tell you about the intensity of training, the tempo, the level, and the incredibly high standards.
Even at this early stage, and while admittedly still adjusting, the former Manchester City midfielder is already feeling at home on the training field.
"I'm absolutely loving it, I feel very, very, settled so far, within the squad. 
"It's been a whirlwind three and a half to four weeks to say the least since arriving at the club with the tour in Miami, and we're currently on a training camp, so it has been strange trying to get settled.
"But I feel integrated within the team and really enjoy the spirit, and the training has been so different, which has surprised me, but it's been fantastic. The intensity of training has been second to none, you can't switch off because the tempo is so high. I feel like I'm thriving in the environment and I hope that continues."
Of course, the tempo and style won't have come as a total surprise, as Christiansen and her City side had played Lyon four times over a 12-month period, having met in the Champions League semi-final in both 2017 and 2018.
So what did the midfielder learn from her experience of playing against her new club?
"The intensity of the play and the direct play, they attack and defend as one big unit. Playing against them, they find ways to win. 
"This year's Champions League when we (City) lost away, it was more of a tactical thing, which I think was the difference between the two teams. Tactically they adjusted after the first leg, which meant they could get the win. I am just excited now to be in this environment." 
If City and Lyon were to meet for a third year in a row, it would certainly make for an interesting spectacle, with Christiansen and last season's match-winner, Lucy Bronze, both looking to overpower their former club.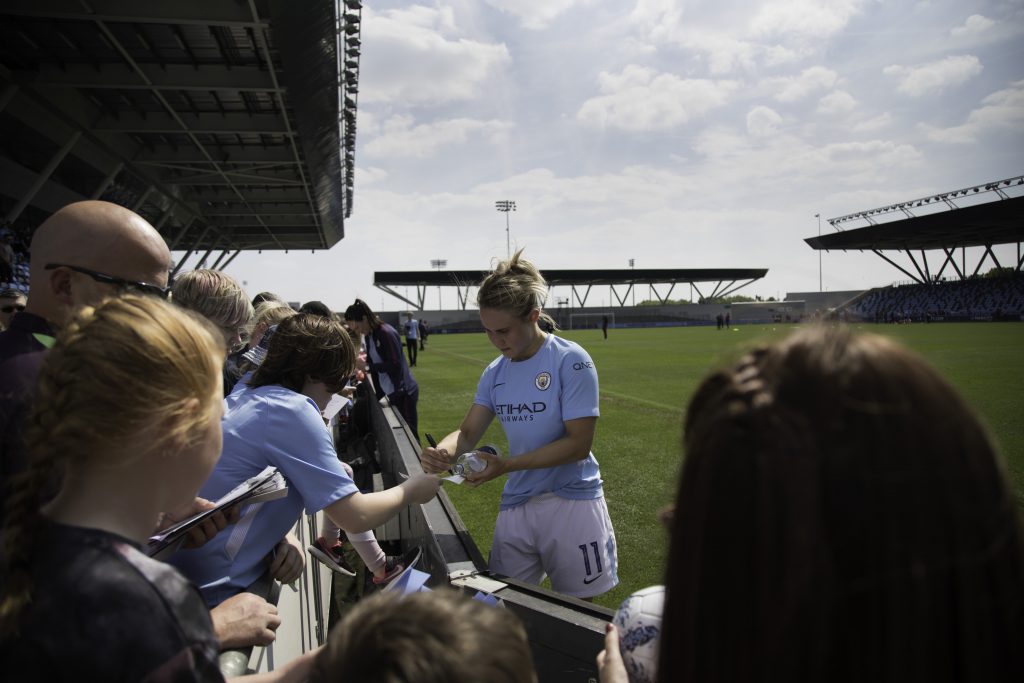 But having spent four years with City, the 26-year-old was an incredibly popular figure amongst the Cityzens, becoming an integral part of their success – especially in their formidable season in 2016, when they won the league undefeated and Christiansen was voted by her peers as PFA Women's Player of the Year.
So how hard was it to leave the club?
"It's always difficult, but personally I felt it was a good time for me to move on. 
"I absolutely loved my time at Manchester City and the fans were amazing, I did feel very, very loved there. The girls there are great, so it's never easy. 
"But that's part of sport, people come and go, so this is something different where I am learning about a new culture, a new language. I am quite an independent person, so this is a big move for my career, not just my football."
There have been a number of big moves for English players, especially over the last 12 months, with the likes of Bronze and Christiansen heading to Lyon, Toni Duggan to Barcelona, and another recent one being Mary Earps' transfer to Wolfsburg.
Once upon a time you'd struggle to find an England international playing in Europe (certainly outside of Scandinavia), so does Christiansen think this is a sign of the growing reputation of players in England, and the FA WSL?
"With England being ranked now at fourth in the world and striving for first, I don't think it's a shock that the biggest teams in European football are observing English players.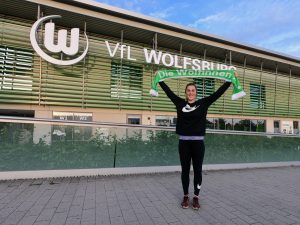 "I have a lot of admiration for Mary moving to Wolfsburg. I think it shows her character and ambitions, but mostly her self-assurance that she knows where she wants to go with her career.
"The way football clubs work isn't sporadic, they monitor players over a course of time because it's not just about what they'll bring to the football pitch, but also off it as well. You have to have a certain mindset to be able to move into an unknown culture, foreign language etc, and still perform. 
Christiansen admitted that this forms part of the challenge, and was something that she had always aspired to achieve, but confessed that it perhaps happened sooner than expected.
But with players now making moves abroad, how might it also not just benefit the individuals concerned, but also the national team?
"I think I'm a 'late developer' in my career thus far, I broke into the England team later than some other players from my age groups and I feel that the best is yet to come. It's about taking your own journey and trusting in your path.
"I think it's a great tool for our national team that there's a handful of us playing for top teams outside the UK. That, along with the competitiveness of the WSL, can only benefit the Lionesses team moving forward."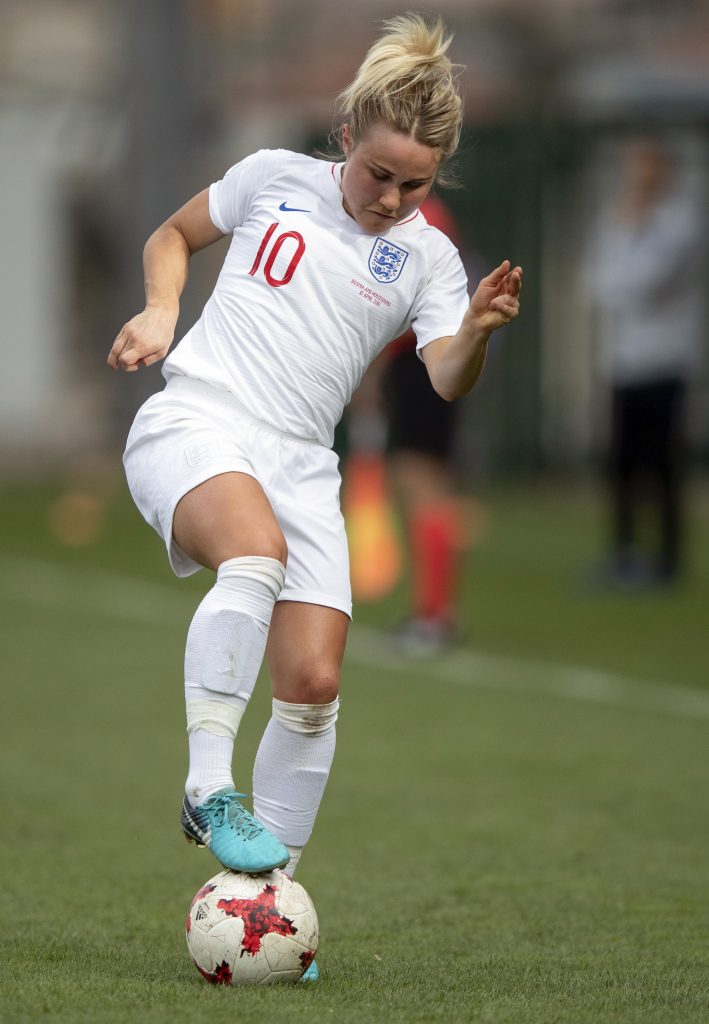 Christiansen could find herself playing in her new home city next summer as Lyon is due to host both the semi-finals and final of the 2019 Women's World Cup.
Phil Neville's side have two crucial qualifiers coming up against Wales and Kazakhstan where a win in both would see them qualify for next summer's tournament.
Having had a taste of EURO 2017 last year, Christiansen is excited by the prospect of heading to her first senior World Cup. However, she is taking nothing for granted, having seen Wales put in a dogged display in Southampton back in April, to hold the Lionesses to a 0-0 draw.
"Wales are going to want to beat us, they'll thrive from the underdog role," she concluded.
 "Wales v England in any sport is always a fiery affair, and I believe the game is sold out, so it's going to be a great atmosphere. 
"We struggled to break them down (in Southampton), but that was a learning curve for us. It was near the start of Phil's reign, so it's about improving and It's about finding ways to win against teams that bank up. 
"But again, it's about the right mentality and we have to approach both Wales and Kazakhstan as positively as we can."